New 2022 KTM RC 390 and RC 125 – Mid-Engine Supersport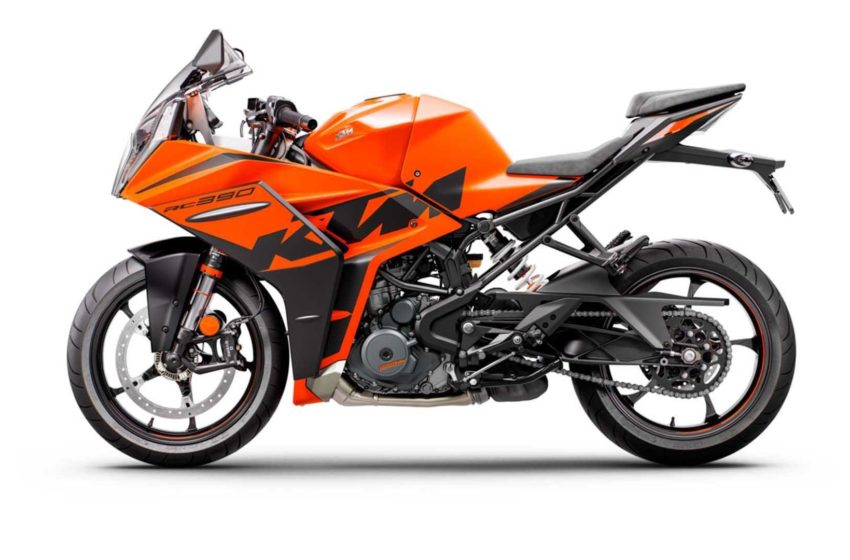 KTM's commitment to its supersport holdings is never in question. And It's no secret that KTM is a motorcycle manufacturer like no other.
Its products are loud and aggressive, and for racers and enthusiasts.The Austrian company make bikes that make you want to ride.
And if RC production numbers get any bigger (the RC 125 and RC 390 were already among the most popular motorcycles in the Indian market). It would get downright scary. 
But like all good things in life, we're always longing for more, and that's what KTM has provided.More power and more torque that we're going to talk about right now.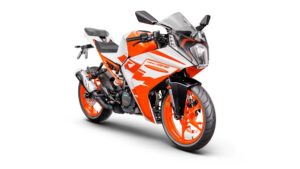 Although the Austrian brand has begun shifting towards mild-to-moderate performance gains with its larger displacement models.KTM's 125 and 390 offerings remain the sharp end of its model lineup. 
Similarly, although KTM is introducing an electric-powered off-road motorcycle to excite consumers.The manufacturer intends to maintain the dirt segment.
KTM woke our interest as it once again pushes the LC8 single to its performance limits. 
The Austrian manufacturer overhauls both the RC 390 and the larger-displacement RC 125 for 2022.With each model benefitting from a sturdier exhaust system that strikes a balance between aesthetic appeal and weight savings.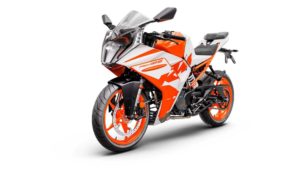 The two new models also offer the perfect platform to maximize the potential of KTM's Competition portfolio.As well as its ever-expanding aftermarket offerings. 
With bigger bore sizes and rear sprockets now available. We're confident that these bikes will offer more fun than ever before – whether it be on the road or the track.
For both these bikes, KTM has made a 40-per cent larger airbox for increased torque.
The overall design language of both motorcycles is very similar to their existing incarnations. But KTM engineers streamlined the chassis on both bikes with enhanced aerodynamics and reduced overall weight.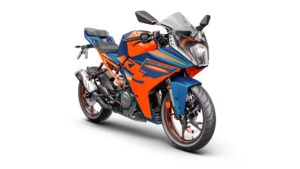 New liveries
The chassis lost 3.3 pounds. The new wheels have reduced 7.5 pounds. The ByBre braking system reduced additional 2.1 pounds. 
At the same time, the performance figures are still under wrap. The 2021 RC 390 made 26.6 lb-ft of torque, while The RC 125 made 8.9 lb-ft.
The Austrian brand has restructured its sub-brands offerings, resulting in the RC390 Sport and RC125 Sport. 
Both bikes will receive new suspension settings. With WP APEX USD forks on the front and preload-adjustable rear shocks.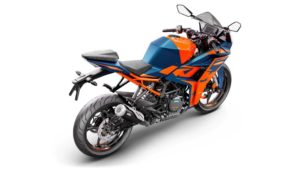 In addition to the stocked wheels, which should help achieve a lighter overall weight for better cornering.
KTM is working towards a typical software setup for the RC family. And it's good to know that they're also increasing their electronics range with traction control and cornering ABS on two-wheelers which were previously without.
They also get the new TFT console, and the riders can connect the bike to KTM MY RIDE to get critical information. 
KTM has not only sharpened these bikes however has made sure the panel comes redesigned. 
New bodywork helps to optimize aerodynamics. Further, the riders can remove panels. At the same time, the RC 125 arrives in its trademark Orange shade while the RC 390 comes in Tech 3 KTM shade.
Both machines are intended to make racing more affordable for aspiring racers while giving them a chance to develop into something bigger without being too expensive.
via Instagram