Nicola Martini : Unquenchable thirst for building customs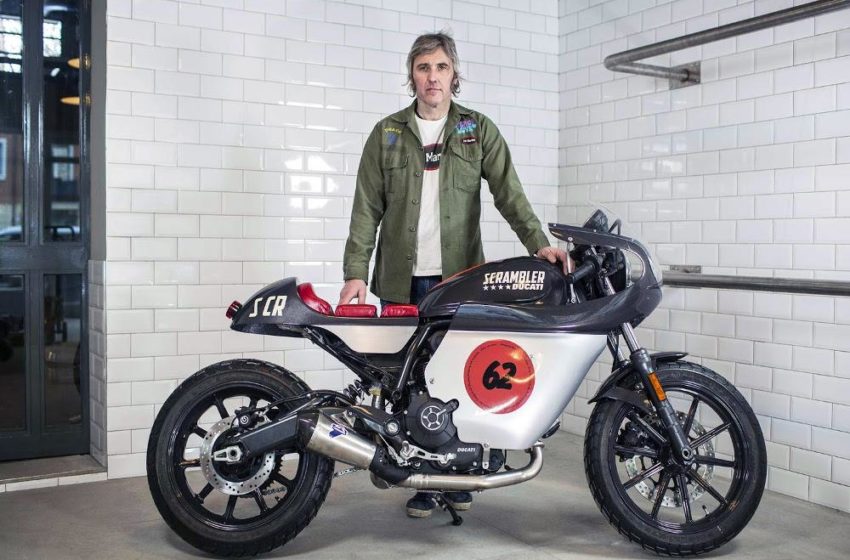 There are definitely many ways to write about bikes and motorcycling in general. This can be done using an exquisitely technical approach such as doing an in-depth research and writing bike reviews. Or you can go further by trying to find the history attached to handlebars, an engine or a group of cylinders like Robert Maynard Pirsig did in his novel "Zen and the Art of Motorcycle Maintenance".
Another thing you could do is get to meet with one of the most prominent figures in the history of motorcycle constructions and let the person tell their story.
Nicola Martini also known as Mr. Martini is a reference figure in the world of bike customization. This is a man who has made his personal center of gravity "two wheels". He is a custom motorcycle builder who is based in Verona, Italy. He has that taste and his eye for design guarantees that everything that goes in to his workshop can only be transformed into a much better finished product.
Some of Mr.Martini's Work
Best Bonny  2017
Moto Morini Corsaro Speciale 2018

Apostola Harley Davidson 2018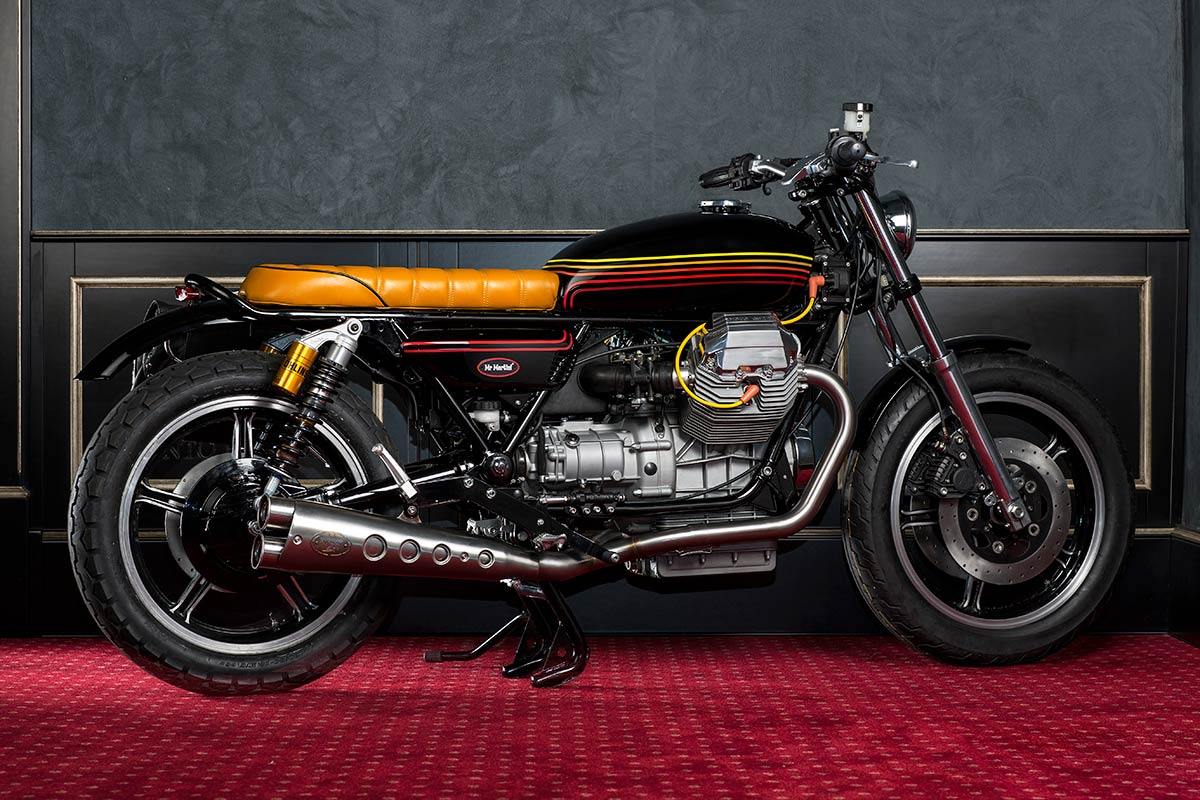 Guzzi Champion 2015
Triumph DX 2010
His subtle touch with bikes has been compared to Picassos touch with a paint brush and a canvas, which is why the results are always stunning.Many would say he has a predilection for British bikes as he is known to have been the first Triumph dealer in the area the subject but once in a while, he goes back to his roots (Italian Bikes) especially with the Ducati.
There is absolutely no way you can speak of Nicola without having visited his world. His showroom, for instance is a real living room in which a Triumph Sprint 900 is displayed, modified and transformed into an exhibition heirloom. Nicola Martini's eyes speak for themselves. They light up whenever you stop to look at a detail, be it is a disassembled hull, a frame on a workbench or a bike waiting to be brought back to life: each piece has a story to tell.
Two Stroke Torpedo MMX500 by Suter
Amazingly enough, his works do not end there. There is more to the fantastic work of art which he does on bikes. A couple of months back, inside a former gas station of the dates as far back as the 50s, he inaugurated his local "Special Café". A place that fully represents the synthesis of his thought.
"A place dedicated to his lifestyle, a point of reference where you can admire unique motorcycles, indulge in a drink and get closer to some of these jewels, even for those who have never climbed on a motorbike".
When asked about the origin of his love for bikes, this is the answer he gives;
I have to go back to my mind when I was a student and lived a student hostel. In those days my life was divided between the school and the family business which my dad ran at the gas station. We also offered car washing services there. At that time, the summer seasons were my favorite as you would see people drive some of the most expensive bikes to the restaurant. For a student like me, seeing such was my dream come true.
While working at the restaurant, I managed to set aside a small economic independence that allowed me to buy the first bike without my parents knowing about it. In any case, it was my dream to work home for my dad at the restaurant as I would devote my time after cooking to my second passion which was mechanics.
From a motorcyclist to a dealer, quite a turn of events: how did Mr. Martini's adventure begin as a motorcycles dealer?
Nicola Martini : "Steal" the distributor's kiosk from my father to make it my exhibition space. It was 1989 and I was looking for a brand that would allow me to start work and at the same time distinguish myself from other existing brands and dealers. So I decided to start the business by selling the Royal Enfield.
These were those motorcycles that bring back the nostalgia of life in the 50s. In some ways they fully reflected my desire to go for the classic concepts. I felt like a real rookie: The Enfields were bikes were built in India and had to be disassembled, modified and reassembled in order to make them reliable. So it was then that I to showcase my skills as a mechanic. As evidence of that period I still have one here which I bought a few years ago and customized according to my taste.
However, the Royal Enfield represented only the first step of your journey in this world. In the subsequent years, who is the individual who had the most impact on your personal and professional life?
Nicola Martini : Yes, and as answer to this, I will give you one name which is Carlo Alamo.
Carlo was an extraordinary character who had the merit of creating the Harley Davidson phenomenon in Italy and of bringing Triumph bikes back to our country. I met him at the Salon in Milan in 1993, where I immediately told him how much I admired his work in the Harley world. During one of his visits to Verona, I showed him where I worked.
"I sold my personal Harley Davidson in order to get enough capital to start the new business. We lived in the era when little money and many good ideas were enough to give life to a project. today all this is no longer possible. in order to undertake long-term projects, we need huge financial resources and above all the ability to see beyond the horizon ".
Thanks to his support, I opened my next spot the following February. The kiosk which I had literally stolen from my father could accommodate up to three bikes. Slowly I expanded the business using some of the rooms. During my first year I sold six bikes and during the second year, I doubled the turnover. That is how my adventure with Triumph had officially begun.
Science of making motorcycle light
How did the activity develop after the dealer opened?
Nicola Martini : I started to customize the bikes right away. I concentrated my work on some small processing: painting, changes to the discharges and then gradually more and more profound changes. It was faced with the challenge of finding just the parts needed to make the bikes truly unique. "
Already in the early years I enjoyed my first experiments in the creation of special motorcycles; I was the only reference in the whole of Triveneto area both for the Triumph brand and for the customization of the motorcycles.
Have you faced crucial or particularly difficult moments in that period?
Nicola Martini : The year 1999 was another year that was full of important turns and choices. Despite doing well financially, I decided to take an even huger risk. I was going after a suitable location in order to enlarge the business. After a year of research, I found the place where we are sitting now: an old ESSO service station from the 1950s. The investment was huge. Carlo Alamo supported me in this operation, helping to supply me with all the raw material I needed which in this situation were the bikes.
Meanwhile, I continued to customize. I started making the first Café Racer using the old Trident models as a base. Much of my time I dedicated it to hunting for components and mechanical parts in the markets that would allow me to customize the bikes to the point that they would become unique pieces. I think I was one of the first to create specific customization kits, in this case for Triumph. I had the merit of identifying a style and giving it continuity over time.
In any case, the kit remains a standard solution, at risk of further homologation. This is why I have also continued to customize bikes to give it a unique and inimitable appearance.
Sarolea MANX7: The Electric Thunder
In your present and your career there are a series of collaborations with prestigious brands such as Ducati, BMW, Kawasaki and others. How did this partnership process start?
Nicola Martini : At the end of 2003, the CEO of Triumph visited me. He was fascinated by the unique models I had been able to create. In particular, he was impressed by the colors and shapes. He returned to England convinced that I had to work for them. The following year he sent me a model of the Triton pre-series to be customized.
The intention of the company was to combine the special model with the series motorcycle on the occasion of the world premiere presentation but what I did not know was the fact that two other models of pre-series had been sent to two other customizers. In the end, they chose my project. The bike was presented at the Ace Cafe in London.
I believe this is when my international career took its first step forward. The close collaboration with Triumph allowed me to leave the national borders and make myself known in the world.
Can you say that you have managed to create an identity in which not only the bikers, but also people apparently far from the world of motorcycles, can they be identified? Was it your goal or a consequence that you are only now seeing?
Nicola Martini: My dream was to try to go beyond the mere dealer, creating a real concept of life by what I do. I had a vision that wants to be an expression of joyfulness that allows people to enter into unusual atmospheres and live different emotions. Even for those who have never climbed on a motorcycle.
Because as you immerse yourself in this world as a mere observer, this allows you to enter a different state of mental freedom. Freedom understood as the ability to express oneself not only in the saddle, but in everyday life and work. Only in this way can one still feel alive.
 What does Mr. Martini's future hold? Any new Bikes?
Nicola Martini : At the moment I do not leave my restaurant. Because for me today "Special" is the most beautiful place in the world. What I miss perhaps is the possibility of isolating myself, of being just on my own. My solitude, is fundamental: I need, at times, to be alone with my thoughts. But now I do not have that time. I want to put this "complex machine"(brain) into work again. Surely I will spark again but for at least two years I want to focus on consulting for motorcycle brands.
---
Pic Credits: MrMartini