Scott Kolb's sports custom is a head turner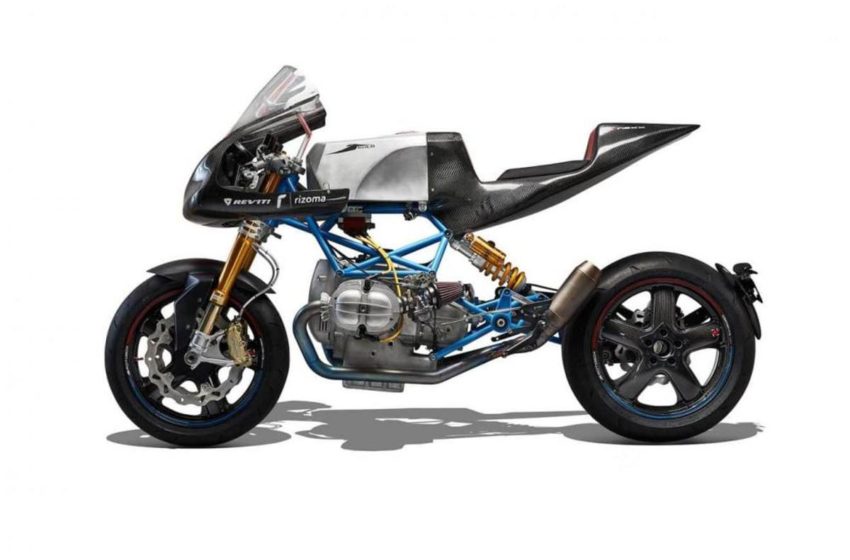 The motorcycle racing doesn't get fancier than this when you see Scott Kolb's BMW custom that is derived from BMW 90/6.
'Battle of Twins' inspired  Scott Kolb's 'BMW R90 Special' is all set to make you want one. Battle of Twins is the race held at Daytona since 1981 that involves twin cylinder bikes.
BMW Motorrad had built the donor BMW 90/6 from 1973 to 1976 that had a large fuel tank and came with cradle frame that made it is easy to modify.
All the components were removed from the bike. Overall the only thing that was left from the donor was the engine. And to finance the project all the leftover components were sold on eBay.
Output well the one-off sports custom that is not only light but fast. The bike just weighs 130 kg and gets 82 horses.
To achieve this incredible feat Kolb made multiple customizations. 
To add more horses the displacement was raised from 900cc to 1000cc that was also helped by Sieberock kit. 
The bike gets the power clutch with an amended crankshaft that was made lighter. 
Apart from the crankshaft the frame too was entirely remodelled. Additionally, the steel tube trellis gave an advantage of lightness to the entire structure.
Fully adjustable Ohlins unit was chosen for suspension. The Cardan shaft of the BMW R nine T was used for the transmission.
Other components like levers, platform, license plate holder come from Rizoma. 
Rotobox carbon rims and the braking duties are performed by Brembos from S1000RR.
The rear and the windshield are made up of carbon fibre. However, the fuel tank is made of aluminium.
The paint scheme is an output of two colours red and cyan blue with the frame as light blue. Saddle hides all the electronics.
Electronic package has the keyless start and console is a mix of digital and analogue with the control unit from Motogadget control unit.
That resulted in the incredibly sleek and stylish sports bike that is an eye turner.
Read More
BMW R18 to premiere in April 2020
Brooap brings BMW Motorrad Motorcycle sketches
2019 MV Agusta lineup
Triumph Japan unveils the launch date of Tiger 900
BMW Motorrad's Teaser 1