The motorcycle world buzzed with excitement as KTM India unveiled the 2024 model of the 250 Duke. Upon closer inspection, it's evident that KTM has pulled all the stops for this third-generation streetfighter. So, let's dive deep into what KTM offers with this iteration.
Pricing
Priced at a competitive Rs 2.39 lakh ex-showroom, KTM ensures the 2024 250 Duke remains accessible, mirroring the cost of its predecessor.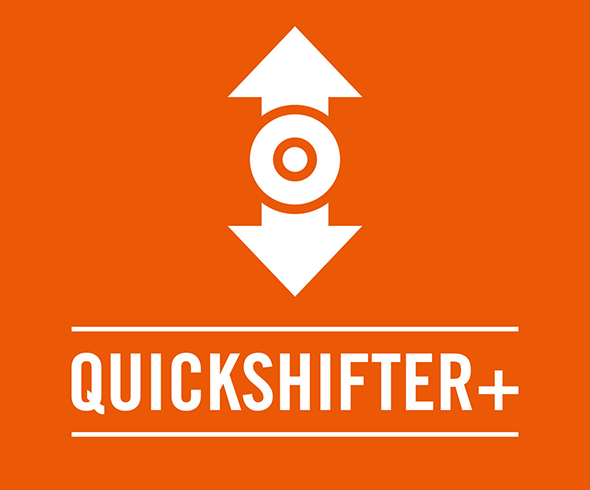 Quickshifter to improve rear wheel traction and smooth acceleration
Features and Design
The first thing that catches your eye is the aggressive design. KTM has drawn inspiration from the flagship 1290 Super Duke, giving this model a more menacing front fascia. The fuel tank boasts muscularity, emphasized by sharp extensions, and the die-cast aluminium sub-frame tail section further refines its looks.
But KTM doesn't stop at aesthetics. They have integrated a ride-by-wire throttle system, a responsive slipper clutch, and a swift quick shifter. The 5-inch Bluetooth-enabled LCD is a treat, offering intuitive turn-by-turn navigation, ensuring riders stay connected and on track.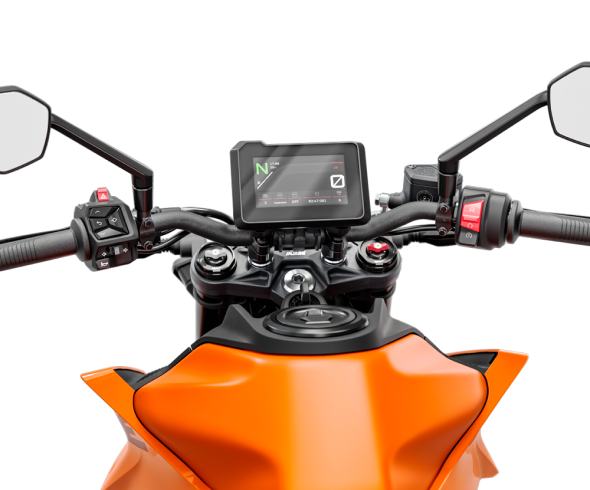 Large 5 inch LCD Display
Engine
KTM has poured significant effort into reimagining the 250 Duke's heart. With an optimized cylinder head, a redefined gearbox, and a larger airbox, it's clear they aim for enhanced performance. Although KTM hasn't released the exact numbers, the upgrades hint at a punchier response than the previous 29.6bhp and 24Nm offered by the 248.7cc engine and now the 247.07cc Single Cylinder, Liquid Cooled, DOHC, FI Engine makes 31 PS @ 9250 rpm and 25 Nm @ 7250 rpm of torque.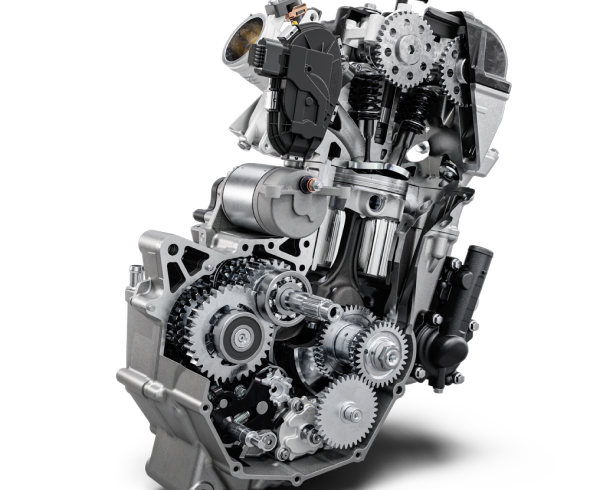 The new engine features an improved gearbox and optimized cylinder head
Cycle Parts
KTM revolutionizes the bike's core framework. They have introduced an innovative steel trellis frame, an off-set mono-shock, a newly-curved swingarm, and lightweight 17-inch alloys. Each element enhances the bike's nimbleness on the road. Furthermore, the improved braking system guarantees better control and safety.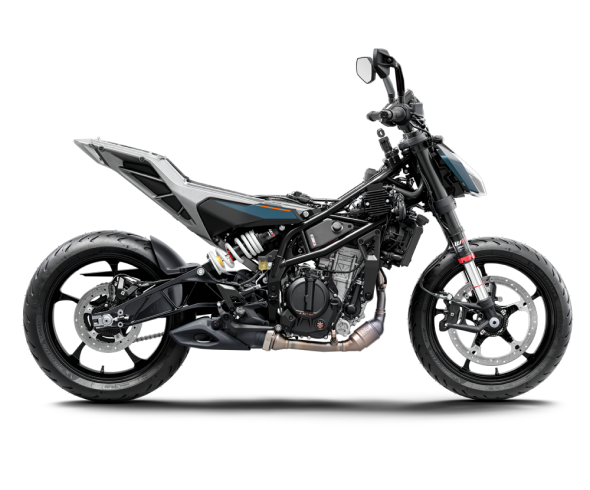 Provision of all new trellis frame with sub-frame for better handling
Handling
The handling of the 2024 KTM 250 Duke is one of its strengths. The motorcycle is built around a lightweight steel trellis frame and weighs just 157kg. This makes it very agile and easy to manoeuvre, even in tight traffic. The suspension is also well-tuned, providing a good balance of comfort and performance.
The 2024 KTM 250 Duke has been improved over its predecessor in terms of handling. The new frame is stiffer and more responsive, and the suspension has been retuned for better stability and control. This makes the 250 Duke more capable on twisty roads and at high speeds.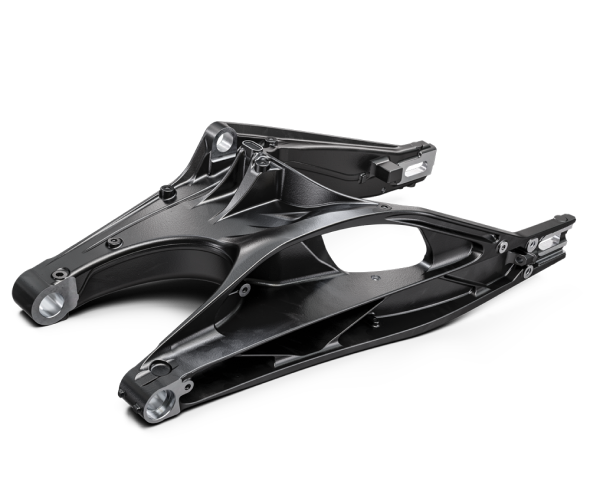 A curved aluminium banana swingarm for a robust platform
Here are some of the factors contribute to the good handling of the 2024 KTM 250 Duke:
Lightweight construction: The 250 Duke weighs 162.8 kg, which makes it easy to manoeuvre and control.
Agile chassis: The 250 Duke has a lightweight steel trellis frame that is very agile and responsive.
Well-tuned suspension: The 250 Duke has WP APEX USD forks, 43mm diameter on the front and WP APEX Monoshock, 10-step preload adjustable on the rear that is well-tuned for both comfort and performance.
Wide handlebars: The wide handlebars give the rider good leverage and control over the motorcycle.
Low seat height: The low seat height of 800/820 mm makes it easy for riders of all sizes to reach the ground.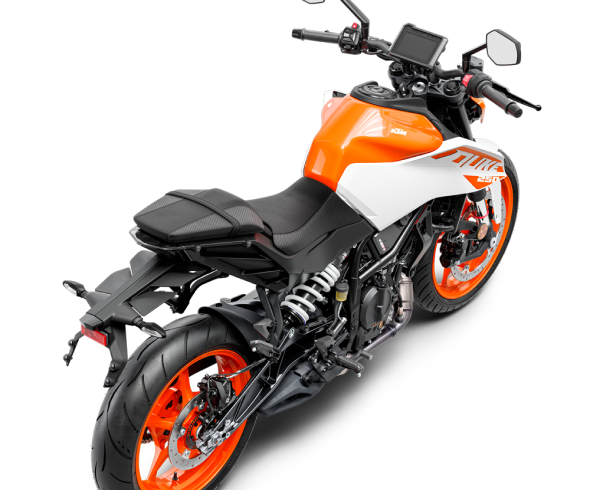 To improve cornering there is a long wheelbase, new 800/820 mm height and new frame geometry
Key differences between the 2023 and 2024 KTM 250 Duke
Engine: The 2024 KTM 250 Duke gets a redesigned engine that is more powerful and efficient. It produces 30 bhp and 25Nm of torque, which is a slight increase over the 2023 model.
Chassis: The new Duke arrives with a new stiffer more responsive chassis. This makes the bike more stable and agile, especially on twisty roads.
Suspension: It has a new suspension better tuned for both comfort and performance. This makes the ride more comfortable on rough roads, while still providing good handling.
Brakes: New brakes that are more powerful and efficient. This makes it easier to stop the bike safely, even in emergency situations.
Features: It also has a number of new features, including ride-by-wire throttle, slipper clutch, and quick shifter. These features make the bike more comfortable and enjoyable to ride.
Let us understand the Pros and Cons
Pros of KTM 250 Duke 2024:
Comprehensive Updates: The 2024 version of the 250 Duke comes with significant upgrades, making it a fresh and modern choice for buyers.

Advanced Features: With features like a ride-by-wire throttle system, slipper clutch, quick shifter, and a 5-inch Bluetooth-enabled LCD offering turn-by-turn navigation, it's ahead of many rivals in the same segment.

Aesthetic Appeal: The aggressive design inspired by the flagship 1290 Super Duke is bound to appeal to those who prefer a bold and sporty look.

Engine Overhaul: A redesigned engine with an optimized cylinder head, enhanced gearbox, and larger airbox hints at better performance and efficiency.

Improved Handling: The new steel trellis frame, off-set mono-shock, and curved swingarm, combined with lightweight 17-inch alloys, promise agile handling and stability.

Competitive Pricing: Despite the myriad of updates, KTM has managed to keep the price in line with its predecessor, offering better value for money.

Brand Reputation: KTM's strong reputation for producing performance-oriented motorcycles assures quality and reliability.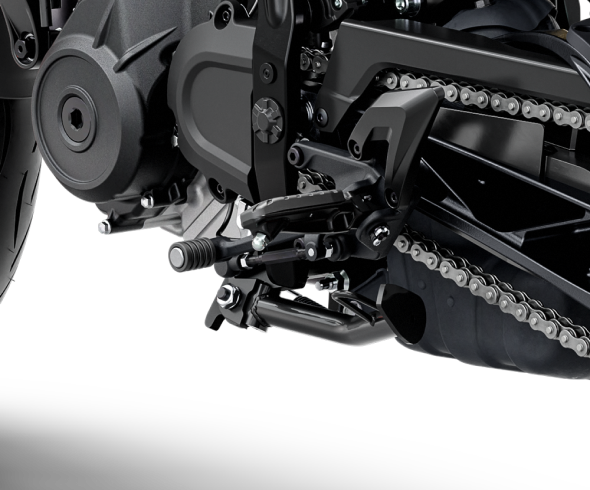 Grippy forged lightweight aluminium footpegs
Cons of KTM 250 Duke 2024:
Potentially Stiff Ride: While not explicitly mentioned, KTMs, especially those inspired by their racing models, can sometimes offer a stiffer, sporty ride, which might not be comfortable for everyone, especially on longer journeys.

Service and Maintenance: High-performance bikes often come with higher service and maintenance costs, especially when compared to commuter motorcycles.

Limited Color Options: With only two color options (Electronic Orange and Ceramic White), some potential buyers might desire a wider palette to choose from.

Fuel Efficiency: High-performance engines, especially after overhauls for better power, can sometimes compromise fuel efficiency. Without specific figures, it's hard to gauge, but it's a potential concern.

Seat Comfort: KTMs, with their sporty design, sometimes have seats that are more performance-oriented and might not be the most comfortable for long rides or daily commuting.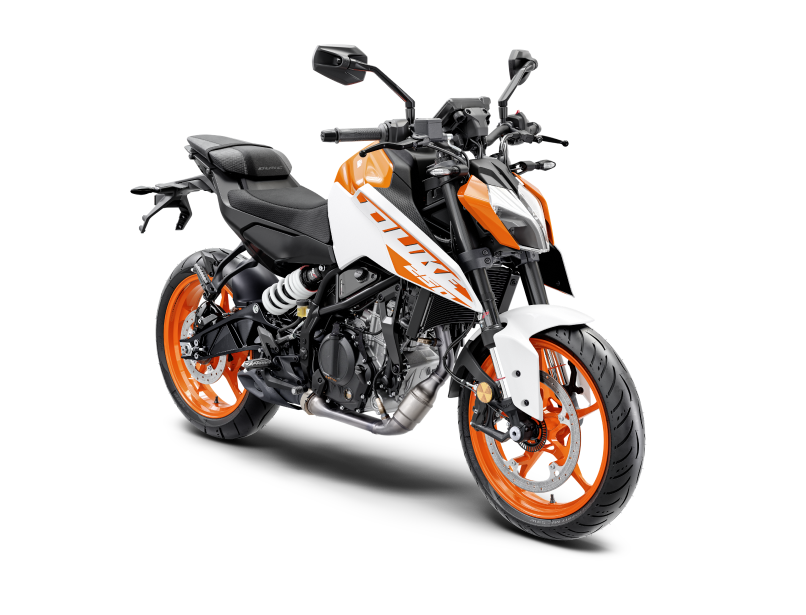 Ceramic White

Electric Orange
Availability
KTM offers the 2024 Duke in two striking colours: Electric Orange and Ceramic White. For those eager to grab this beauty, bookings commence at Rs 4,499.
Specs
Parameter
KTM 250 DUKE
Engine Type
Single Cylinder, Liquid Cooled, DOHC, FI Engine
Engine Displacement
249.07 cc
Bore x Stroke
72 mm X 61.1 mm
Power (PS)
31 PS @ 9250 rpm
Power (kW)
22.8 kW @ 9250 rpm
Torque
25 Nm @ 7250 rpm
Fuel Injection
Bosch Electronic Fuel Injection (EFI)
Lubrication
Wet Sump, Forced
Cooling
Liquid cooling with radiator
Compression Ratio
12.63:1
Front Suspension
WP APEX USD forks, 43mm diameter
Rear Suspension
WP APEX Monoshock, 10-step preload adjustable
Frame
Split-Trellis frame
Sub Frame
Aluminum casted sub-frame
Front Brake
320 mm Disc with Radially mounted calliper
Rear Brake
240 mm Disc with Floating calliper
Fuel Tank Capacity
15 L
Ground Clearance
176 mm
Saddle Height
800/820 mm
Kerb Weight
162.8 kg
Rider Aids
Ride-by-wire
Quickshifter+
SuperMoto ABS
Navigation
Type-C charging port
Starter / Battery
12 V, 8 AH MF battery
Headlight
Full Split LED Headlamp
Instrument cluster type
5″ LCD display with smartphone connectivity – turn-by-turn navigation, music, calls
Final Thoughts
The 2024 KTM 250 Duke is not just an upgrade; it's a transformation. KTM has crafted a machine that not only looks stunning but promises a thrilling ride experience. Whether you're an old fan or a new admirer, the 250 Duke beckons with a call of the open road.
Image Source: KTM