Top 6 things about the new BRABUS 930 Supercar
The BRABUS 930 is an incredible supercar that pushes the boundaries of performance and design. Based on the Mercedes-AMG GT 63 S E-Performance platform, it combines the power and elegance of its foundation with the unique touch of BRABUS.
Read More: Ducati unveils the new Iceberg White 2024 Monster
High performance 
With the promise of a 1-Second-Wow high-performance, the BRABUS 930 is designed to deliver an unparalleled driving experience. Its signature styling and attention to detail showcase the expertise and craftsmanship of BRABUS. From the exterior to the interior, every aspect of the car is carefully designed to embody power, sophistication, and a sense of awe.
The concept of the BRABUS 930 aims to redefine what a modern supercar should be, pushing the boundaries and exceeding expectations. Its earth-shattering strength and lightning-like force promise an exhilarating ride for those fortunate enough to experience it.
Exclusive
The BRABUS 930 Supercar is a highly exclusive and extensively modified version of the Mercedes-AMG GT 63 S E-Performance. It features significant performance, aesthetics, and interior luxury upgrades. Here are the key features and specifications of the BRABUS 930:
1. Powertrain: The BRABUS 930 has a twin-turbocharged, in-house-tuned 4.0-litre V8 engine. It produces an impressive 930 horsepower and 1,130 ft-lbs of torque. This power allows the vehicle to achieve a 0-60 mph time of 2.8 seconds. The top speed is electronically limited to just over 196 mph.
2. Exhaust System: The car has an adjustable valve-controlled carbon-titanium exhaust system. It features twin 3.5″ dual-unit tailpipes set in carbon surrounds, enhancing the sound and performance of the vehicle.
Brakes
3. Wheels and Brakes: The BRABUS 930 has ten-spoke wheels forged BRABUS Monoblock Z Platinum Edition. These wheels are paired with BRABUS braking hardware, ensuring optimal stopping power.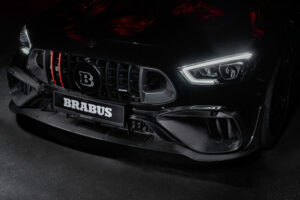 4. Suspension and Body Kit: The BRABUS 930 features a BRABUS SportXtra suspension lowering module to improve stability at high speeds. It also comes with a carbon body package, including a rear wing, rear diffuser, grille surrounds, and front splitter, all made from carbon fibre.
Read More: Aston Martin to bring DB12
Enhancements
5. Exterior Enhancements: The vehicle sports various exterior enhancements, such as a BRABUS fender, trunk lid, and hood badges, along with an illuminated "B" logo on the grille.
6. Interior Upgrades: The interior of the BRABUS 930 offers a bespoke luxury experience. It includes BRABUS door locking pins, an aluminium pedal pad set, adjustable accent lighting, a Focal audio system, anodized frosted red trim, and abundant carbon fibre elements. The seats and door panels feature a particular fractal triangular stitch pattern.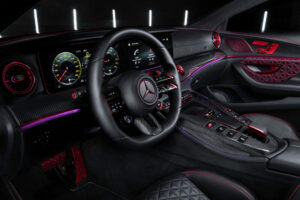 The BRABUS 930 Supercar is a limited-production model, with pricing starting at €323,435 (~$348,550). Its immense power, aerodynamic enhancements, and luxurious interior make it an exclusive, high-performance vehicle for discerning enthusiasts.
Source: Brabus