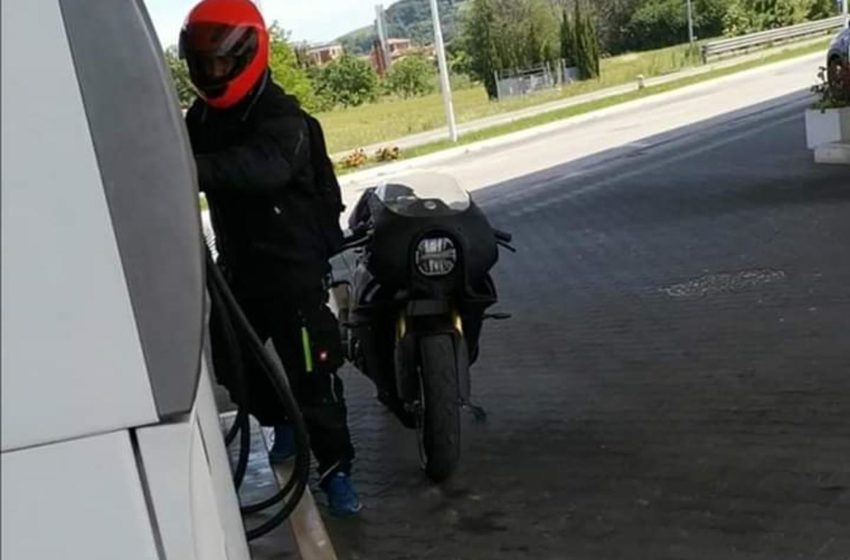 Upcoming Bimota KB4 is spied
A few days ago Bimota had leaked a few pictures of KB4 on its official Instagram handle.
Now Andrea Tiraferri has spied the upcoming Bimota KB4 at a Gas Station.
The official image is out of focus, but thankfully, the person who took the spy shots at the gas station released it.
Rimini is mentioned on it, so yes it is Bimota.
Looks compact.

Gets the clip-on but slightly upright position.

The screen is different from the design sketch. The top portion looks flat.

Silencer end is the same as Ninja 1000 SX (not the design sketch).

Is it a temporary exhaust?

LED headlight.

Paint scheme looks black and red colour on the frame.

Other than that, it is roughly the same as the first sketch.

The exhaust end looks similar to the exhaust end of the Ninja 1000 SX.
So logically exhaust system of the Ninja 1000 SX is still attached as it is. 
Source: Bimota.
If we look at the design sketch of KB4, it is unlikely that the exhaust system of Ninja1000 SX remains as is, we also think the exhaust system of Ninja1000 SX does not match the design of KB4.
Or maybe the exhaust for the commercial version will follow the design sketch? It is still a question
To conclude in these spy shots, it does look like it is a temporary exhaust.
Also, the last official teaser doesn't have a silencer. It also shows Bimota is carrying out tests of the new KB4.
However, we are unsure if the KB4 will be unveiled on time but then we also don't see much delays.
---
Read More
Our Top 6 questions to SC project
Bezzi brings some cool Bimota renderings
Upcoming Yamaha Cygnus X is spied in Taiwan
Do we see a new bike in the upcoming Batman movie?
Aprilia Japan starts getting orders for RSV4
What to expect from 2021 Kawasaki ZX-6R?