Ural motorcycles all electric side car motorcycle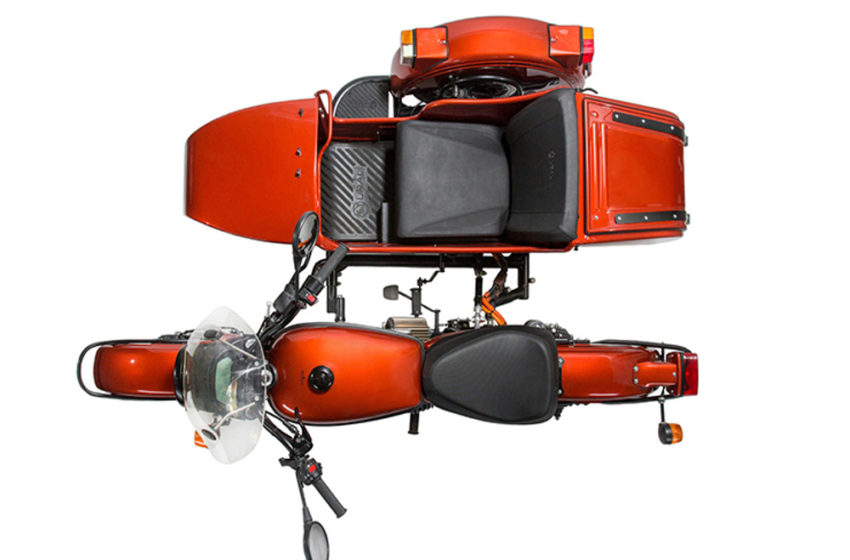 Ural Motorcycle is ecstatic and why not because the first phase of their development is over.Supported by  Zero Motorcycles for their components like motors, batteries, controller and other components which made an effective  power-train package  and this built a one wheel drive cT chassis on which the Ural Motorcycles platform was build. Also engineering support was provided by Zero Motorcycles during the development and testing phase
Again the fabrication and design was made by ICG based in California.
What the motorcycle offers for rider?
Urals answer : Comfort, stability and safety, not to mention more space for batteries.t's very stable thanks to its three wheels. It doesn't have clutch or gear shifter, twisting the throttle is basically all you need to operate the bike. And it accelerates very quickly.
And most important thing was bike was tested in rain, snow, highways and city streets.
Initial Proof of Concept was developed with several iterations looking for right and best configuration of the electric powertrain package.
Ural says they faced challenge to find right location for batteries while maintaining passenger comfort, storage capacity and stability distinctive to Ural sidecars.
Future Plans
Ural will not go into production of this motorcycle anytime soon.The decision will ultimately be based on market research, consumer and industry experts' feedback.It may take around 2 years.
TECH SPECS/POWER TRAIN
Motor: Z-Force® 75-7 passively air-cooled, high efficiency, radial flux, interior permanent magnet, brushless motor
Max Output (hp): 60hp (45kW) @5,300rpm
Max Torque (ft-lbs): 81 ft-lbs (110 Nm)
Batteries as tested: ZF13.0 powerpack, ZF6.5 powerpack (combined peak power 19.5kWh)
Charging System: 1.3kW on-board charger from a standard 115V/15A breaker (estimated 13 hours to charge from empty to 95%)
PERFORMANCE/ECONOMY
Range as Tested: Up to 103 miles (165 km)
Recommended Max Cruising Speed: 65mph (105 kmh)
Maximum Speed as Tested: 88mph (140 kmh)
DIMENSIONS AND WEIGHT
Overall Length: 91.6 in (233 cm)
Overall Height: 53.8 in (137 cm)
Overall Width: 63.6 in (162 cm)
Seat Height: 31.0 in (79 cm)
Ground Clearance: 9.2 in (23.4 cm)
Max Permissible Weight: 1325 lbs (600 kg)
Dry Weight: 822 lbs (373 kg)
---
Source : Ural Motors