News : Walt Siegl Motorcycles unveil two superbikes
Walt Siegl Designs Contemporary High-Performance Motorcycles With Timeless Styling.
The WSM group utilizes latest hardware, technology, suspension and ground breaking innovation to manufacture machines with choicest execution, usability and security. Each WSM bike is hand-worked to arrange in our New Hampshire workshop.
WSM's first generation display is the air-cooled Ducati-based Leggero, utilizing Walt Siegl-planned frame and bodywork
They have come up with two new superbikes with Liquid Cool and Air Cool engines.
Air Cooled Two Value Specs:
Suspension – Ohlins FGR World Superbike forks, WSM-spec Ohlins TTX shock, 1098 rear swingarm
Brakes – Brembo Monobloc calipers, Brembo 330mm front rotors, Spiegler Performance brake lines
Bodywork – WSM pre-preg carbon fiber, carbon fiber airbox, intake tubes, WSM aluminum fairing stay. Custom Gustafsson windscreen.
Frame – WSM aircraft spec chrome/moly tubing, structural carbon fiber subframe/tail
Engine – Bruce Meyers Performance hybrid air-cooled engine
Electronics – WSM/Race Spec harness, traction control, clutchless quickshift, interface dashboard with data acquisition system, Ducati ECU with WSM performance program
Wheels – BST carbon fiber. Metzeler racing slicks
Exhaust – WSM stainless header system, Arrow titanium mufflers
Foot Controls – WSM rearsets
Hand Controls –Duca Bike radial master cylinders.
Liquid Cooled Four Values Specs:
Suspension – Ohlins FGR World Superbike forks, WSM-spec Ohlins TTX shock, 1098 rear swingarm
Brakes – Brembo Monobloc calipers, Brembo 330mm front rotors, Spiegler Performance brake lines
Bodywork – WSM pre-preg carbon fiber, carbon fiber airbox, intake tubes, WSM aluminum fairing stay. Custom Gustafsson windscreen.
Frame – WSM aircraft spec chrome/moly tubing, structural carbon fiber subframe/tail
Engine – Bruce Meyers Performance 1098 engine
Electronics – WSM/Race Spec harness, traction control, clutchless quickshift, full interface dashboard with data acquisition system, Ducati ECU with WSM performance program
Wheels – OZ Racing wheels, Dunlop Q4 tires
Exhaust – WSM stainless, SC Project Muffler
Foot Controls – WSM rearsets
Hand Controls –Brembo radial master cylinders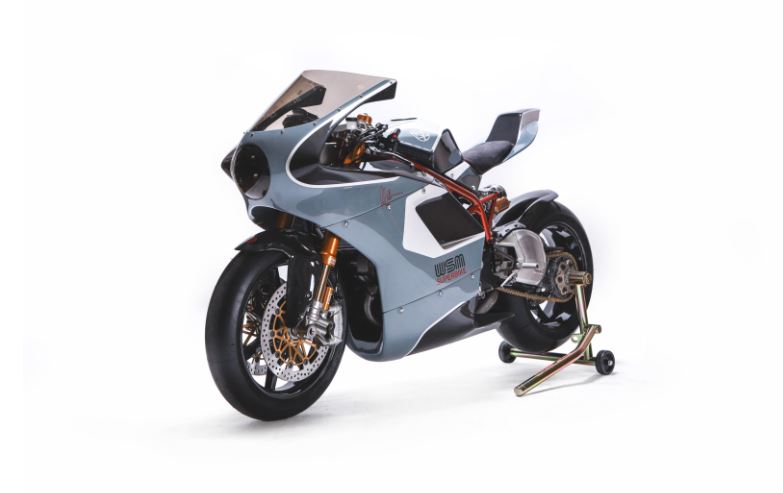 ---
Source : Walt Siegl and Photos: © 2018 Gregory George Moore – All Rights Reserved