Custom : Stephane's Virtuoso T4 Motorcycles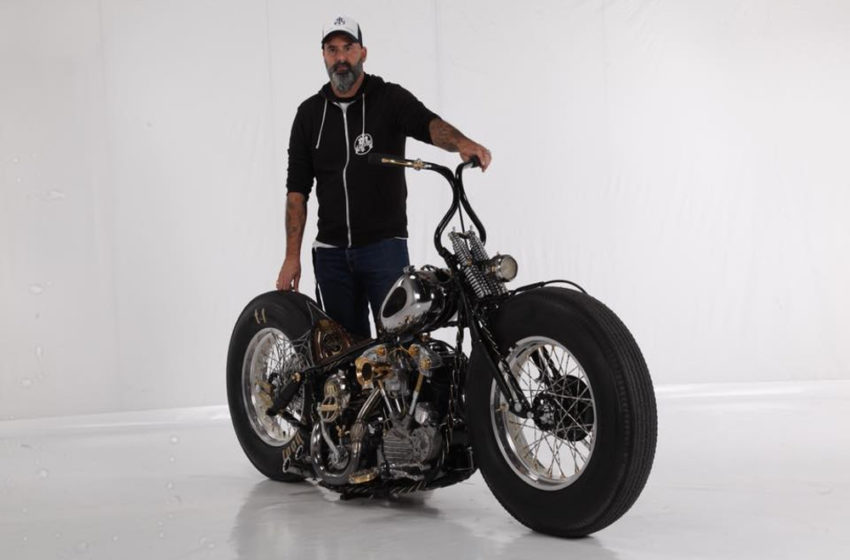 T4 Motorcycles
Based in scenic Geneva, Switzerland is T4 Motorcycles owned by Stephane Grand. For more than 10 years Stéphane Grand has been a vintage car enthusiast, manufacturer who transform motorcycles into customs giving them unique and personalized touch.
From Hot Rod to the Cox and from the Harley to the standard bike you say and Stephane can build them all.
​Knucklehead, Early Shovel, Panhead, shovel, etc …transformation or restoration modification into Bobber, Cafe Racer, Chopper, Bagger or  Japanese Style Motorcycles.
Stephane has been building two custom motorcycles name SG3 and SG4 for both the details are been neatly put. By looking at Stepane's builds .The old school chopper adage comes to fore "Bikers don't go gray.We turn Chrome" . Building motorcycles has been Stephane's passion since last 10 years and he has build these attention seeking customs with his pure heart. Both S3 and SG4 resemble the Chopper style Bobber.
Below is my question and answer session with Stephane and how he had build these customs.
Tell me a bit about T4 Motorcycles?
Stephane: All T4 motorcycles are hand made
How was your experience in AMD World Championship?
Stephane: This is the first time that I participated in the AMD World Championship and it is a very beautiful experience I met very cool people the only problem is that I speak French MDR.
What according to you is most important aspect while you build custom motorcycle?
Stephane: The most important thing for me is that the bike stays in an old school spirit.
How do you think to put so much of details in your motorcycles?
Stephane: The details come to me like that without thinking too much.
Typically on an average how much time does it take for you do build the motorcycle?
Stephane: Average 7 months.
Do you also work on engine?
Stephane: Yes I also work on mechanics in principle I restore them to the origin.
Let me know your expansion plans apart from Switzerland and France?
Stephane: For now I have a workshop in Geneva in Switzerland and a small workshop in France next to the Swiss border, now the goal and try to sell my bikes in the USA I am looking for someone to represent me.
How SG4 was build?
Practically all hand made to measure, the big difficulty is to have made the twisted frame but keep the original foundry, then I filed the edge of the twist and I polished and then tempered the frame in a bath of brass, and then painted the frame in black.
The spokes of the wheels are twisted to measure as well as the sails of the wheel, the hubs are of origin the fork has been shortened by 8 cm and 5 cm on the second part. The handlebars and custom and painted black. The swing-arm has been lengthened and twisted then brassed saddle and tailor exhaust and custom and polished.
The tank is of polite as well of incense style. The oil tank is custom made and polished. The lighthouse and vintage tailor-made and polished tail lights transmission and custom .Carburettor horn and tailor and dipped in a bath of gold. Foot pegs are custom made in brass and the aluminium insert tailor-made rear brake system all the engraving done by hand .From the saddle handmade and modified air suspension.
How SG3 was build?
Original frame slightly modified .It has custom tank, custom oil tank, custom exhaust, custom saddle in aluminium and polished, custom feet in brass, lighthouse original carriage 1890,shortened forceps of 5 cm, twisted ray, custom sailing, modified air suspension, custom handlebars, swing arm lengthened by 5 cm and all is handmade.
SG3 has below specs
Motor
Year: 1942 – 1966
Make: Harley Davidson /4-T
Model: Unique
Cylinder: 1000cc
Cams: S&S
Yokes: HD EL 1942
Pistons: S&S
Linkage: S&S
Housings: S&S
Carburettor: S& S Super E
Ignition: Battery
Filter: Cornet Maison
Exhaust: 4 – T Motorcycles and Fishtail
Transmission
Harley Davidson
Reports: 4
Primary: Chain Duplex
Frame
Mark: Harley Davidson
Type: FLH 1966
Well you don't often see the old school motorcycles made into some brilliant and clever customs.Clever ideas like components been provided with the bath of gold and each component placed in a manner which looks subtle  and fundamentally made practical.
These Bobber style customs not only look beautiful but very well crafted giving each component more than 100% efforts.
Well if you need one dont forget to ring Stephane.
Pictures and Videos of SG4 and SG3
SG4 by stephane grand ???

T4 Motor-Cycles ಅವರಿಂದ ಈ ದಿನದಂದು ಪೋಸ್ಟ್ ಮಾಡಲಾಗಿದೆ ಗುರುವಾರ, ಆಗಸ್ಟ್ 30, 2018
⚡️T4 Motor-Cycles⚡️ SG4 1er place Punta-Bagna Valloire 2018 ???….#knucklehead #panhead #Harley Davidson #shovelhead #shovel #custom #kustom #motorcycles #harley #freeway #t4motorcycles #wild #customchrome#earlyshovel #bike #motors #picoftheday#rod #orange #bagger #Freeway#bike #caferacer #road#cox#kafer#vw#hotrod#classic#vintage#bobber#chopper#@#

T4 Motor-Cycles ಅವರಿಂದ ಈ ದಿನದಂದು ಪೋಸ್ಟ್ ಮಾಡಲಾಗಿದೆ ಸೋಮವಾರ, ಜುಲೈ 2, 2018
Stephanes SG3
---
Source : T4 Motorcycles