1972 De Tomaso Pantera GTS goes on auction
How much attention and money the Fast & Furious franchise cars can command is astounding! Collectors are willing to pay top dollar for these film-used vehicles. 
1972 De Tomaso Pantera GTS
The 1972 De Tomaso Pantera GTS featured in Fast Five is a highly sought-after vehicle among collectors. This particular car gained fame for its appearance in the train heist scene, where Paul Walker and Vin Diesel stole it from a moving railcar. After filming, the car experienced overheating issues, which led to it being preserved and mostly unused.
In 2013, the car was sold to its current owner, who fixed the overheating problems and restored it to its original screen-used condition. The restoration included a repaint in the movie-correct brilliant black with white graphics and tinted windows. 
Features
The De Tomaso features a 351ci (5.7-litre) Cleveland engine, a ZF 5-speed manual transmission, and a new clutch. The machine has been upgraded with an Edelbrock Performer intake manifold, a Carter 750 carburettor, a thermostatic electric radiator fan, and an MSD electronic ignition. The car rides on polished 17″ Campagnolo wheels wrapped in Michelin Pilot Sport tires.
Inside, the black interior includes aftermarket additions such as a battery shutoff and a roll bar installed before filming for stunt safety and camera mounting convenience. The car also has new Vader power window motors. However, the original components have been removed, including the spare tire, luggage rack, air conditioning, heater motor, and windshield wipers.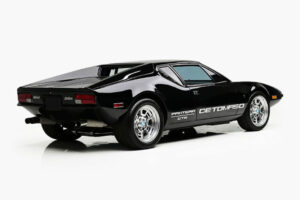 The car's exterior sports the original movie car's 17″ Campagnolo wheels, which have been polished and equipped with Michelin Pilot Sport tires. 
Movie
This specific movie car was the basis for a limited-edition Hot Wheels model. It comes with a Deluxe Marti Report and will be auctioned at Barrett Jackson's Las Vegas sale, starting on June 22nd.
Production Numbers: The exact production numbers of the Pantera GTS could be more apparent. De Tomaso produced approximately 7,000 Panteras during its production run, but the GTS variant was relatively rare compared to the standard models.
Know more here
Photos: Barrett- Jackson