Quite an impressive background for Colt Wrangler! Being a skilled cowboy and competitive rider since childhood certainly adds an adventurous element to his persona. And it's even more intriguing to learn he has also made a name for himself as a motorcycle builder.
Read More : Iconic Italian 1947 Vespa is on sale
2015
Establishing Colt Wrangler Motorcycles in 2015, Colt has honed his skills and developed a unique design language sets his creations apart. The hallmark of his builds is their exceptional sheet-metal work, showcasing Colt's attention to detail and craftsmanship. These motorcycles are visually appealing and engineered to deliver high performance.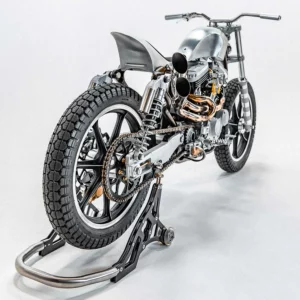 Balance
Colt's designs strike a balance between aesthetic appeal and functional excellence. Those familiar with the intricacies of motorcycle design will appreciate the fine details incorporated into his builds. And for the fortunate individuals who have the opportunity to ride one of his motorcycles, they can expect an exceptional experience.
Colt Wrangler's journey from being a cowboy to an accomplished motorcycle builder showcases his versatility and passion for craftsmanship. He has dedicated himself to both of these pursuits, combining his love for the Western cowboy lifestyle with his creative talents in motorcycle design.
Build-Off Competition
Excited about the Dream Build-Off competition and the opportunity to win new motorcycles from prestigious brands like BMW, Indian, and Royal Enfield, Colt decided to change the Harley Sportster project. With the collaboration of Vintage Vendetta Garage, they were determined to create a custom motorcycle would stand out and impress the judges.
Given the competition's focus on local shops and backyard builders, Colt saw this as the perfect chance to showcase their creativity and craftsmanship. They aimed to create a unique motorcycle that would combine a scrambler's ruggedness with a touch of vintage style and modern performance.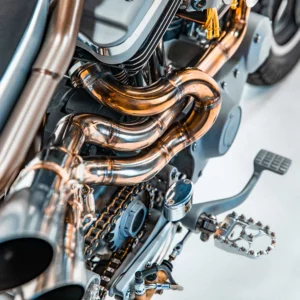 Vintage Vendetta Garage team
Colt and the Vintage Vendetta Garage team returned to the drawing board, brainstorming ideas and sketching different design concepts. They wanted to incorporate elements highlighting the Sportster's iconic Harley-Davidson heritage while adding their flair.
After careful consideration, they decided to infuse the bike with a steampunk aesthetic, a style known for its fusion of Victorian-era elements with futuristic technology. This choice would allow them to create a visually striking motorcycle would capture attention and impress the judges of the Dream Build-Off.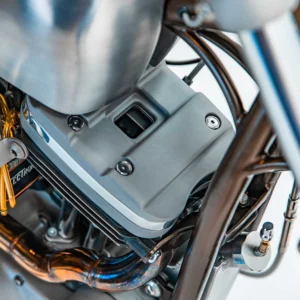 Components
The team began sourcing unique components and parts would fit their vision. They acquired vintage-inspired gauges, custom-made brass accents, and copper detailing to bring the steampunk theme to life. They also selected high-performance aftermarket suspension, tires suitable for off-road adventures, and a powerful engine to ensure the motorcycle's performance matched its unique appearance.
Throughout the build process, Colt and the Vintage Vendetta Garage team put their heart and soul into every detail. They carefully handcrafted the leather seat, designed a unique exhaust system, and meticulously painted and finished each component perfectly.
Deadline
With the deadline approaching, Colt and his team worked tirelessly, pouring late nights and long hours into the project. They encountered challenges and setbacks, but their determination and passion kept them going.
Finally, after weeks of hard work, the revamped Harley Sportster was finally ready for the Dream Build-Off competition. It had been transformed into a steampunk-inspired scrambler, combining classic design elements with modern performance and a touch of whimsy.
Proud
Colt felt proud of their accomplishments, knowing they had created something unique and eye-catching. They eagerly submitted their entry to the competition, hoping the judges would appreciate their innovative design and attention to detail.
Now, they could only wait and see if their hard work and dedication would pay off in victory and the opportunity to ride away with one of the coveted motorcycles from BMW, Indian, or Royal Enfield. Regardless of the outcome, Colt knew the experience and recognition gained from participating in the Dream Build-Off would be invaluable for their future endeavours.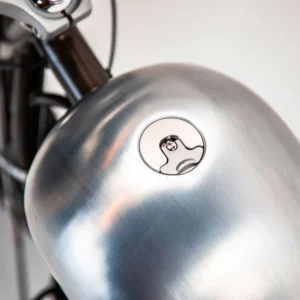 Budget
Cole's budget-conscious approach required him to rely on his friends' skills, expertise, and assistance to fabricate unique parts for the motorcycle. He began by disassembling the Sportster's frame and making modifications.
One significant change Cole made was removing the frame's original neck gusset and replacing it with a smooth, tubular steel neck gusset. This alteration not only provided a new aesthetic for the front of the bike but also added structural integrity to the frame. By fabricating the new neck gusset from scratch, Cole ensured it fit his vision for the bike's overall design.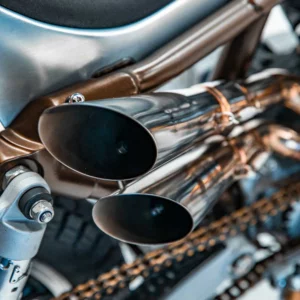 Changes
In addition to the neck gusset, Cole created new motor mounts, further transforming the bike's appearance. These custom-made mounts not only served as functional components but also contributed to the unique style of the motorcycle.
Cole relocated the lower motor mount to accommodate the new design and optimize space. This adjustment allowed him to fit a custom-fabricated aluminium oil tank in front of the engine, positioned between the frame rails. Placing the oil tank in this location freed up space elsewhere and exposed it to airflow, ensuring efficient cooling.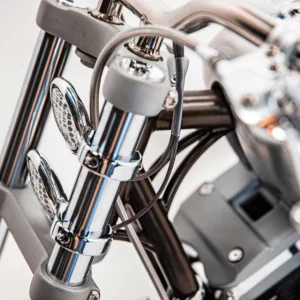 Skills
By employing his skills and utilizing the assistance of his friends, Cole was able to transform the Sportster's front end and overall aesthetic, despite working within a limited budget. The custom-fabricated parts and strategic modifications added a personalized touch to the bike while achieving the desired look and functionality.
Colt has done an impressive job customizing a Sportster motorcycle. He made several modifications to the bike, including relocating the oil tank to the front and the battery underneath the swingarm. The wiring and electronics were neatly tucked away, enhancing the bike's visual appeal.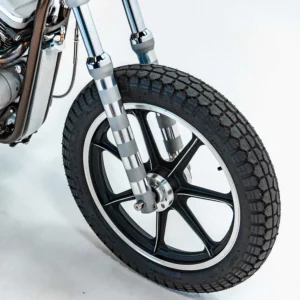 Custom gas tank
Colt created a custom gas tank and tail section by modelling them in foam and wire before forming them from aluminium. He chose not to paint them to showcase his craftsmanship. Colt reached out to some of his favourite brands to support his build. Lectron provided an entire carburation system, and Lyndall Brakes contributed to high-performance brakes.
Colt acquired a Trac Dynamics swingarm from Tony at Allied Racing as part of the modifications. He also sourced new-old-stock 19″ Harley-Davidson wheels from the 1970s and used hub conversions from Vulcan Engineering to fit the newer Sportster. Colt opted for sidecar tires typically used on Ural models to achieve the desired stance and tread pattern.
Forks
The forks were modified by shaving and lathing them, removing the front brake. They were then vapour-blasted, polished, and taped off to create a contrast stripe detail. For the rear brake, Colt obtained a used Brembo master cylinder and calliper from an old Ducati.
Silverback Moto bent custom handlebars with integrated risers and internal wiring. Colt added an internal throttle runs through the frame to the Lectron carburettor and Prism Supply breather bolts and brackets. A Speed Dealer velocity stack capped off the setup. The controls are kept simple, with a starter, kill switch, and a switch for FNA Cycles' Pancake Lights, offering high and low-beam functionality.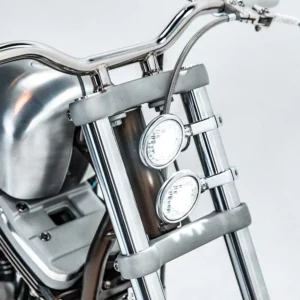 Exhaust
Colt approached the exhaust system smartly, purchasing cheap stainless headers on eBay and cutting and re-welding them according to his preferences. He modified a set of old mufflers and fabricated a stainless mount attached to the upper rear shock mount.
Read More: This Lamborgini tractor looks amazing
The Sportster build impressed the judges in the Dream Build-Off competition, securing top honours in the over-1,200 cc category and earning Colt a brand-new BMW R18 motorcycle. He also secured a full-time position as the lead fabricator with Revival Cycles, and his talent promises exciting prospects for both him and the company.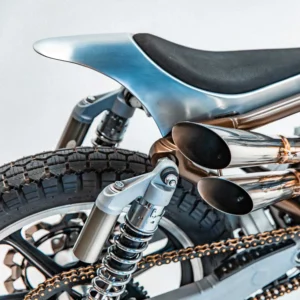 Attention to detail
Colt's attention to detail and skilful modifications resulted in a standout custom Sportster build, garnering recognition and opportunities for him in the motorcycle industry.
Source: Facebook, Instagram, Colt Wrangler Website
Photos by Isaiah Carrasco