2020 Triumph Rocket 3 vs 2020 Ducati Diavel 1260
Please fasten your seat belts as we compare the two hot bods in the motorcycle world.
2020 Triumph Rocket 3  vs. Ducati Diavel 1260 
Before we jump on to any conclusion, let's go back to history a bit of these two versatile motorcycles.
History 
Triumph Rocket 3 
This was back in 1998 when roadsters and cruisers were selling hot in the US, and that's when Triumphs Product Range Manager Ross Clifford came in.
The idea was to bring a cruiser that has 1600cc displacement, and it would compete with the likes of Honda Goldwing and Harley Davidson's Ultra Glide.
John Mockett started his work on this project. Now John Mockett was the same guy who had build the Hesketh V1000, the Bonivelle and the Tiger.
Soon the futuristic model S2 did come out; however, the consumer group was not ready to accept the futuristic design. So Mockett and his team build a more straightforward version of S2.
In 2003 the name of the prototype was given as "Rocket "Till date, the Rocket, when under several amendments.
Some of the critical milestones of Rocket 3 are as below.
In 2004 the original model arrived.

In 2006 Rocket 3 becomes classic.

In 2007 Tourer Limited Edition arrives.

In 2010 Rocket 3 lineup Roadster becomes a powerful motorcycle with 146 horses.
Ducati Diavel 1260
Ducati started the production of Diavel from 2010, as compared to Rocket 3, Diavel is pretty new.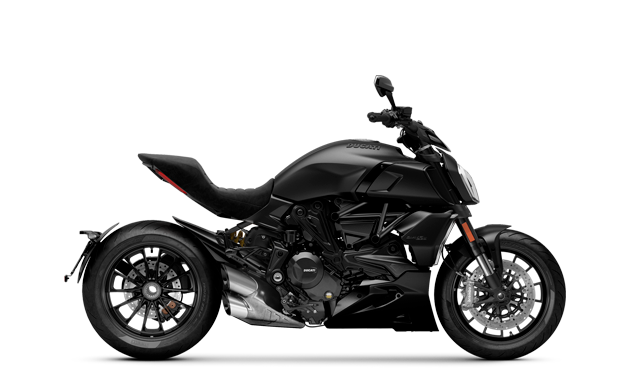 The critical part that is styling for Diavel has been developed by Ducati itself.
Pierre Terblanche, who was earlier main Ducati design man, was in charge of the project Diavel. 
Terblanche brought in several sought after specialists like Glynn Kerr freelance designer and who has been writing design columns for MCN to come up with initial concepts.
Unlike Rocket 3 here are few milestones for Diavel
2010 the original Gen 1 Diavel was launched.

2012 "Special AMG Edition" again, this versatile version had redesigned radiator vents, and the wheel design was individual.

2013 "Diavel Chromo" was brought in that had a chrome tank and also came with the Ducati Classic logo. It also received special attention towards other components like silver lower headlight shroud and gloss black seat cowling.

2015 "Titanium Edition." Limited to 500 copies, this version was launched on Gen 2 platform. Again special attention was given to its various components like a seat, fuel tank, windscreen and cowl

In 2017 we saw the Diesel variant was based on Gen 2 platform limited to 666 copies.
Structure 
Triumph Rocket 3. Comes in two variants 3R and GT
Head and cam cover, 

brushed exhaust heat

 shields and end caps.

Both the version ( 3R and GT) gets an 18 liter sculpted tank and aluminum Monza style cap.

Brushed aluminum air-box cover, 

brushed aluminum

 Monza-style coolant, and oil caps.
Machined fins on the crankcases.

It also gets a lot of touring accessories.

Two LED round headlights that go with the design.

Sophisticated styling with sleek lines 

20 spoke wheels 

The sexy looking single-sided swingarm 

To provide a better performance front portion gets the 150/80 ZR17 Avon Cobra tires and rear gets 240/50 ZRR16

Rocket 3 weighs 294 kgs kerb weight. With enormous power, it also becomes lighter by 40 kgs as it gets redesigned and involves balancer shafts, a newly build crankcase 

accompanied with dry-sump

 lubrication with the all-new six-gear transmission.

It has a lightweight aluminum frame.

3R comes with more sport 

handlebar when compared

 to 3GT as it has a cruiser handlebar.

GT gets more space in terms of the seat, seat height is now 29.5 inches, pillion pegs that can be adjusted, support in terms of the backrest to the pillion, and taller flyscreen.

Paint schemes for both the versions are 

Phantom

 Black while Rocket 3 gets additional paint schemes like Korosi Red and the Rocket 3 GT having a two-tone Silver Ice & Storm Grey option that includes a Korosi Red pinstripe decal. 
Ducati Diavel 1260 S. Again comes in two variants 1260 and 1260 S.
Winner of the Red Dot Award.

Ducati used the five-step process to build the Diavel 1260 S. 

 

Sketch

Virtual Modelling

Clay Modelling

Optical scanning of the clay model plus reverse enginereeing.

Paint Scheme and Trim

Unlike Rocket 3, Diavel 1260 S is sleek, versatile that is again based on the Gen 2 platform.

Single structure with futuristic design.

Sleek yet wholesome.

Diavel gets tubular steel trellis frame.

At the front, it gets 50 mm adjustable USD fork, and at the rear is monoshock aluminum cast single-sided swingarm.

Tire duties are performed by Pirelli Diablo Rosso III 120/70 ZR17 at the front, and at the rear, it comes with Diablo Rosso III 240/45 ZR17.

Seat height is 30.7 in which is equivalent to Rocket 3 as it gets 29.5 inches.

A 17-liter fuel tank that is 1 liter less than Rocket 3.

Kerb weight is 244 kgs even though. Now also though Rocket 3 becomes lighter by 40 kgs, it weighs 294 kgs on kerb weight, which 50 kgs more than Diavel.

Six-speed gearbox
Engine 
Triumph Rocket 3 
Both the versions get a new 2458CC DOHC inline 3 engine.

Roughly 11% boost in power

 compared

 to previous Rocket 3 that's an insane power given to cruiser.

167PS peak power @ 6,000rpm, which is close to 165 bhp.

221Nm peak torque @ 4,000rpm

Rocket 3 comes with astounding acceleration that goes 0-60 mph in 2.79 secs.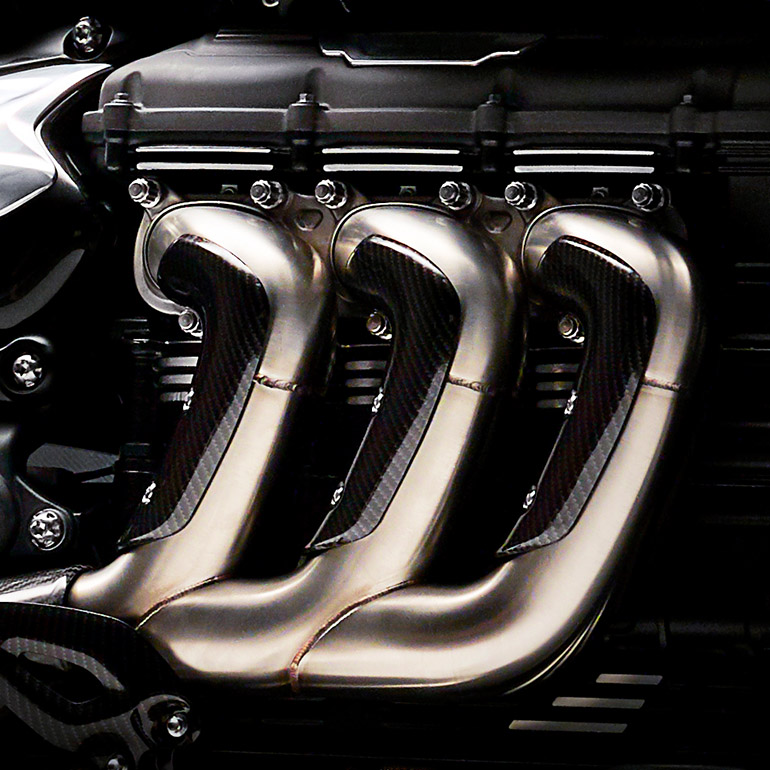 Ducati Diavel 1260
Ducati Testastretta DVT 1262, L-Twin cylinder, 4 valves per cylinder, Dual Spark, Liquid-cooled, Desmodromic Variable Timing.

Power figures are 159 hp (117 kW) @ 9,500 rpm and Maximum torque 95 lb-ft (129 Nm, 13.1 km) @ 7,500 rpm now that does mean it is 6 hp less then Rocket 3 .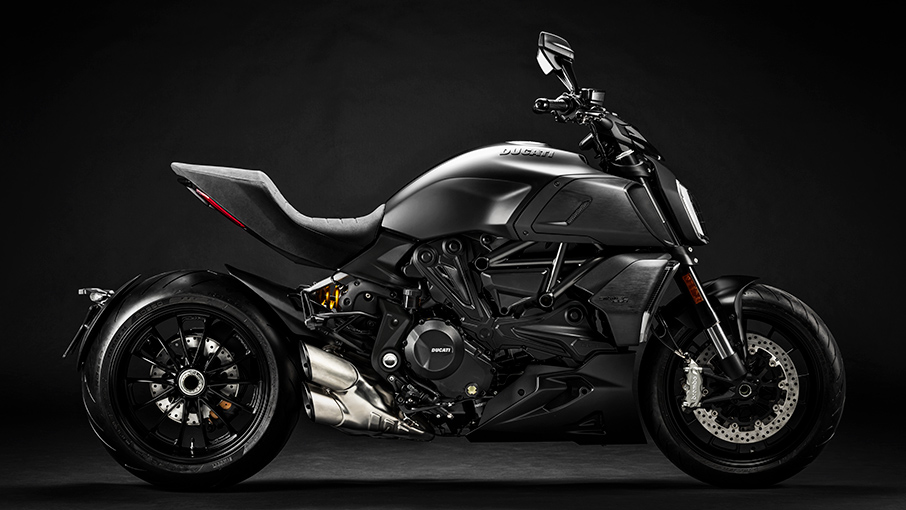 Electronic
Triumph Rocket 3 
It gets standard cruise control 

and four riding

 modes out of which one is programmable and rests changes the throttle response.

Customizable TFT display.

Under-seat USB charging point

For any upgrade, Go Pro Control System, Google-powered navigation, Bluetooth smartphone integration, as well as MyTriumph app for iOS and Android. Clutchless shifting is available, as is a tire pressure monitoring system.
Ducati Diavel 
Riding Modes, Power Modes, Ducati Safety Pack (Cornering ABS Evo, Ducati Traction Control Evo DTC).

Ducati Wheelie Control Evo (DWC), Cruise control, Ducati Power Launch Evo (DPL), Hands-Free, Backlit handlebar switches.

3.5″ TFT color display, Full LED lighting system, Self-canceling turn indicators. Ready for: Ducati Quick Shift up/down Evo (DQS), Ducati Multimedia System (DMS), Antitheft system.
Price 
Triumph Rocket 3 retails Triumph Rocket 3 R retails at INR. 18.00 lakh (Ex-Showroom) in India. In the UK it comes to GBP 19,500, in the US it retails to out at $21,900 R; $22,600 GT
Ducati Diavel 1260 retails at INR. 19.2 lakhs (Ex-Showroom) in India. In the UK the price starts at £18,800.
LivingWithGravitys Take
We compared both the models taking into consideration four aspects Structure, Engine, Electronic Package and Price.
We leave it to you when it comes to making a choice as both the model's Rocket 3 and Diavel 1260 are versatile, and each model as its own advantages and disadvantages.
---
Sources : Various