A joyous day for GASGAS factory racing at MXGP round 17
Bouncing back from some challenging rounds of the FIM Motocross World Championship competition, GASGAS Factory Racing has enjoyed a solid day at the MXGP of Lombardia. 
The best overall result for the team was MX2 ace Isak Gifting who put together two consistent seventh-place finishes for sixth overall. 
Simon Langenfelder was also on the pace, securing a sixth-place finish in race two while going to ninth overall in MX2.
 In the MXGP class, we were a man down as Pauls Jonass' broken ribs ruled him out of racing, bringing his 2021 season to an end. Pauls' teammate Brian Bogers toughed it out for 10th overall after returning from illness.
GASGAS Factory Racing enjoys strong results at MXGP round 17

Gifting on the gas as he places sixth overall in the MX2 class

Final round set to take place this coming Wednesday in Mantova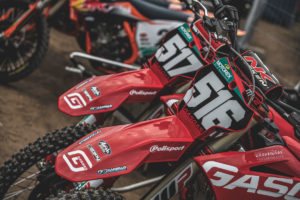 Quote 
Isak Gifting: "The first one at Mantova is done, and it's been a perfect day for me. My starts weren't the best, but I could make many passes early in each race, push forward, and stay out of trouble. 
It's been a difficult season, so to have a good result today is a positive thing for me, and I'm aiming to do the same, or better, on Wednesday."
Isak's teammate Simon Langenfelder is a consistent racer with the young German following up his 11th overall last time out in Arco with ninth overall at the MXGP of Lombardia. If it wasn't for a first-lap crash in race one, which saw the 17-year-old charge from last to 11th, he might well have ended up even higher as in race two. He brought his MC 250F home in a solid sixth place.
Returning to action after missing round 16 with illness, Brian Bogers converted his two great starts, impressive speed, and never give up attitude into a strong 10th-place overall result in the MXGP class. With just one round remaining, the Dutchman lies 12th in the series standings.
Unfortunately for Pauls Jonass, his season has ended prematurely after breaking three ribs just ten days ago. The super-tough Latvian gave it a go in free practice but was forced to call it a day because of the pain. Certainly not the way it was meant to end. Now Jonass can focus on getting himself back to 100% during the off-season.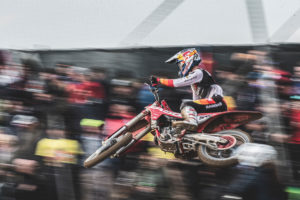 More quotes
Simon Langenfelder: "It's been a pretty decent day for me today despite a crash in the first race. I was able to charge through from last to 11th so that wasn't so bad, and I felt great on the bike, so I was looking forward to the second race. 
I had a good start in that one, and then it was just a crazy moto. People are crashing, getting passed, then passing people back. It was much fun and fabulous to battle like that. The focus is now on Wednesday and finishing the season with another strong result."
Brian Bogers: "It's pretty crazy as even on Wednesday this week I couldn't do anything, and then today I'm battling in the top-10 of MXGP! I had a small issue with my suspension in the first moto, so I had to slow down a little, but I bounced back for a solid eighth in race two. Looking ahead to Wednesday and the final round, I want to end the championship with a better result than today, so I'll be going full gas and looking to end the season on a high."
Standing Construct GASGAS Factory Racing and DIGA Procross GASGAS Factory Racing will line up for the final round of the FIM Motocross World Championship this coming Wednesday. 
Returning to the Mantova venue, the 18th and final rounds will determine the final championship positions for our elite motocross racers.
Results – 2021 FIM Motocross World Championship, Round 17
MXGP – Overall
1. Jeffrey Herlings (KTM) 47pts

2. Romain Febvre (Kawasaki) 47

3. Antonio Cairoli (KTM) 38

10. Brian Bogers (GASGAS) 22
MXGP – Race 1
1. Romain Febvre (Kawasaki)

2. Jeffrey Herlings (KTM)

3. Antonio Cairoli (KTM)

12. Brian Bogers (GASGAS)
MXGP – Race 2
1. Jeffrey Herlings (KTM)

2. Romain Febvre (Kawasaki)

3. Tim Gajser (Honda)

8. Brian Bogers (GASGAS)
MX2 – Overall
1. Jago Geerts (Yamaha) 47pts

2. Maxime Renaux (Yamaha) 47

3. Tom Vialle (KTM) 38

6. Isak Gifting (GASGAS) 28

9. Simon Langenfelder (GASGAS) 25
MX2 – Race 1
1. Maxime Renaux (Yamaha)

2. Jago Geerts (Yamaha)

3. Tom Vialle (KTM)

7. Isak Gifting (GASGAS)

11. Simon Langenfelder (GASGAS)
MX2 – Race 2
1. Jago Geerts (Yamaha)

2. Maxime Renaux (Yamaha)

3. Jed Beaton (Husqvarna)

6. Simon Langenfelder (GASGAS)

7. Isak Gifting (GASGAS)

Championship Standings – After Round 17
MXGP
1. Romain Febvre (Kawasaki) 661pts

2. Jeffrey Herlings (KTM) 658

3. Tim Gajser (Honda) 646

8. Pauls Jonass (GASGAS) 391

12. Brian Bogers (GASGAS) 263
MX2
1. Maxime Renaux (Yamaha) 689pts

2. Tom Vialle (KTM) 570

3. Jago Geerts (Yamaha) 563

10. Simon Langenfelder (GASGAS) 316

13. Isak Gifting (GASGAS) 267
via GASGAS Press