Paul Jonass of GASGAS gets on the box in Belgium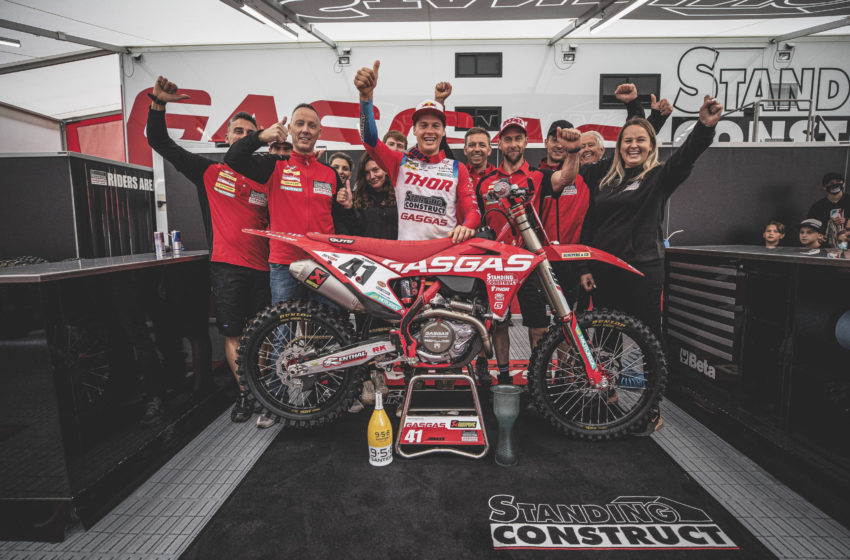 Pauls on the podium – we'll take that! Our MC 450F racer has shown just what he's capable of with an impressive third overall at the MXGP of Flanders-Belgium. 
Round six of the FIM Motocross World Championship. Pauls was on the gas all day, placing fourth in race one while in moto two.
 He led plenty of laps and came up just short of victory in second! Jonass' MXGP class teammate Brian Bogers enjoyed a quietly consistent day, with the Dutchman securing a solid 10th overall. For our MX2 racers.
Simon Langenfelder fared best with ninth overall while Isak Gifting placed 16th.
Pauls Jonass on the gas and the podium in Belgium

First overall podium visit of the season for GASGAS Factory Racing

Simon Langenfelder posts two solid point-scoring rides in Lommel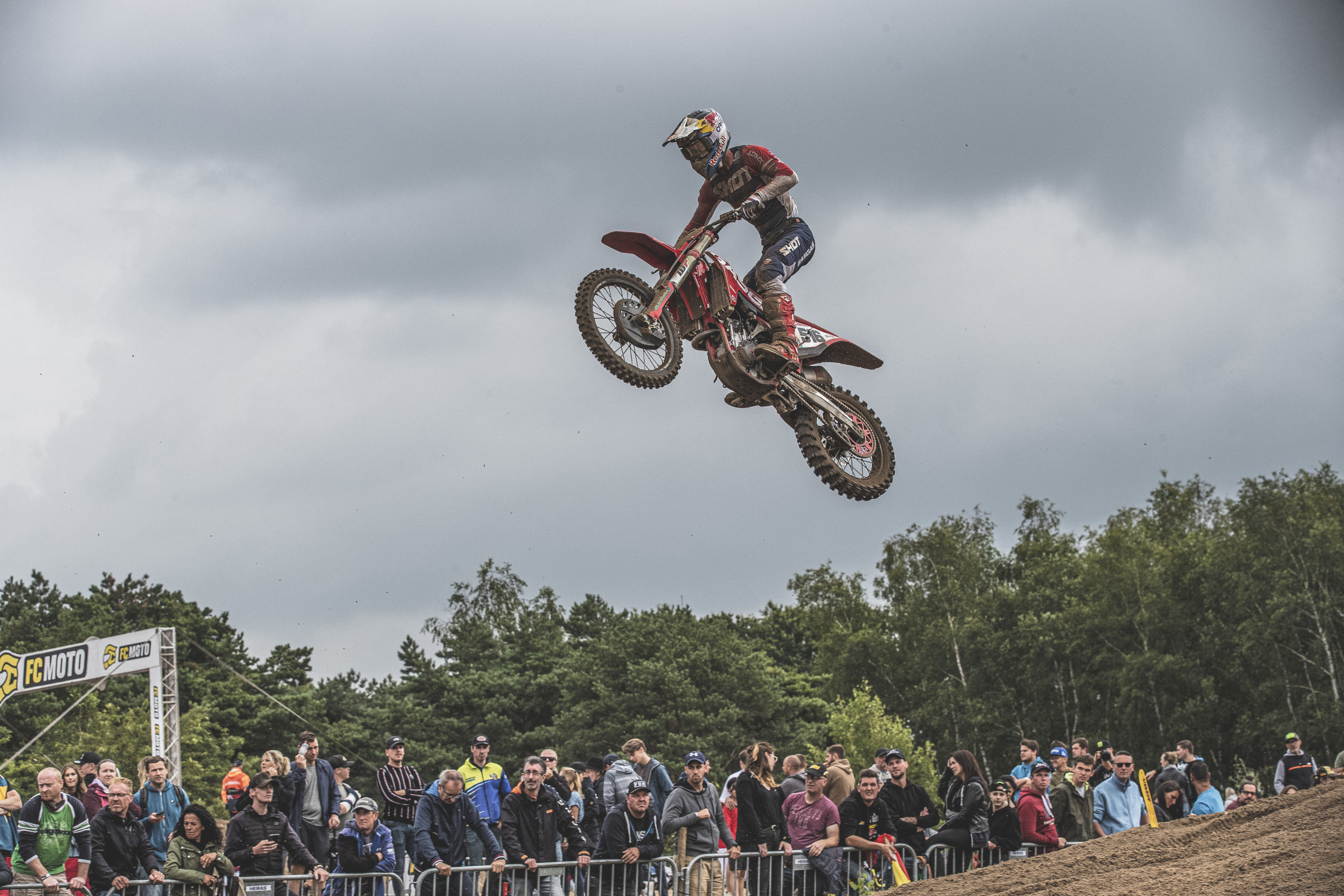 Quote
Pauls Jonass: "Just wow! There are so many firsts for me today that there are too many to list! My first podium on the GASGAS, my first laps led in MXGP ever, and my first overall podium finish of the season.
 After last weekend in Loket, we hit the reset button and made a few changes on the bike, and they helped today with the starts. 
We made some significant progress with the team before this race, and they deserve this podium finish. 
Today has given me a huge confidence boost ahead of my, home GP and I can't wait to head out onto the track in front of my home fans next weekend. It's going to be awesome!"
With a focus on his starts in the week leading up to Lommel, Pauls came out swinging in moto one to quickly slot into third. 
As the race continued, the Latvian posted consistently fast lap times to maintain his position and was all set for a top-three finish. Until Antonio Cairoli demoted him to fourth with two laps to go.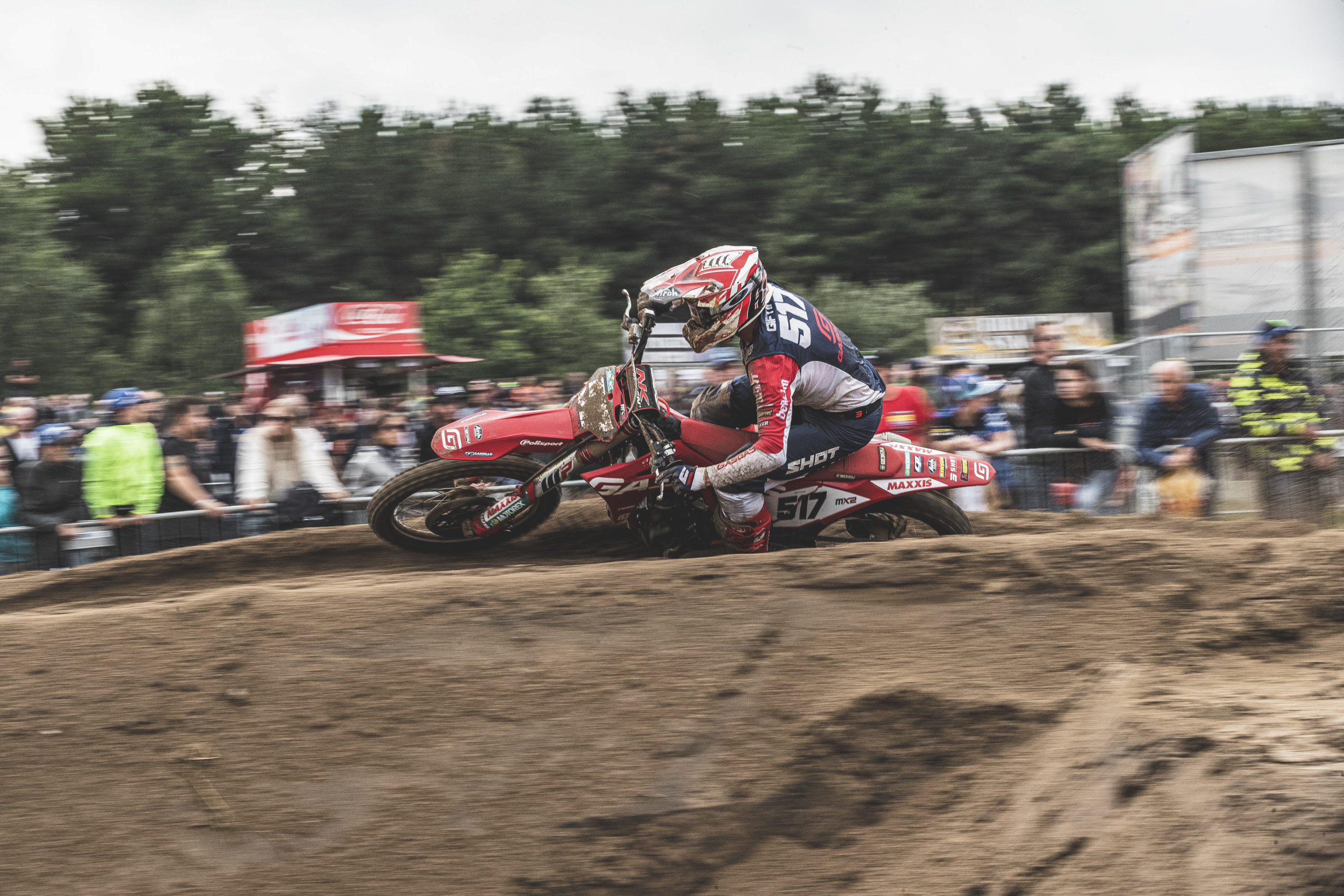 On gas
For moto two, Jonass was on the gas from the start. Emerging from turn one in third. He moved into the lead on lap two and, with a clear track, put the hammer down to extend his margin over the chasing pack of riders. 
Leading laps in MXGP is no easy feat, and the 24-year-old led nine of them until he was reeled in and passed by Romain Febvre with a few laps to go. 
Despite missing out on the win, Pauls was rightly ecstatic to return on the MXGP podium and now aims to take his speed to Kegums for his home GP in Latvia next weekend.
With a soft spot for sandy terrain, Brian Bogers claimed 11th in both races for a solid 10th overall on his MC 450F. 
Following two reliable rides and a pretty decent points haul, the Dutchman's consistent results elevate him from 19th in the championship standings to 14th.
In the MX2 class, Simon Langenfelder battled through both races to secure an impressive ninth overall. In the opening moto of the day, the young German was lucky to avoid a massive first-turn crash and regrouped to finish 10th. 
A promising start in moto two quickly became unravelled as the 17-year-old went wide and off the sandy circuit before re-joining the race in 25th. Simon then put together a solid ride, charging hard through the field for a well-deserved ninth.
For Isak Gifting, the young Swede wasn't quite able to get the best of starts in either race, going on to claim a 16-15 result for 16th overall.
More quotes
Brian Bogers: "It was a solid day today for me. Nothing spectacular, just two reliable point-scoring rides, and it was tough out there. 
I ended up 11th in both motos for 10th overall, and in both races, I was able to ride my own lined. 
And I enjoyed it, despite the weather. I wanted excellent results, but did my best and did everything could so 10th overall is good points and a solid day for the team and me :
"Felt perfect on my bike today. I was flowing in the turns, and after qualifying, I was confident for some strong results. 
Unfortunately, I had to come from the back in both races to avoid a crash in race one and then in moto two.
 Had an excellent start, but I was pushed wide and off the track. In that one, I came from 25th to ninth, so my speed is there. I just needed a little bit of luck to get some better results."
Isak Gifting: "It was difficult today. I know I have the speed and my lap times were good all day. My starts let me down.
I need to work on those, start up front and run with the guys at the front. Crashes in both races also didn't help, but I'm optimistic of getting back to where I should be next weekend in Latvia."
Standing Construct GASGAS Factory Racing and DIGA Procross GASGAS Factory Racing will next be in FIM Motocross World Championship action at the MXGP of Latvia, round seven of the series, on August 8.
Results – 2021 FIM Motocross World Championship, Round 6
MXGP – Overall
1. Romain Febvre (Kawasaki) 47pts;

2. Jeffrey Herlings (KTM) 41

3. Pauls Jonass (GASGAS) 40

10. Brian Bogers (GASGAS) 20
Race 1
1. Jeffrey Herlings (KTM)

2. Romain Febvre (Kawasaki)

3. Antonio Cairoli (KTM)

4. Pauls Jonass (GASGAS)

11. Brian Bogers (GASGAS)
Race 2
1. Romain Febvre (Kawasaki)

2. Pauls Jonass (GASGAS)

3. Jorge Prado (KTM) 35:56:772

11. Brian Bogers (GASGAS)
Overall
1. Jago Geerts (Yamaha) 47pts

2. Kay de Wolf (Husqvarna) 45

3. Maxime Renaux (Yamaha) 42

9. Simon Langenfelder (GASGAS) 23

16. Isak Gifting (GASGAS) 11
MX2 – Race 1
1. Jago Geerts (Yamaha)

2. Maxime Renaux (Yamaha)

3. Kay de Wolf (Husqvarna)

10. Simon Langenfelder (GASGAS)

16. Isak Gifting (GASGAS)
Race 2
1. Kay de Wolf (Husqvarna)

2. Jago Geerts (Yamaha)

3. Maxime Renaux (Yamaha)

9. Simon Langenfelder (GASGAS)

15. Isak Gifting (GASGAS)
Championship Standings – After Round 6
MXGP
1. Tim Gajser (Honda) 226pts;

2. Romain Febvre (Kawasaki) 221

3. Antonio Cairoli (KTM) 217

8. Pauls Jonass (GASGAS) 159

14. Brian Bogers (GASGAS) 63
MX2
1. Maxime Renaux (Yamaha) 221pts

2. Mattia Guadagnini (KTM) 195

3. Ruben Fernandez (Honda) 194

11. Simon Langenfelder (GASGAS) 116

17. Isak Gifting (GASGAS) 64
via GASGAS