Justin Barcia stands no 3 on the podium at Wick 338 National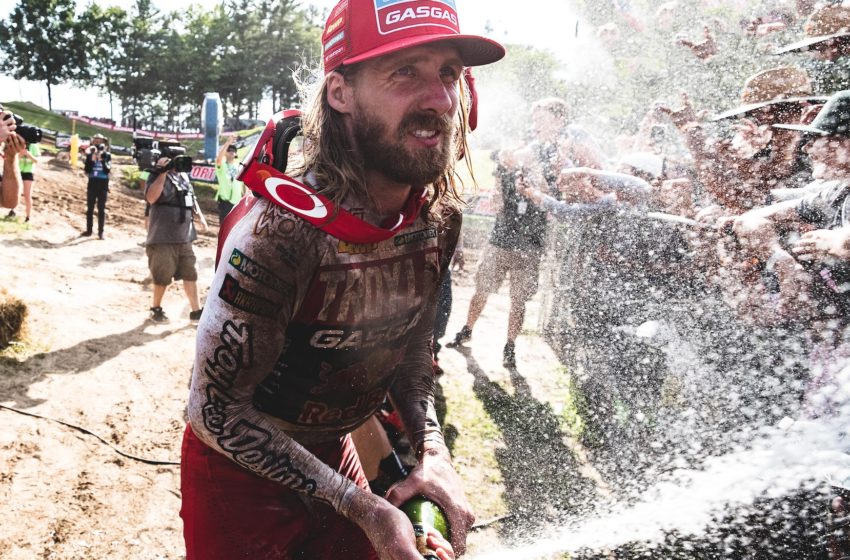 Troy Lee Designs/Red Bull/GASGAS Factory Racing's Justin Barcia enjoyed his first overall podium of the season on Saturday in front of a roaring hometown crowd at The Wick 338 National in Massachusetts. 
Claiming third overall with a pair of hard-fought 2-4 finishes in the brutal, sandy conditions, Barcia once again gave GASGAS Factory Racing another milestone to celebrate with the MC 450F.
Justin Barcia felt at home in the northeast U.S. as he charged to a podium finish at The Wick 338

Michael Mosiman put his MC 250F upfront to tally five laps out front in Moto 1 

Another top-10 finish for young rider Pierce Brown 
As a New York native, Barcia felt good heading into the northeastern round, and his ambition showed right away in Moto 1 as he shot off the line to capture a third-place start aboard his MC 450F.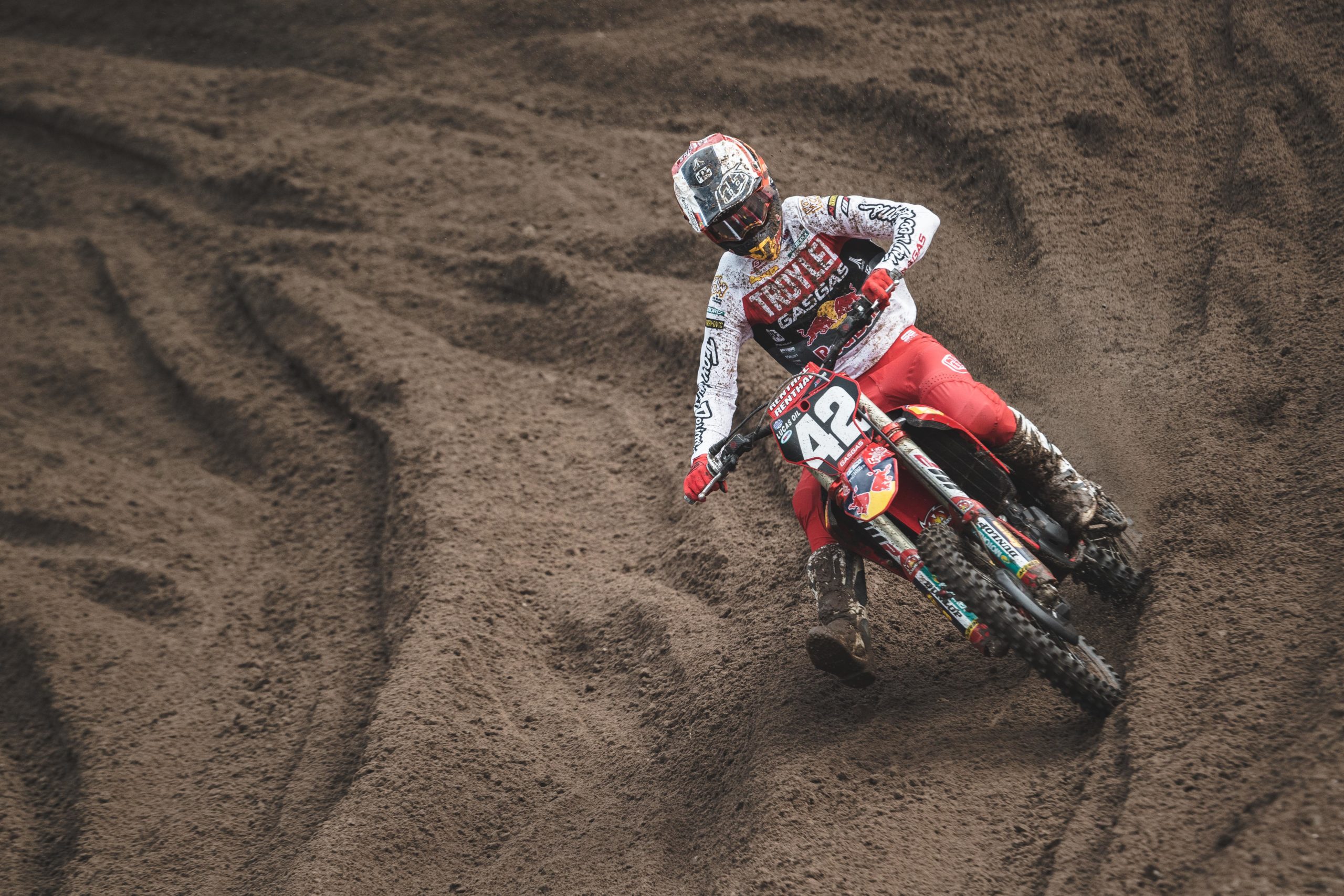 He quickly moved into second on lap one and battled intently behind the leader early on. Coming close in the first half of the race, Barcia eventually backed it down to claim a comfortable second in Moto 1. 
 In Moto 2, he got off to a slower start, but he worked his way from ninth on the opening lap into a top-five battle midway through the race.
In the last 10 minutes, he chipped away to break into fifth and then set himself up to make a sweeping pass for fourth with three laps remaining, ultimately securing fourth in the moto.
Quote
 Justin Barcia: "The fans kept me on my toes. Today, it made that charge through the pack feel way better in the second moto. 
We've been working extremely hard, and things have been a little bit tough, but today feels fantastic! 
I can't thank the crew enough, they've been excellent, and the setting we have here will work good in Millville, so let's keep the ball rolling!"
 250MX
In Moto 1, Mosiman got off to a third-place start, and he quickly worked his way up to second and positioned himself within striking distance of the leader early on. 
The race leader went down on lap five, gifting Mosiman the top spot, and he ran with it. After leading five solid laps, Mosiman found himself on the ground and eventually dropped back to finish seventh ultimately. 
 In Moto 2, he started in eighth on the opening lap and charged his way up to sixth by the midway point. He had a small crash that set him back later in the race, but he held firm to salvage another seventh-place finish, giving him seventh overall for the day with consistent 7-7 scores.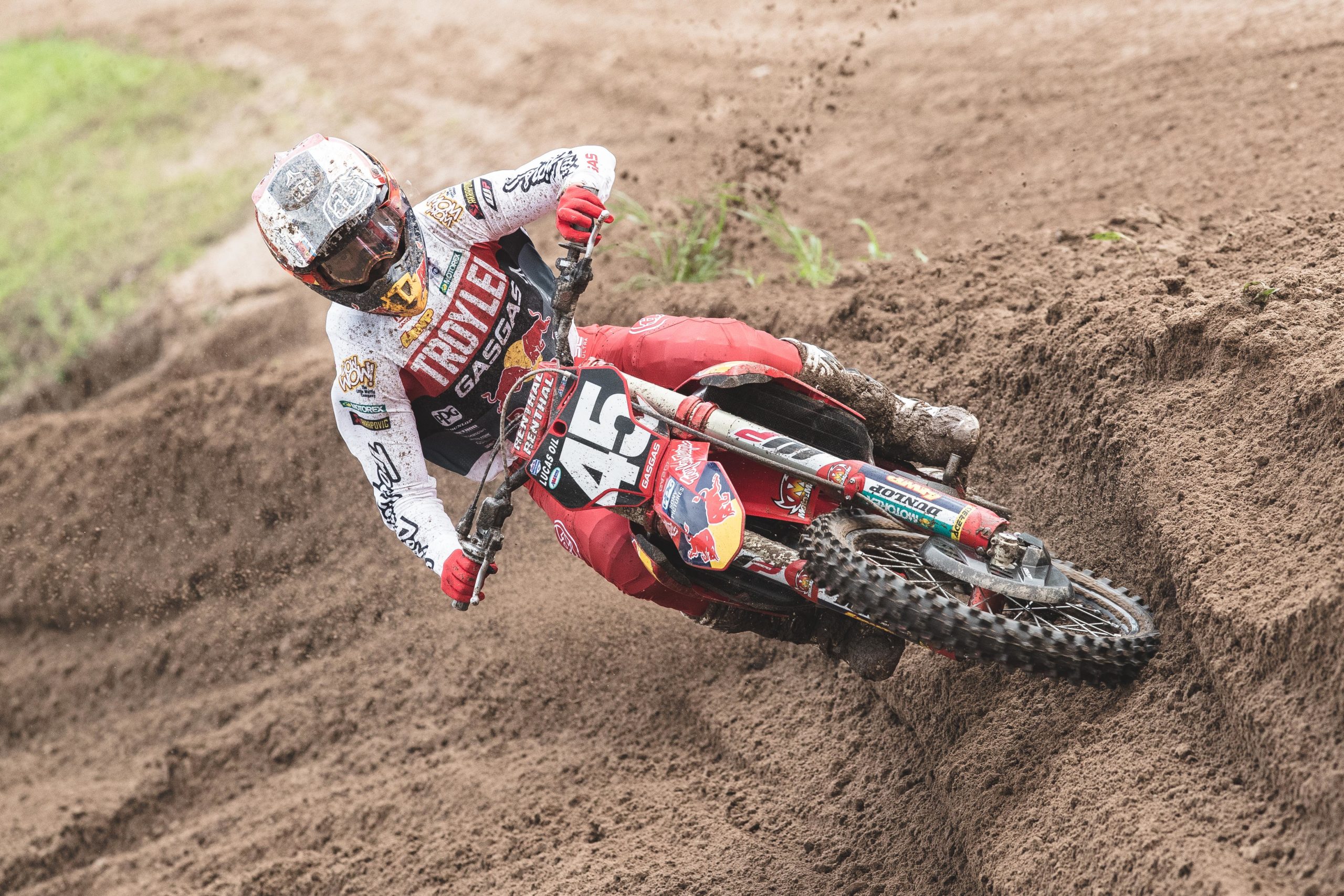 More quotes
 Michael Mosiman: "Today was a very tough day with a lot of highs and many lows. I led some laps, and I felt good on the bike, but I think there's some stuff we can improve on. I'm still getting my legs under me after being out for a couple of races, and I'm still coming back from that, but I think this is good to build on. I'm glad to be healthy and ready for Millville, one of my favourite races."
 Teammate Pierce Brown had a tough start to Moto 1 as he came through the opening lap mid-pack. With his work cut out for him, Brown worked his way through the field from 19th to capture a 13th-place finish in the first race. 
 In Moto 2, Brown began in 12th, and he rallied through the entire race to claim a top-10 finish, rounding out the day with 10th overall.
 Pierce Brown: "All-in-all, I can't be mad because I left it all on the track. 
It was my first time at Southwick, and it was a learning experience, and that's all I can ask for. That's really what I'm shooting for this whole season.
I just want to make it race-to-race and get better. I feel like we are chipping away quietly, but we need to start badly. Hopefully, we can get upfront at Millville next weekend."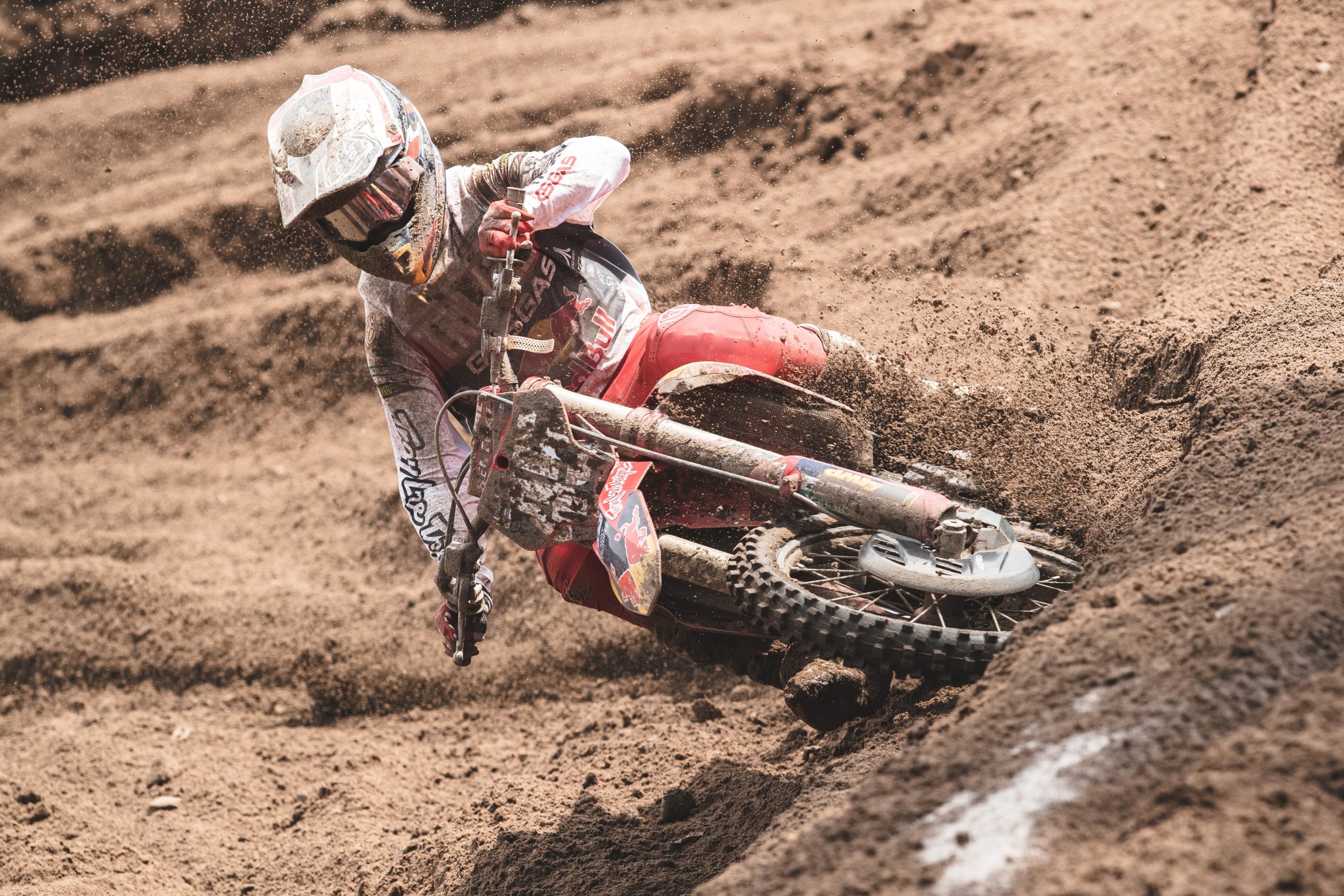 Results – 2021 AMA Pro Motocross Championship, Round 5
 450MX – Overall
1. Dylan Ferrandis (Yamaha); 2. Ken Roczen (Honda); 3. Justin Barcia (GASGAS) … 21. Jacob Runkles (GASGAS); 26. Brian Borghesani (GASGAS); 29. Joshua Prior (GASGAS)
 450MX – Moto 1
1. Dylan Ferrandis (Yamaha) 15 laps; 2. Justin Barcia (GASGAS) +05.443; 3. Aaron Plessinger (Yamaha) +07.720 … 24. Jacob Runkles (GASGAS); 26. Brian Borghesani (GASGAS); 28. Joshua Prior (GASGAS) 
 450MX – Moto 2
1. Eli Tomac (Kawasaki) 15 laps; 2. Ken Roczen (Honda) +16.425; 3. Dylan Ferrandis (Yamaha) +25.514; 4. Justin Barcia (GASGAS) … 19. Jacob Runkles (GASGAS); 22. Brian Borghesani (GASGAS); 26. Joshua Prior (GASGAS)
 250MX – Overall
1. Hunter Lawrence (Honda); 2. Jo Shimoda (Kawasaki); 3. Justin Cooper (Yamaha) …7. Michael Mosiman (GASGAS); 10. Pierce Brown (GASGAS); 12. Ty Masterpool (GASGAS); 38. Jerry Robin (GASGAS)
 

250MX – Moto 1
1. Hunter Lawrence (Honda) 15 laps; 2. RJ Hampshire (Husqvarna) +07.832; 3. Jo Shimoda (Kawasaki) +10.144 …7. Michael Mosiman (GASGAS); 12. Ty Masterpool (GASGAS); 13. Pierce Brown (GASGAS); 35. Jerry Robin (GASGAS)
 250MX – Moto 2
1. Hunter Lawrence (Honda) 15 laps; 2. Justin Cooper (Yamaha) +4.525; 3. Jett Lawrence (Honda) +6.689 …7. Michael Mosiman (GASGAS); 10. Pierce Brown (GASGAS); 12. Ty Masterpool (GASGAS); 37. Jerry Robin (GASGAS)
 Championship Standings – After Round 5
 450MX
1. Dylan Ferrandis (Yamaha) 224pts; 2. Ken Roczen (Honda) 205; 3. Eli Tomac (Kawasaki) 167 …5. Justin Barcia (GASGAS) 161
 250MX
1. Jett Lawrence (Honda) 204pts; 2. Justin Cooper (Yamaha) 201; 3. Hunter Lawrence (Honda) 178 …11. Pierce Brown (GASGAS) 87; 12. Michael Mosiman (GASGAS) 52; 15. Ty Masterpool (GASGAS) 62
via GASGAS