All about Pirelli Diablo Rosso IV tires
In today's motorcycle scenario, high-displacement motorcycles (> 999cc) use the power of 200hp as standard. Often reaches to the astonishing power of over 215hp for several Supersportiove and Hypernaked.
Sport crossovers capable of generating 160 HP on a 240 kg vehicle must also come included in this framework and Sportive.
And Naked 140 cm high characterised by similar weights to their larger displacement counterparts, but with no less than the half power.
DIABLO ROSSO ™ IV is a benchmark in the sports tire segment for all these vehicle classes. 
Therefore, PIRELLI has chosen to differentiate the rear tires' characteristics according to the measures. Thus to the type of vehicle, to meet each motorcycle's needs and each rider perfectly.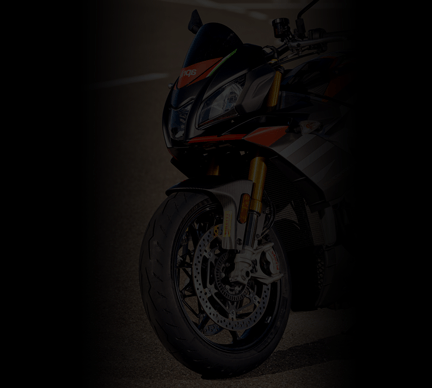 Front
The structure consists of Rayon strings with increased specific stiffness which allows for a smaller pitch. 
It was possible to differentiate the structure's specific stiffness according to the lean angle. Thus specifically supporting each driving phase's dynamic needs. 
These features result in an unrivalled riding experience. They are guaranteeing the rider a feeling of contact with the ground and a feeling of exceptional stability.
Rear up to 190/50 ZR 17
Structure consisting of double Rayon ™ filaments with a specific stiffness increased by more than 30% compared to versus DIABLO ROSSO ™ III. 
Thus reducing the strings' pitch. And placing more inserts in the compound, generating an improvement in adherence and uniformity of wear.
Rear from 190/55 ZR 17 up
Structure derived from racing, thanks to Pirelli's experience in World Superbike. It is made up of triple Lyocell ™ filaments that allow a considerably lower deformation degree than a classic road sports tire. 
The resulting benefit is extreme traction in the engine's complete thrust phase, regardless of the lean angle.
DIABLO ROSSO ™ IV features racing profiles derived from those used for the Superbike World Championship tires. 
The multi-spoke profiles offer immediate handling when exiting corners and changing direction. At the same time, a flatter shoulder portion ensures high grip and line holding in lean. 
The optimised sidewall height provides traction both during straight-line acceleration and out of corners. 
The balance between the front and rear profile allows for an excellent feeling of control and neutral behaviour of the bike.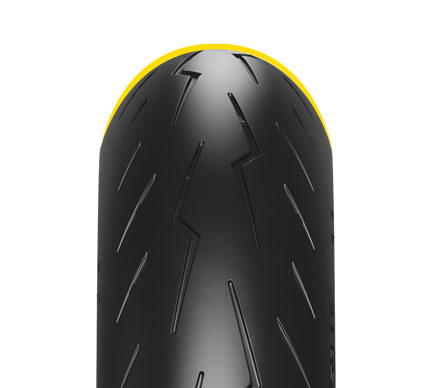 The two-compound front comes combined with the rears with Cap & Base compound scheme.
A two-compound for sizes suitable for medium-small displacement vehicles. And a tri-compound for Supersport and Hypernaked bikes.
Front
Thanks to its high silica content and low glass transition temperature, the more complex centre compound offer exceptional grip in cold and wet conditions. 
The softer side compound (which falls into the footprint area from lean angles greater than 35 °) offers excellent grip and excellent ground contact.
It gives the driver the ability to adjust the cornering trajectory or delay braking before entering the corner.
Rear up to 190/50 ZR 17
The rear bi-compound with high silica content offers a rapid temperature rise. It comes with the significant level of grip at all lean angles (even in wet conditions) and excellent driving smoothness. 
Depending on the tire's size, a bi-compound arrangement, with minor discontinuity, is on the contact area.
Guarantees the best distribution of stresses and an excellent driving feeling and uniformity of wear.
Rear from 190/55 ZR 17 up
With the addition of a compound developed from Endurance races. The 5-zone compound pattern promotes even more performance at high lean angles.
We are managing modern sports bikes' engine power even at higher cornering speeds. 
The intermediate compound with a high silica content guarantees performance and, at the same time, a sporty yet safe ride, in all weather conditions.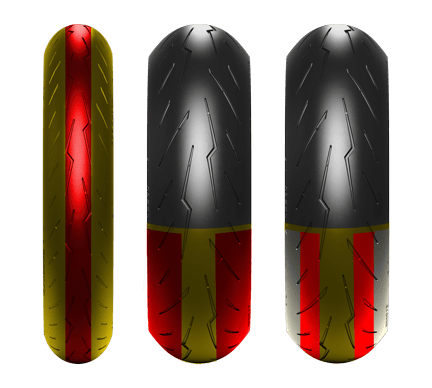 As a hallmark of PIRELLI sports tires, DIABLO ROSSO ™ IV features a tread pattern developed from the iconic FLASH ™ shaped notch. 
The long vertical incision is positioned in the central part of the tread. We are ensuring directional stability and uniform wear.
To ensure the drainage of wetness from the centre to the footprint area outside the straight line, a type of notch is present.
The tread pattern of DIABLO ROSSO ™ IV comes characterised by some slick areas in the contact areas corresponding to the half-fold phases. 
Guaranteed the most significant amount of compound in contact with the ground to generate grip in dry conditions, since wet; these lean angles are not reached, i.e. over 35 °.
Finally, the design comes characterised by a sizeable slick area on the shoulder areas, which results in excellent grip and line holding at extreme lean angles.
Benefits
It offers excellent maximum grip even at the most extreme lean angles and brilliant traction when exiting corners.
It provides immediate response to handlebar inputs and smooth cornering feedback.
Maximum performance on the road, both dry and wet.