Benda Motorcycles had a busy 2022 in which it unveiled several models. These were mainly cruiser bikes, including the LFC700, LFS700 and VTC300.
Benda has become quite popular amongst die-hard motorcycle enthusiasts and will be building on its success. Like several other manufacturers, Benda has worked on cutting-edge technology, innovative designs, and concepts.
Now, the company has filed a trademark application for the name of its flagship super-sports model – VTR300 Turbo.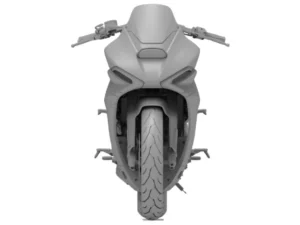 Twin- V
Benda has filed a patent for the name VTR300 Turbo. And while this could be just another product name, the timing and possible accompanying hardware indicate that Benda plans to conquer the lucrative super-sports bike segment.
The patent reveals that a V-twin engine with a displacement of 300cc powers the motorcycle. Also, this model will feature a 'supercharger' technology to improve low and mid-range torque.
The blueprint and patent drawings of a multi-cylinder engine show the company is seriously trying to upgrade its engine technology for better power delivery.
It is based on something other than recent technology from the manufacturer and is unique.
The 300cc V-Twin can quickly produce 30 hp. However, getting support from a supercharger could create 50 hp.
Benda Motorcycle
Instead of the conventional approaches that we have become accustomed to, this engine takes a different route altogether. The power doesnt arrive via the crankshaft but comes from the blower system placed on one of the cylinder heads.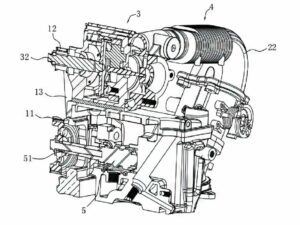 Later this movement of power is channelized to the camshaft. Benda has unveiled plans to launch a new model in future, and it uses a 300cc engine with a centrifugal supercharger system. The technology is a good innovation, as Kawasaki first revealed it on their H2 model (pictured above).
The company hasn't disclosed the details of the revolutionary engine. Still, it has been said the 'supercharged' version takes into account the rotating speed of the camshaft, which rotates at half the speed of the crankshaft and the drive system, compared to Kawasaki, is more compact. If this happens, Benda will beat Kawasaki.
Though the debut of Benda's brand-new supercharged VTR 300 Turbo may be a few years off, the Chinese company is moving forward with development.
Source: Imotorbike