Brave fight rewarded with 7th for Quartararo in Americas GP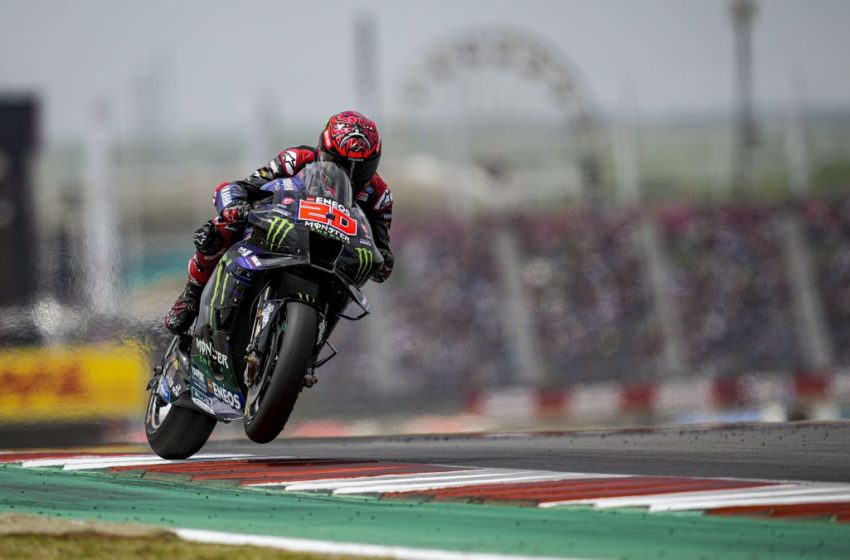 Monster Energy Yamaha MotoGP's Fabio Quartararo showed his tenacious fighting spirit during today's Grand Prix. He battled like a gladiator at the Circuit of The Americas to bring home 7th place and nine championship points.
Franco Morbidelli made the most of a difficult race by saving his tyres and making three overtakes at the end. However, a one-place penalty for exceeding the last lap's track limit pushed him back to 16th place.
P6 grid
Quartararo had a strong start from P6 on the grid and gained a place as he stalked the leading group. Despite fighting tooth and nail, he lost several positions in the opening laps and found himself in eighth place after lap 5.
With Marc Marquez on the charge, the current World Champion spurred on his YZR-M1. He made the most of his bike's corner speed to overtake Johann Zarco and briefly take P7 before Marquez overtook him. El Diablo shrewdly followed Marquez in the hopes of using him to get past other riders. Jorge Martin was up first. 
Though the Spaniard put up a fight, the Frenchman was ready to take high risks and fight to the limit for every championship point. In the last two laps, the number-20 rider put Marquez under pressure and narrowly avoided clipping his rival when the latter had a moment in Turn 6 with two laps to go, briefly allowing the Yamaha rider through. Quartararo quickly regained composure and had another try in Sector 2 but ultimately finished in seventh place, 6.760s from first.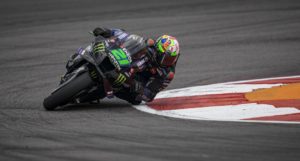 Difficult race
Having struggled to find a good feeling on the bike all weekend, Morbidelli knew he was in a difficult race. He gained a position at the start after launching from P19 on the grid. But having dropped back to 20th place in the early stages of the race, he bided his time knowing that preserving tyre life could play a vital role at the partly resurfaced COTA track today.
By lap 7, he was starting to get into a solid rhythm and overtook Remy Gardner. He kept hold of 18th place and was pushing to the limit. With nobody close in front or behind him, it was a lonely ride for the Morbido until three laps were left. As predicted, tyre degradation was starting to take its toll. 
The number 21-rider overtook Miguel Oliveira, Andrea Dovizioso, and Luca Marini, moving up to 15th place, which he held across the finish line with a 29.129s margin. However, he was handed a one-position penalty due to exceeding the track limit on the last lap, leaving him 16th in the timesheets.
Today's results put Quartararo and Morbidelli in fifth and fifteenth place in the championship standings, respectively, with 44 and 14 points. After Round 4, Yamaha and the Monster Energy Yamaha MotoGP team are in fifth place with 44 points in the Constructor championship. The sixth position is with 58 points total in the Team championship.
Monster Energy Yamaha MotoGP will be back in action at the Autódromo Internacional do Algarve from April 22-24 for the Grande Prémio de Portugal.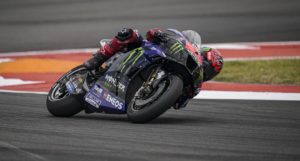 MASSIMO MEREGALLI
TEAM DIRECTOR
We already expected a tough race, and both riders got the maximum out of today's race in this current situation. Fabio rode both defensively and on the attack. 
He always gives his 100%, but today he added another 10% if possible. Franco's race was even more difficult because he started in 19th place, which is far from ideal. 
But as the race progressed, he got more and more used to a new setting that he was trying, and he was able to overtake. Unfortunately, he lost the championship point he scored because of a penalty.
 We're not satisfied with our results so far after the first four races overseas. We are looking forward to going back to Europe to suit us better.
FABIO QUARTARARO
At the beginning of the race, I had a little bit of the same problem I had in Argentina, but much less. That made me miss some grip compared to the others, but I think I did pretty okay. In the beginning, it's more challenging to defend your position because everyone is close together, but I think we did a good race. 
I enjoyed it a lot! We battled hard, and, even if it was for the sixth position, I wanted the battle with Marc. Even though we struggled quite a bit this weekend, this race was beneficial to me.
 I learned much more from this kind of race than I did in some of the races that I have won. Today I learned a lot, and I'm happy. We have pushed ourselves to the limit. I think we're going to Europe, which has better tracks for us. I'm just going to do my best to fight for the championship.
FRANCO MORBIDELLI
It was a tough race because we finally used a different setting for the warm-up, but we couldn't, so I needed to try it in the race. I wasn't feeling so bad, but it required adjustments, and I needed to learn how to ride with it during the race. 
So, I knew it steps by step and lap by lap. It was nice because I could overtake, that's positive. We will keep working and trying to understand what we need, and we will try to get back stronger in Portimao.
via Monster Energy Yamaha