Buell unveils 2025 SuperTouring 1190 model
Four decades ago, the first bike that came over the horizon was a red and white Buell RW750, with a three-tone paint job consisting of red on top and jet black where it meets the wheels and lower radiator shrouds with a white strip on the fairing and on the rear. 
The 1190 SuperTouring is Buell's new touring motorcycle model, launched early this morning at Daytona Bike Week.
Read More: Award-winning RD Customs Buell Custom
1190 Super Touring
As the stars aligned for Daytona Bike Week's 2023 unveiling, Buell finally delivered on the concept it teased last year. Fueling the hype and anticipation of its digital concept.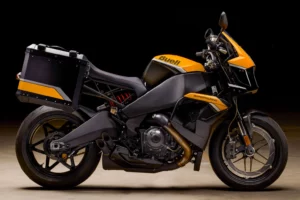 The SuperTouring 1190's production form needed to match the level of refinement we had hoped for. Not to be deterred, the American motorcycle manufacturer is back at it again with a more refined production-ready SuperTouring 1190.
Developing with renowned industrial designer J. Ruiter the bodywork remains unchanged. The new facelift marks a striking upgrade. The model's boxy headlamp cluster is studded with wild winglets, contemporizing the SuperTouring even more and making it look surprisingly like one of EBR's new creations.
Specs
Called 1190, the new standard motorcycle steps up in displacement to a 1,190cc ET-V2 engine via a 106mm bore, 67.5mm stroke, and 13.4:1 compression ratio to 13.4:1, which makes 185-horsepower peak (at 10,600 rpm) with 102 ft-lbs (at 8200 rpm) torque.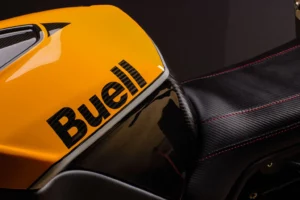 Buell CEO Talks
While talking to Ultimate Motorcycling, Buell Motorcycle CEO Bill Melvin said.
"Buell is back and building a solid reputation as a small, responsive company building bikes to order and providing a unique customer experience. We've taken the Buell DNA customers to know and love and applied it to the performance touring segment, developing a topline touring bike that will lead the American market in speed, handling, and performance".
"The Buell SuperTouring 1190 is a next-level touring bike with designs that will bring excitement back to American touring motorcycles! Plus, despite supply chain headwinds, production is on target to start this fall!"
While Buell has not released the full spec sheet, it has released the price of 2025 SuperTouring 1190 will start at $21,995. You can pre-order by paying $25.
Buell Motorcycle, Ultimate Motorcycling, Daytona Bike Week