Check out the RD Kustoms award-winning custom Buell S1
It's unspoken, but sometimes the most incredible things happen in garages. We usually think of garages as people's secluded workshops—the few remaining sanctuaries where our favourite motorcycle builders operate freely. 
No bosses, no deadlines and (usually) no customers. Free to pursue their art. However, despite this freedom, those closed doors often remain closed for months. 
And then, when you find out about their most recent masterpiece, the award-winning thrilling Buell S1, you immediately realize why these customizers from France have some seriously HOT CUSTOMS. 
SR 1
If a cafe racer plus superbike sounds like a bit much, maybe that's because it is. But RDKD wasn't fazed by this challenge!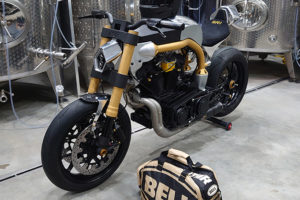 Michel and Jimmy Messina made this Buell S1 custom of Ride Different Kustom & Design, a father-son custom-motorcycle shop based in France.
They share a lifelong passion for hot rods and custom motorcycles. RD is in its infancy, but the team have already created some beautiful customs from the ground up.
The philosophy behind Buell S1 is simple. The Messinas believe that the beauty of a project lies in its abilities and potential to improve upon the original design, not only through aesthetics and newly made parts but also by improving and customizing existing ones. 
The Philosophy
The combination of brand-new and custom parts in the RD Kustoms Buell S1 Cafe Racer is reminiscent of this philosophy, making it particularly special. 
The bike, nicknamed "S1 MMC," is a masterpiece on its terms: the work of two skilled craftsmen who brought the pieces together to give the motorcycle a one-of-a-kind look.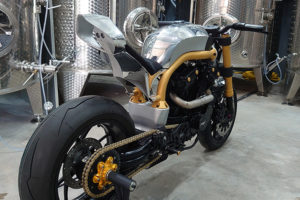 Purists may balk at the sight of this bike, which takes a tube-frame sport bike platform and grafts on a cafe racer aesthetic. 
But look beyond the superficial aesthetics of the build, and you'll find that it's also a prime example of how technology can democratize some of the most advanced motorcycle concepts into a production model.
Features and Components
It all began with the project's amateur attempt at grafting a 101hp, 1,203cc V-twin from a Buell S1 Lightning into the tubular aluminium Voxan.
Combining elements from some of their favourite rides inspires an entirely new design. RD Kustoms' one-of-a-kind Buell S1 Cafe Racer is a blend of vintage Buell styling, custom bodywork, and many high-end suspension and Brembo braking components from Ducati 1198 superbike.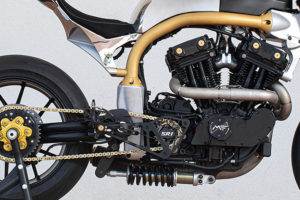 At the same time, the chassis takes inspiration from Voxan. On the other hand, the V-Twin gets support from a custom SC-Project two-into-one carbon fibre muffler with a pair of 39mm carbs from Keihin FCR and high flow filters.
Most custom motorcycles reflect a familiar and predictable style, but not this one. The aptly-named Buell S1 Cafe Racer represents a radical departure from the norm and blurs the line between a café racer and a superbike. 
Tipping at 432 lbs (dry), which is 195 kgs, the bike gets bodywork made from alloy, with an excellent tail section and a comfortable flat handlebar.
Other components include a custom SR1-branded saddle, Marchesini wheels, a sprocket cover from SR1, a custom-made headlight, custom triple trees and a one-off carbon fibre front fender.
We love the MMC SR1's design and are pleased to count it among our favourites. The AMD European motorcycle championship's "Best in Show" award is quite a feat and a testament to RD Kustoms' craftsmanship. 
In the current state, the SR1 exists as a prototype. However, Ride Different Kustom & Design are ready to accept more orders with more custom options like custom fibre bodywork.
via RD Kustom