During the UK COVID 19 lockdown, Master and Undergraduate students and tutors from Coventry University's Faculty of Arts and Humanities Automotive & Transport Design. The course took the opportunity to engage in a collaborative exploratory design project using a virtual creative design process with Supersoco, the UK's number one brand in electric motorcycles.
Led by Dr Shaun Hutchinson & Aamer Mahmud at Coventry University and supported by Richard Jordan, Super Soco CEO. And Daniel Frost, Senior Operations Manager at Super Soco.
The students were given a Super Soco CPx frame and asked to explore forward-thinking design opportunities beyond the traditional well-known step-through moped format.
Thinking of a new generation of riders who were yet to discover the delights of motorcycling or had not considered a moped.
Daniel Frost
Daniel Frost comments: "Super Soco are delighted to be involved in this project at Coventry University. The road we are all taking toward greener electric forms of transportation include many obstacles we need to overcome.
The opportunity to look at where electric motorcycles can offer benefits. And meeting the rapidly evolving needs of the modern urban environments is fascinating.
Super Soco is proud to be working with the next generation of future Automotive and Transport designers who will be at the forefront of our following generation transport needs."'
Dr Hutchinson
Dr Hutchinson comments: "Engaging with an industrial motorcycle company like Super Soco is an exceptional opportunity for students.
It is crucial to enrich the education of young designers so they can understand the consequences of working in the commercial world.
At Coventry University, the Automotive and Transport Design department regularly engages with car companies, and we would like to work more with motorcycle companies.
Regarding urban mobility, I very much consider that smaller electric motorcycles are an essential and considerable part of the future of personal urban transport environments.
The footprint is small to reduce congestion, the cost of ownership is lower, and EV powertrains are excellent for pollution and noise reduction and are highly efficient".
From the projects that were developed as part of this collaboration, three student designs were shortlisted as favourites by Super Soco:
1st – Vivek Marathe
Project title: Tude
The project is based on two main terms, individualism and practicality. Options like sustainable canvas and biodegradable body parts target today's youth seeking novelty. The primary intent was to bring maximum utility such as storage, funk, delivery, commute, etc., while not compromising even slightly with the option of giving your personality to the vehicle.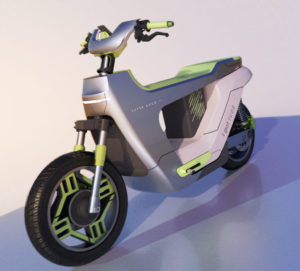 2nd – Samuel Potts
Project title: Fun n Go
"I approached this project trying to design something with a fun and sci-fi inspired, with a distinct style. I looked at product design and the industrial minimalism that is popular now. I also wanted to take in the aspect of making it attractive to young people, to create a sense of culture that has been missing in the UK. The design I ended up with has a feature-piece front fairing, minimalist battery cover and "floating" seat, which I'm hoping creates the visual excitement and fun I wanted to achieve.
3rd – Sandeep Vasireddy
Project title: EN3 (Electric Neutral 3KWh)
The inspiration for this bike goes back to the mid-2000s when I first saw a café racer on the road and fell in love with it. When I first started looking at the possibilities for the new moped based on the CPx chassis, I thought, "Why not make a café racer out of it?"
The theme was kept minimal to appeal to Gen Alpha and Gen Z while retaining the characteristics of retro machines. To keep the traditional ambience yet feel modern, I sought to combine a café racer's kinetics with a moped's lightness.
The frame protruding from the centre accentuates the twin exhaust effect, while the battery leans outward for easy replacement. Some USPs include accessibility features such as a USB connector and a type C port for charging the phone on the move.
Coventry University
Automotive and Transport Design at Coventry University is an award-winning course running for over 40 years and has a long history of achievement. Courses focus on automotive, transport and mobility design beyond illustration and styling.
At the Undergraduate level, the course examines autonomy, sustainability, ergonomics and the user experience and interaction with exterior and interior design, surface and colour applications, lifestyle and future design solutions.
And at the Postgraduate level, the course develops a student's advanced knowledge needed to function as critical and practical practitioners and ensures they can demonstrate excellence in visual aesthetics and create conceptual designs in and from two dimensions into three dimensions.