Custom Suzuki Gixxer from Raptik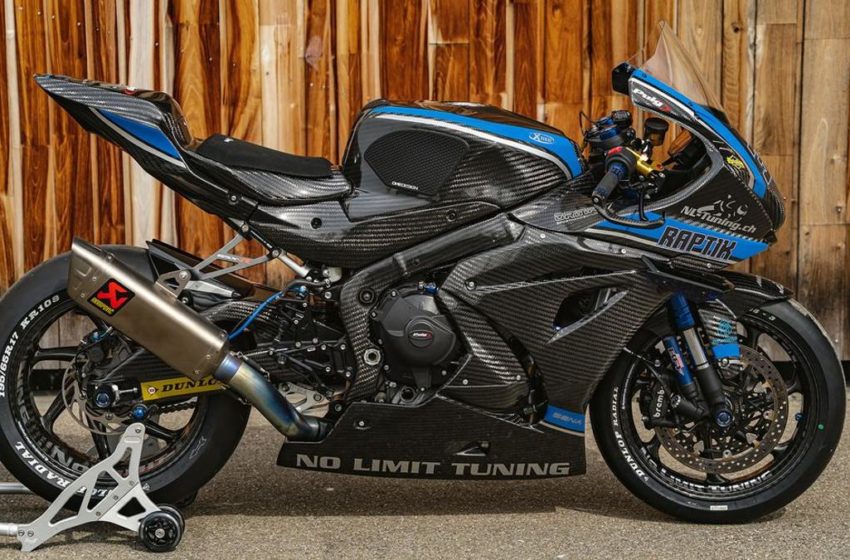 How do you think the Gixxer in Carbon Avatar will look like?
Well, take a look. Switzerland based Raptik in collaboration with No Limit Tuning has built a Gixxer that is predominantly covered by Carbon Fibre giving it a distinct look.
The top-notch work carried out by both Raptik and No Limit Tuning adds more value to the Gixxer.
The good part is this custom was exhibited in the Swiss Moto that took place in February 2020 and had garnered a lot of attention.
The Custom
As of now, we are not sure about the performance of the Gixxer after its conversion. However, the weight of the Gixxer came down drastically from 200 kgs to 175 kgs.
202 kgs being the weight of production Gixxer. Plus the look has changed and it looks versatile and undoubtedly it is of the race models to go on track. 
Aesthetically a few components on the Gixxer gets the blue colour. And the blue and black colours align with Raptiks vision.
As far as the component goes the ThyssenKrupp Rims are made of carbon. Plus it gets Akrapovic exhaust.
Suzuki Ryuyo
What we could see is we cannot stop it comparing to the limited edition Suzuki Ryuyo that Suzuki had brought in 2018.
Suzuki GSX-R1000 Ryuyo, a 209hp superbike that weighs 370 lbs (dry), and in 2018 is the response to the secret photographs that Suzuki has been sharing via web-based networking media. 
Crafted by Suzuki Moto Italia, just 20 Ryuyo-spec machines were made for utilization, and each unit had a price tag of €29,990.
Multiple aftermarket components like Yoshimura, Öhlins, Dunlop, Brembo, K&N, Motul, D&D, were put on Ryuyo and the bodywork was all in carbon fibre.
As far as this Gixxer goes Raptik doesn't talk about the price tag and the custom is still in progress. There are still few add ons that Raptik wants to put and they are, a carbon inlet funnel, Ceracarbon sprocket and 520 drive chain.
Let's look at the list of accessories on the Gixxer.
Akrapovic complete system Evolution

BMC Race air filter

Racing brake disc rear wheel

Carbon fairing (front, sides, bow, stern)

Carbon frame protection

Carbon ram-air channel

Carbon swingarm protection

Carbon fuel cap

Carbon front-wheel cover

Dunlop KR tires

Lithium battery

LighTech clip-on

Magura HC3 brake cylinder

Motoholders Alu Racing rear frame

NL-Tuning carbon brake lever protection

Öhlins steering damper

Puig axle protection (front and rear)

Puig grips racing

Puig rear wheel cover & chain guard

Puig engine cover

Puig oil filler plug

Puig racing valves

Puig stand pads Pro

Puig Superbike target

Puig tank grips

Puig winglets

RME Racing footrest system

Steel braided brake lines (front and rear)

R&G exhaust holder

R&G radiator grille

Samco silicone hoses

Starlane Stealth 3X laptop timer

ThyssenKrupp carbon rims

Woolich tuning kit

Woolich pit limiter

Yoshimura ABS eliminator
LivingWithGravitys Take
All the efforts that Raptik has put in this custom have come up very well. Not to forget, he has brought down the weight of the bike. However, we would like to see the entire version of this custom as this is still in work in progress.
Read More

Information on Kawasaki's electric bike
Importance of Slipper Clutch
2020 Kawa Ninja 1000 SX
Aprilia RS660 is again spied
BMW 1250 GS Review