Ducati is all set to bring the Panigale V2 Bayliss edition to India
In January 2022, Italian two-wheeler manufacturer Ducati had announced an array of new models that will reach India in 2022. 
The Indian arm of the brand had confirmed nine models for the Indian market, although it has remained tight-lipped about the launch timeline. 
We at LivingWithGravity are already excited about the upcoming motorcycle models. 
While Ducati recently launched the V4 SP2 in the Italian market. In India, Ducati plans to launch the Panigale V2 Bayliss on March 16, 2022.
The Ducati Panigale V2 is a superbike despite its relatively young age. With aggressive, slim styling and an eye for detail matching all modern supersport machines, the Ducati offers performance and comfort few other bikes can match. 
From the standard form, you can expect maximum performance potential from the bike – but of course, many people will choose to tinker with it a little to see just how fast it can go.
Panigale V2 Bayliss edition
However, to celebrate the 20th Anniversary of WSBK, legend Troy Bayliss Ducati has made a unique V2.
The bike features a specially designed paint scheme with the iconic red on white of the Ducati brand and an all-red number, 21, in honour of Troy's first WSBK title win. 
We can further see the subtle aesthetics the name arrives on the billet aluminium top triple clamp.
The bike also gets excellent components like the Öhlins suspension the fork comes from the Nix 30 unit, while we also see TTX36 shock.
To make your ride more fun, it also has the Öhlins steering damper. The unique Panigale V2 Bayliss Championship 20th Anniversary also gets the titanium exhaust with carbon fibre.
Further, the bike has a single-seat, clutch master cylinders plus and front brake. Compared to the standard V2, the Bayliss Championship edition weighs 3 kg less.
The video also talks about how Bayliss had spent his time with Ducati.
Do not forget to take a look.
Ducati, for their part, has not commented on the India-spec numbers. On the other hand, sources close to the launch say that Ducati will continue with India's exact European power figures. 
And if that's indeed the case, we should also see the same 955, liquid-cooled, twin-cylinder powerplant that 152.9bhp at 10,750rpm along with 104Nm of peak torque at 9,000rpm.
And we don't see a change in the performance specs compared to standard Panigale V2.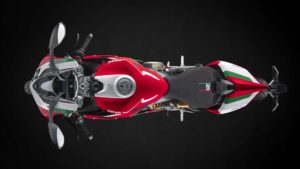 We expect the Panigale V2 Bayliss edition to carry a premium over the standard model's 17.49 lakh price tag. Ducati is expected to launch the Panigale V2 this year. 
The regular Panigale V2 Bayliss will retail near the Rs 18 to 19 lakh price level, a premium of around Rs 1-2 lakh over the base model's original Rs 17.49 lakh price tag.
via Ducati India