Espargaro heads in the third row at Catalunya MotoGP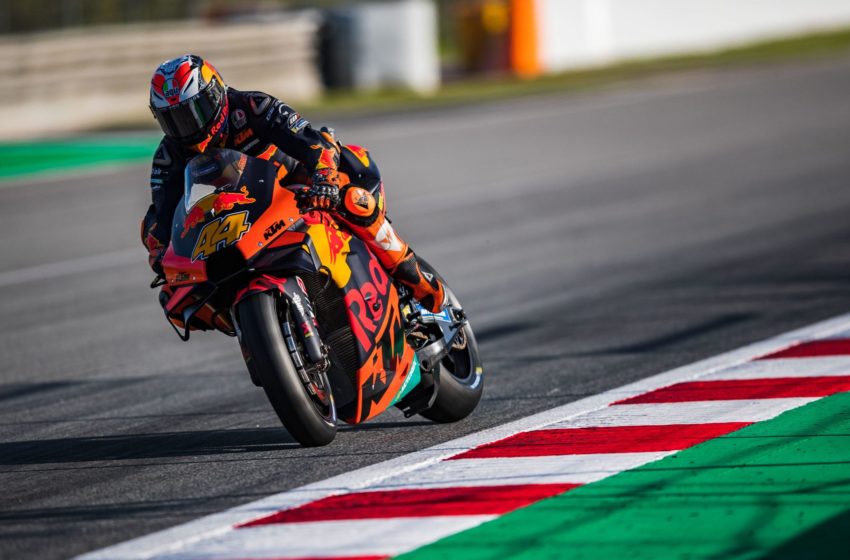 Breezy but yet more sunny conditions graced 2020 MotoGP around the fast, flowing and low-grip Circuit de Barcelona-Catalunya as the series arrived back in Spain for the first of three events in the country in the next four weeks. 
FP
Red Bull KTM had to use the first Free Practice sessions to optimize rear grip between the Michelin tires and the KTM RC16, but the slick asphalt was to Brad Binder's liking as the rookie posted the 3rd quickest lap-time on Friday.
 aturday saw Espargaro, Binder and Miguel Oliveira in a quick form and come through the crucial FP3 session that allowed the trio direct entry to Q2. Iker Lecuona tried to make the push through Q1 but a morning crash dented the youngster's progress, and the Spaniard will start 19th on Sunday for the 24-lap race.
 In Q2 Espargaro looked to build on the excellent rhythm he had established in FP4 and ended the qualification rush just over half a second from Pole Position. Both Binder and Oliveira searched for adequate front-end traction but couldn't find the best solution both for a time attack and the prime tire option for the upcoming Grand Prix race. Oliveira had a crash that interrupted his work and ended Q2 in 12th, while Binder was 10th.
 The races start at a later time of 12.00 for Moto3, 13.20 for Moto2 and 15.00 for MotoGP CET on Sunday.
Quotes
Pol Espargaro: " I'm happy because the lap-time was not bad but having seen our pace in FP4 with a used tire maybe I was expecting a bit more. My feeling in Qualifying was not too bad, but we didn't get that extra grip in other places when we put a fresh tire on the bike. P7 is OK, and the straight is long here, so let's see if we can get some positions back at the start, make a good rhythm and see what will happen."
 Brad Binder: "It was tough. I wanted to push and try to do a good job, but I wasn't comfortable with the front end. When I wanted to push into the left-handers, I just kept washing the front tire. It was complicated: I felt like I was riding around with one hand in my pocket because it was such hard work. We'll sit down and make a plan for tomorrow."
Miguel Oliveira: "It was a tough Qualifying. This morning we finished with an excellent feeling. This afternoon, the conditions changed a bit, and I was not so comfortable riding the medium front. I crashed on my fastest lap in Qualifying and lost a bit of feeling, which means I couldn't do any better than this morning. We hope to do a clever race and arrive as close to the top as we can."
 Iker Lecuona: "It's difficult to say a lot about today. In FP4, I tried to improve my feeling with the bike, we didn't change anything, and I was trying. In Qualifying, I managed to improve my lap time. Finally, it was not bad, but not good enough. Tomorrow is a new day and the most important of the week."
Moto2 & Moto3
Red Bull KTM Ajo's Raul Fernandez was again the Moto3 pacesetter on Friday, and all eyes were on the youngster to see if he could capture his fourth Pole Position from nine rounds on Saturday. The 18-year old ended Q2 in 2nd place, just half a second from making it happen but was first in a group of four KTM RC4s in the top ten.
Red Bull KTM Ajo welcomed back Jorge Martin to the Moto2 pit box after the Spaniard had recovered and tested negative from his recent Covid-19 diagnosis. Martin got immediately back to work with the 14th quickest effort (just 0.6 of a second from the top) and was four positions ahead of teammate Tetsuta Nagashima.
Races: September 20th, 2020 – Moto3 12.00 | Moto2 13.20 | MotoGP 15.00 CET
 Results Qualifying MotoGP Gran Premi Monster Energy de Catalunya.
Franco Morbidelli (ITA) Yamaha 1:38.798

Fabio Quartararo (FRA) Yamaha +0.210

Valentino Rossi (ITA) Yamaha +0.331

Jack Miller (AUS) Ducati +0.427

Maverick Viñales (ESP) Yamaha +0.573

Pol Espargaro (ESP) Red Bull KTM +0.697

Brad Binder (RSA) Red Bull KTM +0.861

Miguel Oliveira (POR) Red Bull KTM Tech3 +1.390

Iker Lecuona (ESP) Red Bull KTM Tech3 (Q1) 1:40.490
Results Qualifying Moto2 Gran Premi Monster Energy de Catalunya.
Luca Marini (ITA) 1:43.355

Jorge Navarro (ESP) +0.181

Sam Lowes (GBR) +0.282

Jorge Martin (ESP) Red Bull KTM Ajo +0.691

Tetsuta Nagashima (JPN) Red Bull KTM Ajo +1.079
Results Qualifying Moto3 Gran Premi Monster Energy de Catalunya.
Tony Arbolino (ITA) Honda 1:47.762

Raul Fernandez (ESP) Red Bull KTM Ajo +0.618

Gabriel Rodrigo (ARG) Honda +0.618

Albert Arenas (ESP) KTM +0.628
Source : KTM