Fulton's "One Man Caravan" with 1932 Douglas "Bulldog"
The story
One American dared to dream in the deep depths of a cocktail party in London. And Europe responded by imagining his journey into reality. 
When Robert Fulton Jr. announced at a dinner party, he would be travelling east on a motorcycle. Little did he know he would be changing history. 
On hearing his statement, Edward Douglas, heir and businessman, along with the founder of Douglas Engineering Company. Who had built motorcycles since 1882 wanted to back Fulton's vision? 
The result was an epic journey that changed the landscape of American highway travel forever.
Fulton was dashing and exuberant. Immediately ordered was astride this machine and headed across Europe enough to carry his camp gear.
Few explorers travelled as light, or on as ambitious a trip, as Fulton. Despite the advent of high-quality still cameras. He took a movie camera on his journey across Europe and Asia, recording 40,000 feet of 35-mm film along the way—a film that still survives.
Foundation
Brothers William and Edward Douglas began building bicycles in 1882. Their business soon diversified into general engineering and even the manufacture of military motorcycles during World War I. 
Born out of Bristol in 1882, the Douglas Engineering Company was founded by William and Edward Douglas. In 1907 they launched a 350 cc Douglas version.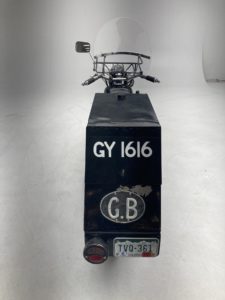 Features
In the '20s and '30s, Douglas was a successful motorcycle manufacturer with dirt track racing. Their innovative disc brake designs have inspired many other manufacturers since the introduction of the bike.
Douglas motorcycles have long been famous for professional motorcyclists and sports riders. 
The C32 model bike "Bulldog" was their top-of-the-line model, including a 499cc engine. Heavy-duty frame and suspension, and two-cylinder overhead valve design with the power to spare.
With 14hp @ 3500 rpm and 100kgs on the weighing scale, the C32 Bulldog carried a top speed of 100 km/h.
via Peterson Automotive Museum and One Man Caravan on Amazon