Herculean 370 hp SuperBusa from Kar Lee and TTS Performance
The Hayabusa holds the Guinness world record for the fastest production motorcycle and is a pinnacle of engineering expertise. The Suzuki Hayabusa is an out-of-the-box bike had its usefulness engineered into it – it's a superbike with a purpose-built racing bike.
It's a racer for the road made to run on the track. Sure, there were sensible upgrades over the years that have helped increase performance and reliability, but at the same time, it's got power and has a firm grip compared to track bikes in its class.
Peregrine falcon
Suzuki's Hayabusa (meaning "peregrine falcon") is a legend. Suzuki built Hayabusa to unseat the Honda CBR1100XX Super Blackbird as the world's fastest motorcycle. 
We don't see many motorcycles named after the ultimate speed bird, the Peregrine Falcon. They firmly associate the Peregrine Falcon with the bike named after it to speed.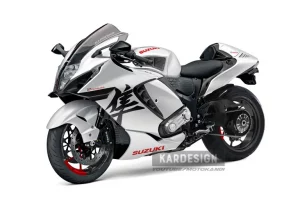 Image credits: Kar Lee
It is a lesson Suzuki took to heart when designing the Hayabusa. If you call your motorcycle after a bird universally associated as one of (if not THE) fastest birds on earth, then make sure it lives up to that name.
1999
In 1999 the 1299cc Hayabusa with 190 horses transcended its intended role. It became a bike to be worshipped and not just used as a mode of transport. It felt like the antithesis of the other affordable superbikes of the time, like a sports car for grown-ups. 
They were sexy and engaging and great fun, but the Hayabusa had more. It also had balls. That also earned it a terrible reputation when inexperienced riders would try to live up to their cool image with shows of excessive bravado.
It'd be a brave man who attempted to splice together the Suzuki Hayabusa with the Kawasaki ZX-14R and make something so paralysingly fast as the Kawasaki ZZ-R1400R. 
2008/2021
No disrespect to Suzuki's flagship predator, but It's been many years since it hit our shores and first showed its teeth on launch in 1999, nine years belatedly uprated in 2008 and then left to fangs its wounds for thirteen more years until the third incarnation arrived in 2021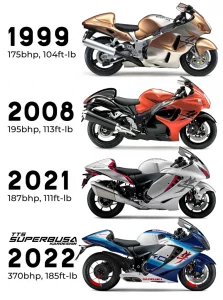 Image credits: Kar Lee
The third generation Hayabusa had a very long gestation period, so much so that Suzuki said it would cease developing the current model in 2021 – just shy of 13 years after its last major revision. 
It wasn't a final farewell. The company said it was "reviewing the future product line up for all of its worldwide motorcycle businesses" and that it would plough additional resources into "future models and market segments". 
Something a miss
That seemed innocuous enough at the time, but hot on the heels of the news came reports about Suzuki secretly developing a third-generation Hayabusa to sit at a 1,340cc monster – a fact borne out by spy shots showing prototypes being evaluated at various high-speed test routes around the world.
So was the 3rd Gen Hayabusa born too soon, before the technology could create enough power to match its potential? Or was it perfect the way it was and where it was, before the eyes of the chrome-and-leather wearing "big banger" crowd started turning towards litre machines? 
You don't have to be an economist to know that supply creates its demand. It stands to reason that as the engine capacity increased, it would also see an increase in customers. However, that did not happen, and something was missing. Was it the power?
Expectations
I think Hayabusa enthusiasts wanted a Hayabusa that was as outrageous, raw and fun as the original. A bike that delighted them by being emblematic of an era when bike development didn't seem to care about climate change and EU emission budgets. 
A Hayabusa for the modern world – one that would still fire the hearts of fans who, like us, wanted a brash, brutish hooligan of a bike with which to unleash their inner speed demon.
The collaboration
However, this did not stop Kar Lee from Kardesign Concepts and Richard Albans from TTS Performance from creating a TTS Superbusa that would make a mammoth 370hp with 185 lb of torque.
While Kar Lee, Owner of Kardesign, needs no introduction as he has successfully designed concepts for over two decades.
Since then, various international motorcycle magazines have influenced him and his work.
At the same time, Richard Albans is a Supercharger specialist. TTS Performance has been developing its own supercharger Hayabusa for over 20 years with 360 hp power.
And that's when collaboration started when Richard requested Kar to tweak the design aesthetics of his next 3rd gen model.
Opportunity
However, Richard felt there was an opportunity for something more. Something that could provide the performance of the Hayabusa and exceed even that, pushing beyond its limitations.
And that was when Kar thought of the name ' SuperBusa '. With 372bhp and 190 ft/lb of torque on tap, the bike is still under development, and Kar was the only person to take in on spin.
Limited edition
Only 40 SuperBusas will be built and available on order with individual numbers. As for the high-end components each will have.
Rotrex C30-94 superchargers,

Rotobox carbon fibre wheels,

Single-sided swingarms,

More oversized brake discs,

Upgraded suspension,

S

trengthened engine internals, and an

Intercooler, amongst other items as a standard. 
There will be add-on options, too, including bespoke paint schemes, rear sets and further suspension options. Prices will start from £45,999.
If you wish to shop for this lethal machine, you must hurry.
Source: Kardesignkoncepts and TTS Performance