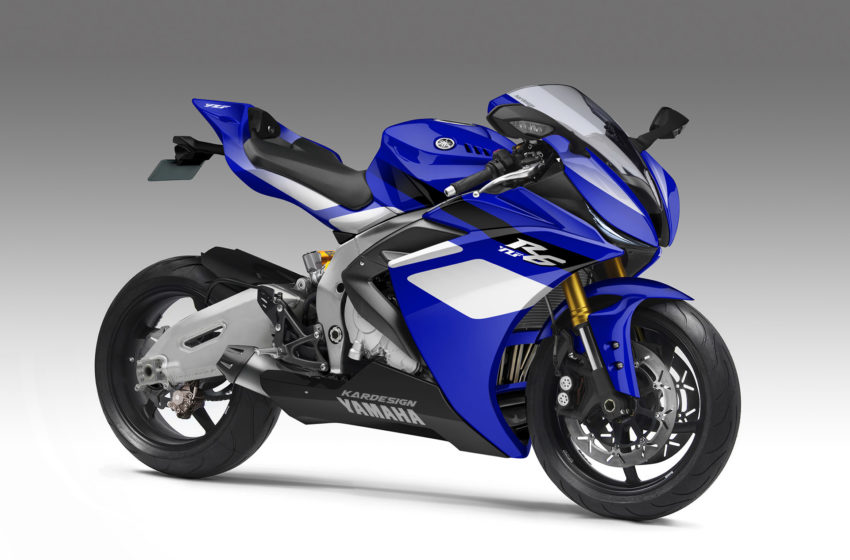 Visionary Kar Lee shares his vision on motorcycles
Owner of Kardesign, Kar Lee needs no introduction as he is successfully designing concepts for more than two decades.
Since then, he and his work are influential across various international motorcycle magazines.
Let's get to know more about him and his vision about his work.
Kar during the Aprilia Tuono Launch 2017
Do let us know a bit about yourself?
Kar Lee : I'm a graphic designer for my company, Kardesign, and have been designing UK magazines since 1996, beginning with Bike, RiDE, then Performance Bikes.

I started writing articles whilst working on these magazines and would often out on road tests and new motorcycle launches.

As a graphic designer I have also worked on a lot of other types of magazines ranging from Photography, cars, and even fishing and food! I love trackdays too, and go to France and Spain every year to spend a few days riding around a track. I've got a regular gig as the art editor of Sideburn magazine too.

As a digital artist I use Photoshop to help bring ideas to life, and that includes giving all those old bikes from the past that I grew up seeing, a makeover.

In 2007 while I was working at Performance Bikes the editor asked me to imagine what the RD500 would look like if Yamaha built it today – that was my first proper concept bike and I've updated it at least 5 times since then!

A lot of my concepts are commissioned for magazines around the world and I also take commissions from custom bike builders and currently have a regular slot in Classic Motorcycle Mechanics magazine.


How did you start to develop interests in motorcycles? Which was your first bike?
Kar Lee : When I was 16 a friend bought a scooter and let me ride it as it was an easy twist-and-go throttle. This was back in the early 1980s. After that I bought my first bike, a Honda SS50.

50mph felt so fast back then! Today I own an Aprilia Tuono V4, a GSX-R1000 and a YammaGamma (RG250 Gamma with RD350YPVS engine), but have ridden 100s of bikes over the years.


What does the first thing that comes to your mind when you start with the concepts?
Kar Lee : It's always different – sometimes I will look at a bike and wonder how it would be if they still built it today using modern parts, other times it will just be a case of "they should DEFINITELY MAKE THAT!"

I thought that the moment I saw the Panigale V4 at a motorcycle show in 2017 and there was a bike with no bodywork on it to show off the new frame.

It looked magnificent with the full chassis on display. I went home and created a Ducati Streetfighter V4 concept and put it on my website Kardesigns and my Motokandi YouTube channel where it got a lot of interest.

Two years later of course, Ducati revealed the actual bike, so in my mind I like to think they built it just for me, haha! In reality of course, these bikes are planned many, many years in advance.

When I reboot an old bike I try to consider what features and characteristics it would need to have to keep the essence of it, and it has to be cool enough that I would want to own it!


Electric bikes are a trend these days. Let us know your thoughts about them?
Kar Lee : They are a good idea, why not? Having maximum torque from a standing start, it would be so quick off the line.

I have just posted on my Instagram feed about the Damon Hypersport which has some brave and bold ideas in it like footrests and handlebars that can be adjusted with the push of a button while riding, and sensors around the bike that warn when vehicles get too close.

Damon claim it'll do 200mph and have a range of around 200 miles with normal use. But as with all electric vehicles, it is still expensive technology. Some people think they should have fake engine sounds.

I would say no – if I ever had an electric bike I'd want it to sound like an electric bike, like I was riding something futuristic and made its own unique sound, not something fake.


What are the challenges do you face while building these concepts?
Kar Lee : The challenges have changed over the years. First it was technical challenges to make the bike look realistic. Sometimes I take donor parts from other machines and manipulate them to get what I need, other times I have to create it from nothing.

Classic Bike magazine commissioned me for a watercooled Norton and the engine didn't exist so I made it from scratch. It was a strange-shaped engine so I used some basic 3D to help me get the angles right.

Other times I might have a new bike model that is coming out but no-one knows what it looks like or there are grainy spy photos of it in disguise so I am asked to guess what the finished bike will be.

In 2014 Kawasaki teased us with videos of the H2 to hype it up and MCN asked me to visualise the finished bike for them. I watched all those videos frame by frame to scan for clues. That was a challenge as it was a completely new bike from engine, to chassis, to styling.

Other challenges are usually time – it can take many different versions and I have taken up to a week to create a concept before, just because I wasn't happy and would start again, then again.

The effort is worth it though – apparently someone high up in Honda saw my RCV rendering (a commission for MCN) and said "make it just like that!" .

Sometimes I think I see influences in production bikes from some of my concepts – I created an R6 with very slim headlights in 2014, then two years later a new R6 comes out with similar headlights!


Who, according to you, is a great designer?
Kar Lee : Adrian Morton has done some incredible work over the years. His Benelli Tornado and TnT designs were so ahead of their time, and I loved the tail unit on the Tornado with its bright yellow fans.

I almost bought a Tornado on the strength of the aesthetics… though I'm glad I didn't as they were terrible bikes to own for many reasons, haha.

Of course, Adrian is overseeing design at MV Agusta now and his work is truly outstanding. Bikes often have wonderful looking front ends, then the designers seem to get bored and by the time they reaches the tail unit they're asleep! The latest MVs are the opposite – they start off great at the front, then they get even better at the back.


Is there any concept that is not from you, but you do like it the most?
Kar Lee : There are plenty of bikes I wish I had visualised. Oberdan Bezzi's work is great, he's like a machine that just churns out quality concepts all the time.

His breadth of knowledge in bikes of all different styles is clear to see. Some of the concept renderings in Japanese magazine Young Machine are cool too.


What's the coolest thing that you like about motorcycles?
Kar Lee : I was on a family holiday on a cruise ship last year. We had to share our dining table with another family and the other father in the family was very quiet and seemed a bit bored when I mentioned I liked motorbikes and had an Aprilia Tuono.

His eyes lit up, suddenly he became alive! It turns out he was a rider and had just bought a Triumph Street Triple. We spent the next few days talking about motorbikes. The same thing happened at a network business meeting just last week! So the best thing about motorbikes?

They can really connect people, but they can also give you the space you need when you want to be alone. Just you, and the world going by in a blur.


How do we see Kar Design Concepts five years down the line?
Kar Lee : Right now, Kardesign Koncepts is just there for me to share my art and help keep people dreaming. If people enjoy it, great. If people hate it, that is fine also.

The worst thing is for people to ignore it.The best thing would be for someone to bring my creations to life, and I hear and see it from time to time when it has inspired someone to paint their bike a certain way, or try and restyle it. In five years perhaps I will be creating them in 3D so they can be fully enjoyed from every angle.
---
Source : Kardesigns
On Instagram you can follow Kar here.

Read More 

Strike from Lightning Motorcycle
Rafik Kaissis Art
Our 7 Questions to Walt Siegl
Is Harley building a electric scooter?
Man behind the Brush Monkey