If you are looking for something nice buy a 2021 Ducati Corse Yearbook
It's not every year that some of the most prestigious motorcycle racing events are decided.So it only makes sense to commemorate them when they do. 
Thus, the 2021 Ducati Corse yearbook honours the end of the 2021 season.But that's just one of several major topics covered. 
While you may buy it for the photography and insights into what happens behind the scenes.Those who read this volume will immediately become armchair experts on everything from engineering to race day strategy.
Artioli Editore 1899, publisher of the official Ducati Corse Annual. And they are pleased to announce that the 2021 production of the Ducati Corse yearbook is now available for pre-order.
This limited-edition publication.Licensed to publish photographs from the championship only during the racing season, will be printed.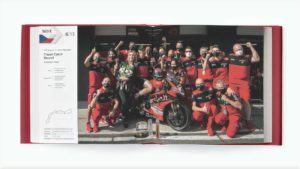 Yearbook
The 2021 Ducati Corse yearbook is now available for purchase. It's the only official resource for any Ducati Corse racing fans. From MotoGP to SBK and everything in between, it contains pictures from across the entire season.
What better way to treat yourself or an avid Ducati fan than by snatching one off the shelves? After all, what's better than treating yourself to a trip down memory lane with these photos of Pecco Bagnaia. And Jack Miller in action during the 2021 MotoGP championship?
It's a gorgeously created 208-page hardcover book that spans 200 pages of full-colour images and a dust jacket for the cover. 
The '2021 Ducati Corse Yearbook' is printed in both Italian and English. Guaranteed to reach a broad audience of Ducatisti around the world. It isnt your average coffee table book.
You can purchase directly from the publisher, Artioli Editore 1899, for only €52. That's about $59 for our friends in the US and Canada. 
However, if you now visit the Artioli Editore 1899 website, you will get a discount of €44.20, or about $50, as they have brought the price down.
via Artioli and Ducati