Ducati is always chasing fuel efficiency, power delivery, and rider comfort. They also always want to make sure their bikes look better than the competition.
Considering Ducati's success with the Desmosedici GP, which just won its Constructors', Team, and Independent Team titles in 2021 MotoGP.Mr Domenicali speaking to Gazzetta made obvious his excitement in bringing that technology from track to showroom.
Quote
He said to Gazzetta, "Really, there is no regret. I am delighted with how we finished (the season). The most important aim for a company like us is to develop on-road technology models.
And I believe that we have never been able to build a motorcycle like this year. I'm talking about the Panigale. So close to the racing one.
I believe that Gigi has fully interpreted Ducati's way of racing," Domenicali said. "We were the first to give wings in MotoGP and on a production bike.
We like to get involved from an engineering. And technological point of view to offer emotions extraordinary both from the guide's point of view and the beauty of the design. And racing is our advanced laboratory."
The 2021 Ducati DesertX was introduced as the new face of the adventure segment. The bike took cues from the adventure bikes to create a 21-inch front and 18-inch rear wheel configuration.
Talking about the DesertX, he said.
"We would very much like to get involved in sporting competitions off the asphalt. "We are already thinking about where we can bring the DesertX. Ducati and matches are unique.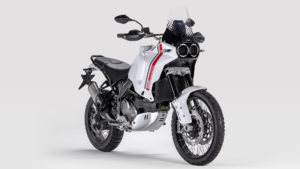 The DesertX is something entirely new for us because it was developed completely out of the way."
This year Ducati also entered the electric motorcycle fray and assumed the MotoE World Cup control, supplying bikes and batteries.
Since 2012 Ducati is a part of the Audi Group and receives significant support from its parent company.