Introducing Aprilia Riding Academy's Track Days
For years, Aprilia has made a habit of hosting these special days at various racetracks worldwide—and now the brand is looking to bring them stateside again. At the end of February, Aprilia officially announced the return of Aprilia Racers Days in America for 2022 across the country through October.
Aprilia Racers Days
If you're an Aprilia fan outside the U.S., we have some news! There will be official Aprilia Racers Days events in Europe, too — multiple events. The calendar is news to us in America, but the folks at Aprilia Italy posted the dates online for fans who live abroad. 
At least multiple events will be held in Europe like Italy, France, Germany, Spain, and Great Britain. Possibly more; here are the currently planned or on record. And all of them will include dates subject to change as they get closer.
Aprilia is excited to announce its European Racers Days race programs for the 2013 season. As with the Aprilia Racers Days events in the U.S., attendees will be able to flex their hands-on models like the Aprilia RSV4 Factory, Tuono V4 Factory, RS 660, and Tuono 660 Factory on track.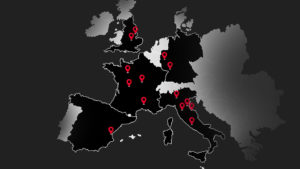 Two programs
With two programs, riders will be able to participate in rides either led by instructors. The instructor-led rides will have an instructor teach the riders around the track for the first lap, showing the perfect lines to take each circuit. The instructor-led program also comes with a hospitality box and technical support.
We will also the certified instructors teach Basic Course or a Pro Course with a maximum of four students in each batch. And these students are liable to get six different shifts on track during the riding day. 
The program also ensures that you are covered with rain insurance and are provided with lunch even if you enrol into any of these programs.
Here is the calendar for the future events
May 28 and 29, 2022—Vallelunga, Italy 

June 15 and 16, 2022—Cremona, Italy 

June 29 and 30, 2022—Imola, Italy 

July 6 and 7, 2022—Imola, Italy 

September 8, 2022—Mugello, Italy 

October 13 and 14, 2022—Imola, Italy 

April 30, 2022—Circuit Val de Vienne, France 

June 12, 2022—Circuit Nevers Magny-Cours, France 

August 21, 2022—Circuit d'Ales, France 

August 30, 2022—Circuit Bugatti, Le Mans, France 

May 9 and 10, 2022—Hockenheimring, Germany 

14 June and 15, 2022—Nurburgring, Germany 

August 12, 13, and 14, 2022—Hockenheimring, Germany 

September 12, 2022—Nurburgring, Germany 

12 July 2022—Donington Park, Great Britain 

25 July and 26, 2022—Cadwell Park Circuit, Great Britain 

July 15, 16, and 17, 2022—Circuit Ricardo Tormo, Valencia, Spain