Introducing Fantic's XEF 450 Rally and electric scooter
Fantic had a big EICMA show in November, and it's followed up on the momentum with new announcements.
The Caballero platform is used to underpin the recent Fantic XEF 450 Rally.Contesting next year's Dakar Rally. Franco Picco, winner of four Dakar events, will return to the storied rally.
Fantic strengthened its motorcycle product portfolio last year with a strategic acquisition of the assets of the Italian manufacturer Motori Minarelli. 
Fantic's engineers have invested much time into a new. All-electric scooter. And the XEF 450 Rally project working from a former Minarelli factory in Italy.
Electric scooters are making their mark in the global market.And here at EICMA.You will find many different brands showcasing their line-ups. 
EICMA 2021
It seems like every brand is making an effort at the lower end of the electric vehicles market. Fantic was not absent from it either.Even if their motorcycle seemed to take things in an exciting direction.
At EICMA 2021, Fantic announced the new electric scooter. At the same time.The company also announced that it would be entering the electric scooter segment with a rally version of one of its XEF models. 
The XEF 450 Rally was revealed today.And we got a look at it in person just outside Milan, Italy. 
The bike is based on the firm's XEF 450 model. Comes powered by the same liquid-cooled, four-valve, DOHC 450cc single.And will be ready for Dakar 2022 rigours with rally-legal bodywork placed over an alloy perimeter frame.
The production-ready version of the rally weapon combines a smaller displacement engine with an alloy perimeter frame for increased agility.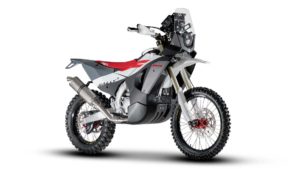 Electric scooter
The electric scooter comes with a 3kW (4 horsepower) motor.
You can also add a second 2200Wh lithium battery. And it takes stock to a total of 4400Wh. In a single charge. As per Fantic, the scooter has a 100-km (62-mile) range.
It also gets the 220mm front discs.180 mm rear brakes.A pair of 16-inch wheels. And 100 mm travel at the front and 85mm on the rear.
While there are no release dates from Fantic, in the future.We would also see a smaller version like L1 (50cc equivalent) and L3 (125cc equivalent).
via Fantic