Is Honda planning to launch 250cc and 500cc Scramblers?
Although the Honda Rebel at present is available only in the US, over the past couple of years. And it has been a successful platform for the Japanese manufacturer.
Allowing it to make more profits than it usually would by selling just one motorcycle. And so, it makes sense to use the economies of scale and make a few more models on this platform.
Changing times have called for more power than Honda could spare. Rumours doing rounds in Japan state the Japanese marque is working on two new models based on the popular Rebel platform, with one expected to be a 250cc offering and the other a 500cc version.
Reports emerged earlier this year Honda was planning two new scramblers based on the 250 and the 500.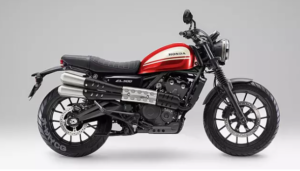 Renderings
These reports are a set of rumours supported by renderings.Where these new Scramblers may arrive with more scrambler-inspired 70's CL styling than the standard models they are based on. 
Further, the renderings also take inspiration from CB350RS sold in India.While the exhaust gets inspired from Triumph.
While Honda has made no confirmation, reports have surfaced online Honda's 250cc and 500cc Scramblers could be in the works already.
These will take inspiration from the same platform as their current range at the moment. With a 249cc, single-cylinder engine churning out 26bhp and 22Nm. And 471cc, parallel-twin engine making 47bhp. It is going to be an altogether new segment for Honda.
Based on the renderings released by Autoby, there's a lot we can infer about these Scrambler models. They're most likely not coming to India for starters since the CB530RS range is still in India. 
They're also unlikely to be based on any existing motorcycles in Honda's lineup since they don't look contemporary with any of the current Honda models. 
And lastly, they are most likely based on a Rebel platform, especially if manufactured in India.
However, this will be a good segment for Honda to pitch in.