Italjet is an Italian company specializing in manufacturing luxury scooters and motorcycles. The company was founded in 1959 by Leopoldo Tartarini and has a rich history in the two-wheeler industry. Italjet is known for its innovative designs, high-quality craftsmanship, and performance-oriented models.
Dragster
Over the years, Italjet has produced many scooters and motorcycles, including iconic models such as the Italjet Dragster. The Dragster series, including the Dragster 125 and 200, has gained popularity for its unique styling and sporty performance.
Italjet focuses on creating premium scooters that blend style, comfort, and performance. The company emphasizes attention to detail and aims to deliver a luxurious riding experience to its customers. Italjet models often feature advanced technologies, powerful engines, and high-quality components.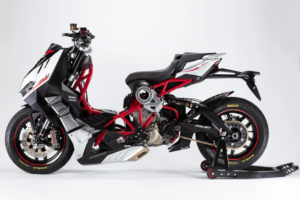 GP500
While the Dragster GP500 is an upcoming model from Italjet, the company has a diverse lineup of scooters and motorcycles catering to different segments and riding preferences. It is advisable to refer to Italjet's official website or contact the company directly for the most up-to-date and detailed information about their products.
The Italjet Dragster GP500 is an upcoming model from Italjet, set to be launched in 2024. It is a high-performance scooter that builds upon the design of the Dragster 125 and 200 models. The Dragster GP500 will come equipped with a single-cylinder 450cc 4-stroke DOHC engine with liquid cooling.
Engine
The engine can produce 43 horsepower at 8,000 RPM and 43 Nm of torque at 6,000 RPM. Unlike the 125cc and 200cc variants that offer an automatic transmission, the Dragster GP500 will feature a 6-speed manual gearbox, providing a more engaging riding experience.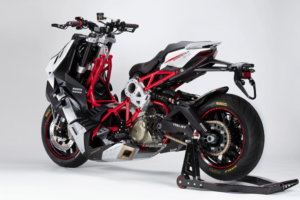 Brakes
Regarding braking, the Dragster GP500 will be equipped with Brembo brake callipers paired with 270mm front and 230mm rear brake discs. Additionally, the bike will come with ABS functionality as a standard feature, enhancing safety during braking.
The fuel tank capacity of the Dragster GP500 is 12 litres, and its dry weight is estimated to be around 180kg. These specifications and unique features and performance enhancements make the Dragster GP500 a standout model.
Source: Italjet