Italjet looks to the future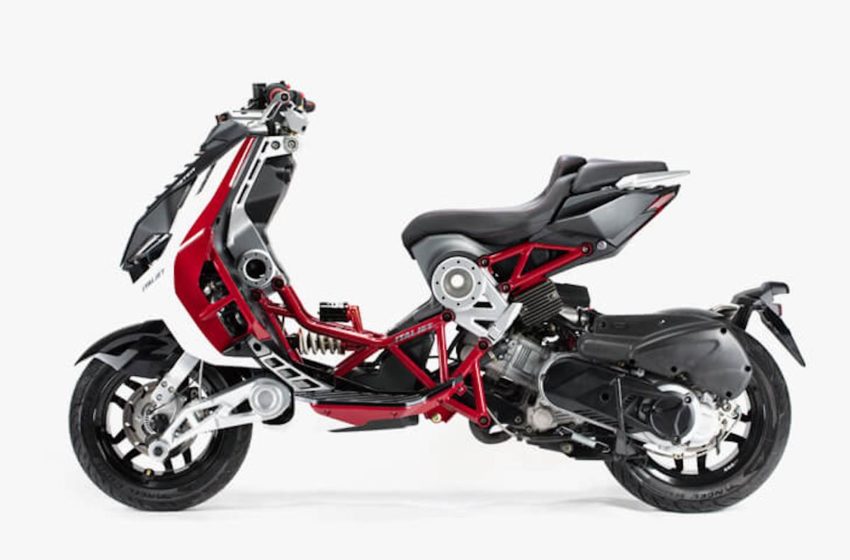 About Italjet
So much road travelled since 1959. A gradual but decisive change, from a small company to an industry, a path covered on two wheels, riding motorcycle and mopeds, able to evolve and reach the appointment with the third millennium in good shape and great style.
Italjet has projected and realised, from the year 1959 up to today, over 170 innovative models.
Scooters and motorcycles developed with an entrepreneurial enthusiasm, which has remained unchanged from its foundation to the third generation currently involved in consolidating the national and international image of the company.
The same ownership united and driven for over fifty years by the Tartarini family, coherent in creating continuity and development of its innovative philosophy, which today, marks clearly and strongly the company and Italjet trademark, in Italy and around the World.
Founder
Italjet would probably never have been founded if, Leopoldo Tartarini, its founder, had not been a rider. Motorbikes have always represented the common thread of his life with passion, ingenuity and work.
Leopoldo Tartarini, Founder of Italjet
Interview
For us, Italjet was on our long list of interviews as we wanted to understand their strategy and future vision.
Sandro Caparelli, Sales & Marketing Manager of Italjet
Sandro Caparelli, Sales & Marketing Manager of Italjet took out some time for us to talk more on Italjets plan.
So let's get started.
1. Let us know your current projects/ work?
Sandro: Italjet launched the concept of Dragster platform last year and we will be ready for production in summer with first models.
Fans and customers are enthusiast about Design, Exclusivity, Technology, Made in Italy and Heritage coming from original Dragster, the iconic scooter of the 90s with 70.000 units sold.
Our strategy is to continue to develop products keeping high our distinctive values, so well appreciated by our customers all over the world.
We have already built a worldwide distribution network: Europe, South-East Asia and the USA are our main markets and we are very close to our customers, real ambassadors of the brand.
2. The first edition of Italjet Dragster was limited to only 499 copies? Are there any plans to bring more?
Sandro: The first edition is limited to 499 units that are already sold-out. First Edition is different from the standard for the exclusive livery Black/Magnesium, special graphics, numerated plates and owner certificate.
Standard model production will start immediately after the First Edition batch. We have orders for a first-year production of 6000 units.
3. Currently, there are two variants of Dragster scooter 125cc and 200cc. Do you also plan to bring the Italjet Dragster scooter in higher displacements?
Sandro: Dragster 125 and 200 are the first step of a complete platform that will include different displacements and different kind of engines.
4. What were the major challenges that you faced while building the new Italjet Dragster scooter?
Sandro: Our definition of Dragster is URBAN SUPERBIKE. The first challenge was to use technology, design and parts as the most modern Superbikes.
Almost nothing in Dragster is comparable to a standard scooter: frame, steering system, suspensions, design, forged parts.
The second challenge was to make a new Dragster able to become even more iconic than the first one. Now we can say that both challenges have been well faced.
5. Do let us know more on your e-pedal bikes?
Sandro: e-pedal bikes have been very important for Italjet brand, now all our focus is on Dragster platform and we are a creating a separate division for the e-pedal bike.
6. When do we see Italjet scooters in India?
Sandro: We know that India is a huge expanding market for two-wheels. It's clear that the most important share of this market belongs to commodity and not expensive products, but that interest is increasing also for segments of high technology/design that include Dragster.
We are now looking for the correct partner to develop our activities in India, hoping to start in 2021.
7. Post COVID-19 How do you think the motorcycle market will change?
Sandro: In our opinion motorcycle market will continue to suffer few months after worldwide lock-down, but then it will re-start stronger and stronger: mobility market will need more individual than public solutions, so motorcycles are one of the main answers.
8. How do we see Italjet five years down the line?
Sandro: Italjet will always work keeping high its distinctive values of exclusivity, design, technology and made in Italy.
We are not going mainstream, our competition is to satisfy all our fans and customers around the world, but we know that this will give very good results also in production volumes, making Italjet an important and different player of the market.
Source: Italjet
---
Read More
New MV Agusta Dragster 800 RR" America " Edition
Italjet Dragster at EICMA 2019
MV Agusta puts spring in your ride