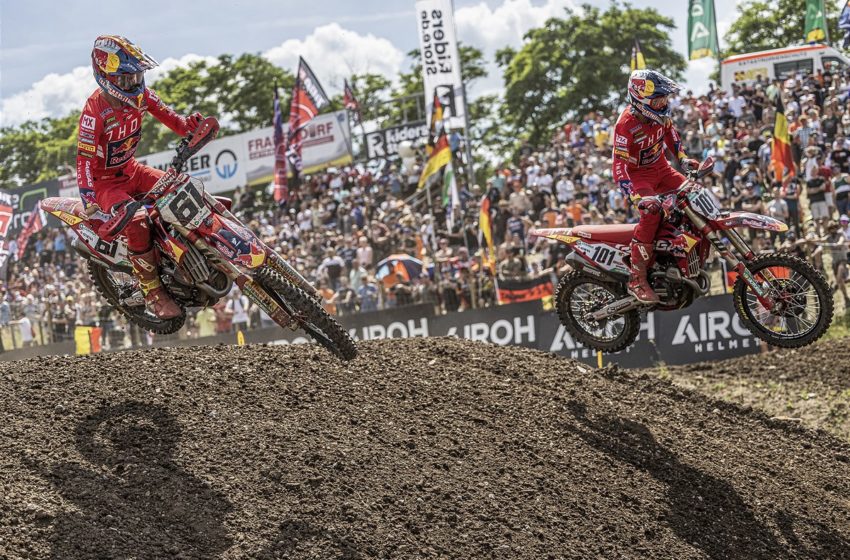 Jorge Prado takes third overall at the MXGP of Germany
The Red Bull GASGAS Factory Racing squad just collected another trophy at the eleventh round of the 2022 FIM Motocross World Championship, the Grand Prix of Germany. As Jorge Prado leapt up onto the box yet again. Prado raced to 7-3 scores for third overall in the premier class and made some progress in the series standings too.
Jorge Prado takes the eighth trophy of the 2022 MXGP season.
Mattia Guadagnini shows strong pace on his MC 450F.
Simon Langenfelder rebounds with a strong second moto.
Prado
Jorge Prado had a difficult start to the first moto but was chasing a position inside of the top three after a handful of laps. Unfortunately, an untimely fall pushed him into seventh at the chequered flag and left him hungry for redemption in moto two.
Redemption was secured via a strong third-place finish in that stint. Prado was third in the overall classification as well, thanks to his 7-3 scores, so he took his eighth trophy of the season. The points that were secured helped him climb to third in the championship standings too!
Moto
Jorge Prado: "It was an okay weekend. I did not expect to be on the box after the first moto! I was struggling a little bit, but we made some steps in a good direction and that helped me in that second moto. We need to keep working though. Especially on tracks like this. I am looking forward to the next event in Indonesia. I will do everything possible to go there at one hundred per cent."
One week on from a very hard fall in France, Mattia Guadagnini thrived at Teutschenthal and posted impressive results aboard his MC 450F. '101' was amazing in moto one; he mixed it up with the stars inside of the top five and eventually took sixth at the chequered flag. Unfortunately, any hopes that he had of repeating that success was dashed when he fell on the first lap of the second moto. Still, he progressed well to go from dead last to the nineteenth. 6-19 scores put him in twelfth overall on the day.
Simon Langenfelder had hoped for more at his home Grand Prix, but he did well to salvage a ninth after a crash late in moto one. Fortunately, the
second moto
was an improvement and gave his legion of fans a lot to cheer about. Langenfelder moved forward quite quickly after a mediocre start and engaged in an exciting battle for a position inside of the top three. The fourth was where he ultimately finished and that, when paired with his ninth from moto one, put him fifth in the overall classification. 
Mattia
Mattia Guadagnini: "I was not feeling one hundred per cent this weekend, of course, because of the crash last week. I was really, really happy with the first race. I got into a rhythm and made no mistakes. I had a really good start in the second race, around fifth or sixth, but crashed in the second corner. I am disappointed about that because I think that I could have been in the top eight. We will start training again now and get back to where we left off before the crash."
Simon
Simon Langenfelder: 
"I had a good start in the first race, but I just did not have the speed or rhythm. I had a small crash too and was not riding like myself after that. I turned it up a couple of laps into the second race and went from sixth to fourth. I stayed there, tried my best and was riding really well. For me, I was on the limit. The track was not easy and the pace is so high in MX2 right now. I am happy with that fourth place in moto two."
Results – 2022 FIM Motocross World Championship, Round Eleven
MXGP – Overall
1. Tim Gajser (Honda) 47pts
2. Jeremy Seewer (Yamaha) 45pts
3. Jorge Prado (GASGAS) 34pts
12. Mattia Guadagnini (GASGAS) 17pts
MXGP – Moto One
1. Tim Gajser (Honda)
2. Pauls Jonass (Husqvarna)
3. Jeremy Seewer (Yamaha)
6. Mattia Guadagnini (GASGAS)
7. Jorge Prado (GASGAS)
MXGP – Moto Two
1. Jeremy Seewer (Yamaha)
2. Tim Gajser (Honda)
3. Jorge Prado (GASGAS)
19. Mattia Guadagnini (GASGAS)
MXGP – Standings
1. Tim Gajser (Honda) 485pts
2. Jeremy Seewer (Yamaha) 384pts
3. Jorge Prado (GASGAS) 366pts
20. Mattia Guadagnini (GASGAS) 69pts
MX2 – Overall
1. Thibault Benistant (Yamaha) 45pts
2. Jago Geerts (Yamaha) 44pts
3. Mikkel Haarup (Kawasaki) 38pts
5. Simon Langenfelder (GASGAS) 30pts
MX2 – Moto One
1. Tom Vialle (KTM)
2. Jago Geerts (Yamaha)
3. Thibault Benistant (Yamaha)
9. Simon Langenfelder (GASGAS)
MX2 – Moto Two
1. Thibault Benistant (Yamaha)
2. Jago Geerts (Yamaha)
3. Mikkel Haarup (Kawasaki)
4. Simon Langenfelder (GASGAS)
MX2 – Standings
1. Jago Geerts (Yamaha) 460pts
2. Tom Vialle (KTM) 452pts
3. Simon Langenfelder (GASGAS) 353pts
via GASGAS