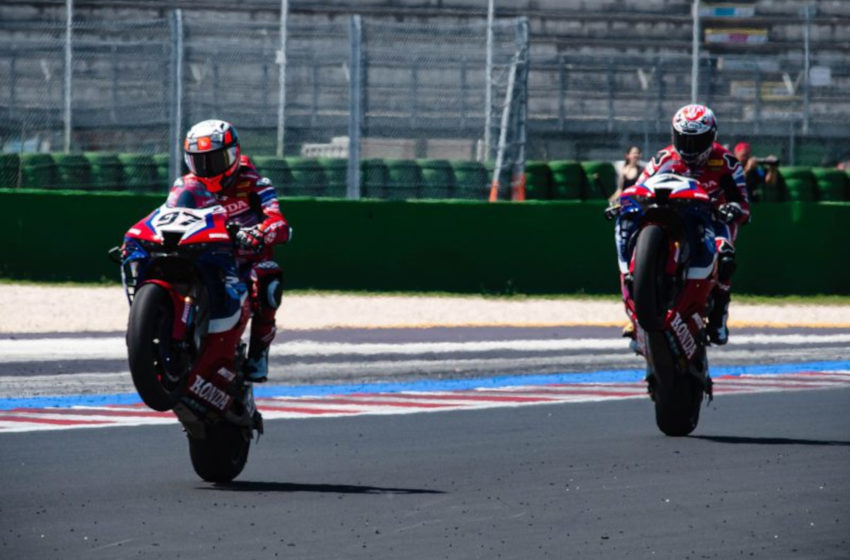 Three top-five finishes for Team HRC on Sunday at Misano
Team HRC completes round four of the 2022 Superbike World Championship with three top solid five finishes for Iker Lecuona and Xavi Vierge at the Misano World Circuit Marco Simoncelli in Italy. Vierge, unfortunately, suffered a crash in race 2, hitting his right hand quite hard.
At 11 am local time, the factory riders lined up for the 10-lap Superpole race. Getting away from the third row of the grid, Vierge and Lecuona were lying sixth and ninth through the first turns. The Team HRC duo pushed hard in the initial stages to move into fifth and sixth by the end of lap two.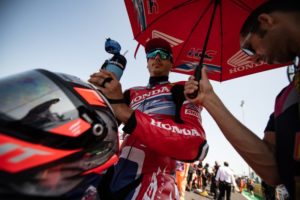 Lap three
On lap three, Vierge passed Rinaldi to take fourth and started to move in on Rea, third. Lapping almost identical lap times, Xavi came within three-tenths of the six-time world champion but was not quite able to get close enough to pass. 
Nevertheless, an excellent performance saw him cross the line fourth, less than a second from the podium. Lecuona battled it out with Rinaldi and Locatelli through the central part of this short race, moving into fifth on lap five, a position he could hold to the line to finish immediately behind his team-mate and gift Team HRC its first double top-five finish of the season.
Thanks to their Superpole race results, Vierge and Lecuona started from fourth and fifth on the grid for race 2. Xavi held his starting position through the opening lap, his team-mate behind him in sixth. The pair were lying sixth and seventh on lap seven, after which Vierge pushed to close in and successfully passed Bassani on lap ten. 
Xavi's race was unfortunately brought to a premature end on lap twelve when the Spaniard suffered a crash at turn 11 while fending off an attack from the Italian. Team-mate Lecuona continued to lap consistently to the line, passing Bassani, defending well, and ultimately crossing the line in the fifth position, scoring more vital championship points.
After being checked by doctors at the circuit medical centre, Xavi has been diagnosed with some bruising and possible minor fractures. He will undergo further checks tomorrow once back in Spain.
Lecuona continues to hold fifth in the championship standings with 99 points while Vierge positions ninth with 63 points.
Xavi Vierge 97
SPR P4 RC2 DNF
"The crash was a real pity because we've had an incredible weekend and ran a perfect second race. I think the other rider (Axel Bassani) overtook me, touching my front wheel, so I was in direct line with the wall and had to jump off the bike. I was lucky because I felt the ground at a very high speed. 
After an initial check, it looks like I might have broken something in my right hand, but nothing significant. So first thing tomorrow, I will undergo more comprehensive examinations to understand our next steps to be ready to ride as soon as possible. I want to say thank you so much to my team and technicians because they are doing a fantastic job."
Iker Lecuona 7
SPR P5 RC2 P5
"Overall, I'm thrilled with our weekend here. I think both me and Xavi did not expect this kind of speed, but we've both been very fast, worked together and finished very close to the front in all three races. In race 1, I maybe struggled a bit more, but then in the Superpole race, I battled hard with Rinaldi and Locatelli. I lost some time as a result, but my pace was strong, and I knew I could fight for the top five again in race 2. 
Starting from the second row helped a lot, and even though I struggled with the rear tyre in the early stages, I felt more comfortable lap by lap, and in the second part of the race, I could ride fast. I'm very happy for now; we're just nine points from fourth in the championship and to have finished in the top ten in every race tells us that we're on the right track."
via HRC