Kawasaki unveils ' Meguro K3 '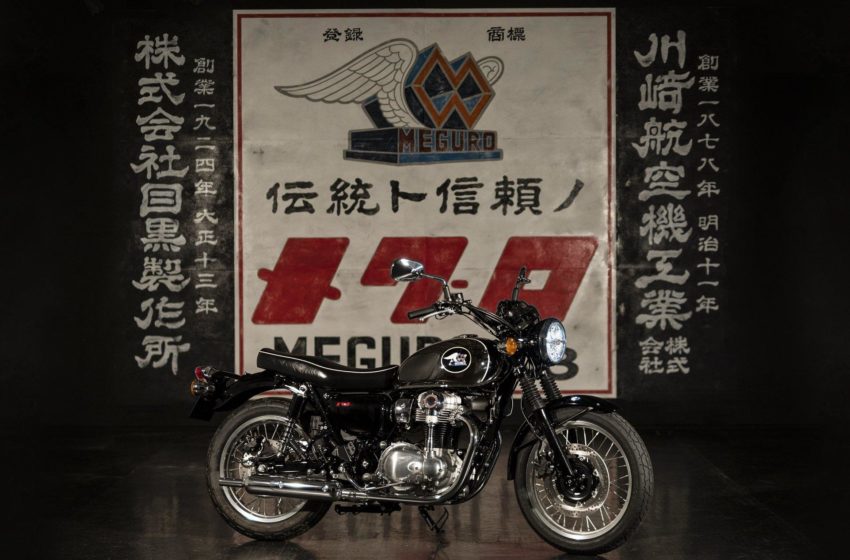 Motorcycle brand "Meguro" has the most extended history in Japan. Since 1924, which dates back about a century, the "Meguro" brand, admired by Japanese riders comes alive.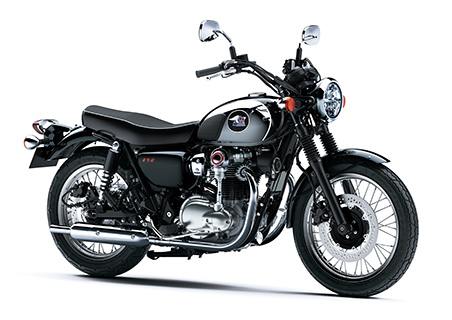 Front side
And it proclaims "high performance" and "high quality" with "large displacement". 
Kawasaki's commemorative model "MEGURO K3" spins the history of large Japanese sports bikes. 
Side angle
Kawasaki is proud of the history of "Meguro," which became Japan's first brand as a sports bike manufacturer.
With its beautiful engine, elegant tank shape, and well-balanced wheels and seats show off its existence.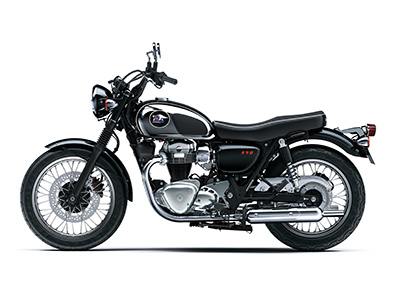 Side angle 1
Yes, it is a sign of a firm determination never to break the tradition.
At a glance
The classic model shines with individuality everywhere while pursuing universal beauty.

Fuel tank with silver mirror painting and highly durable paint, which require advanced paint technology.

Original emblem hand-painted by craftsmen on aluminium embossing.

High-class body design with glossy black and chrome plating scattered throughout

Air-cooled vertical twin engine with 360 ° crankshaft with outstanding bevel gear and it produces brilliant performance, rich heartbeat, and exciting sound.

A binocular analogue meter with "Meguro" logo

Classical and smooth sheet with high texture

Upright style handlebar with black paint

An exhaust system produces a powerful sound and a feeling of beating.

Environmental performance complies with Euro4 emission regulations.

Assist & slipper clutch enhances manoeuvrability with the light operation.

Double cradle frame boasts a compact body and excellent rigidity balance.

Twin shocks on the front fork and rear boast high road performance.

Front 19-inch and rear 18-inch wheels give a classical sporty feel.

Brake system equipped with ABS unit demonstrates excellent braking force.

ETC 2.0 on-board unit, grip heater, centre stand, helmet lock as standard equipment.
Let's take a look at its components and styling.
Motor
The engine is an air-cooled 4-stroke SOHC 4-valve 773 cm³ vertical twin. With power, characteristics emphasize the low and middle rev range. You can enjoy well-balanced driving produces a relaxed ride and torque power suitable for a classical body design.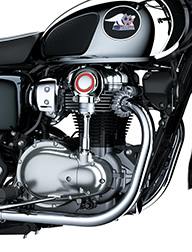 773cc setup
Besides, the bevel gear-driven camshaft makes the cylinder head look beautiful. And the ring of the bevel gear cover with a red border emphasizes the individuality of ME.
Design
Classical modelling with individuality shining everywhere
While sticking to classical modelling, advanced technology adopted everywhere, such as surface treatment gives off a unique presence.
Besides, the design of MEGURO K3 is conscious of the rider's perspective, and Kawasaki has designed to make you proud to be on the Meguro brand.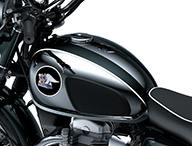 Cool colour
If you suddenly lower your line of sight while holding the steering wheel, you will see the bright "Meguro" logo on the instrument panel, and silver mirror-painted fuel tank.
Based on the deep ebony, each part such as the front fender and the rear suspension cover comes in glossy black.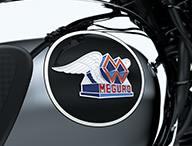 Meguro logo
Besides, the stainless steel meter ring with black oxide film treatment and the fuel tank with silver mirror coating bring about a change in colour tone for each part, giving an impression of luxury to the entire body.
Also, chrome plating is used everywhere, including the muffler, throttle body cover, and chain cover finished in a calm colouring unique to Meguro. 
Besides, the "Meguro" logo engraved on the speedometer panel and side cover. And the bevel gear cover characterizes the air-cooled vertical twin-engine, have a one-point red colour to emphasize the individuality of the MEGURO K3.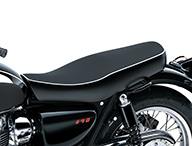 Hand-coloured emblem
A two-tone colour fuel tank utilizes Kawasaki's unique paint technology. Highly durable paint, which has a self-healing effect and is not easily scratched, is used for the surface treatment of the colour. 
Besides, an original aluminium emblem is attached to the tank side. The tank cap is chrome-plated.
The original emblem attached to the tank side adopts a painting method in which skilled artisans manually paint five colours by three-dimensional moulding of aluminium. 
Smooth seat
By adopting a smooth seat skin with a high texture, both sitting comfort and classical styling do match. Besides, the presence of "Kawasaki" looks stunning.
Electronics
By adopting the assist & slipper clutch, the back-torque is limited, and it also gets lighter clutch lever.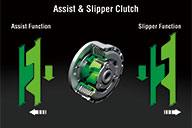 Assist and slipper clutch
Two types of cams, an assist cam and a slipper cam. Are used to realize various functions not found in available clutches.

The self-servo effect of the assist cam makes the clutch lever feel light. And smooth and reliably transmits the driving force under high load.

The slipper cam suppresses hopping and slipping of the rear tires by weakening the crimping of the clutch plate. And releasing the back-torque when excessive engine braking such as sudden downshifting is applied.
Frame and Suspension
While thoroughly implementing a classical image with beautiful styling, Kawasaki has introduced several technologies that are aged over a long history. To achieve high-dimensional driving performance.
The relaxed, manoeuvring sensation comes from a great power unit and body configuration. 
Thorough craftsmanship is carried out in the body design. And driving not only performance but also the built-in stimulate the rider's five senses.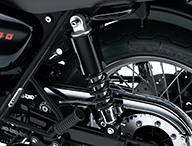 Compact frame
Double cradle frame boasts a compact body and excellent rigidity balance.
The double-cradle frame using the backbone enables a compact body design and optimizes the rigidity balance of each part. 
Besides, the smooth finish with minimal welding and gussets contributes to the formation of a beautiful appearance.
Twin shocks on the front fork and rear boast high road followability.
The telescopic type front fork uses a highly rigid φ41mm inner tube demonstrates high road surface followability. 
Besides, the twin rear shock with a spring preload adjustment mechanism.
Equipment
The handlebar adopts an upright style. Kawasaki provides a wide range of riders with different physiques in a position where they can ride while feeling a relaxed taste.
The compact switches have an easy-to-use layout familiar to the classical appearance.
Comfortable handle
The clutch lever has a 5-step adjustment mechanism. And the brake lever has a 4-step adjustment mechanism so you can set it according to your preference.
Easy to handle switch
Position lamps and high-intensity LED headlights illuminate the entire lamp.
The φ170mm large diameter LED headlight assigns a high beam position lamp. And illuminates the entire lamp like a classical light bulb type headlight.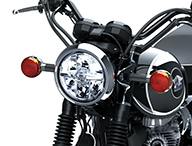 Round headlamp
The easy-to-read and easy-to-use instrument panel
The classic binocular instrument panel features a stand-alone speedometer. And tachometer, as well as a simple LCD panel and indicator lamps.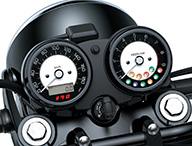 The round LCD dash goes with the design.
LCD panel: Odometer, trip meter, clock

Indicator: ETC indicator, FI warning light, dual turn signal indicator, fuel level warning light, high beam indicator, neutral indicator, oil pressure warning light

Other useful functions:

 ETC2.0 on-board unit, grip heater, centre stand, and helmet lock are standard equipment.
With the single paint scheme ' Mirror coat black x ebony' Meguro K3 is available in Japan from February 1, 2021, with a price tag of 1,276,000 yen.
Specs