Kawasaki unveils Versys-X 250 for Japanese Market
If you're in the market for a commuter bike.That will make you feel like you're taking a trip on a motorcycle through the wild. Yet don't want to go through a complicated process of customizing your bike.
Just to get it set up right to handle the elements, Kawasaki has introduced the most basic version of its entry-level Versys-X 250. 
The X 250 is a bit of an anomaly. As it was designed primarily for use as an urban runabout rather than as an authentic adventure tourer offering comprehensive capabilities. 
With an upright riding position and high ground clearance, the Versys-X 250. Might not appeal to everyone in search of speed. And agility but will surely be appealing to beginners.And others looking for an efficient form of transportation won't budge. When shoving off from the curb into heavy traffic or trekking through rough weather conditions.
The Kawasaki Versys-X 250 (code-named 2BK-LE250D) was launched in Japan. Bringing the adventure machine to Asian shores before its expected European market launch in late 2022. 
Although most of the bike's specifications remain unchanged. The bike comes with VERSYS-X 250 instead of the model name 2BK-LE250D.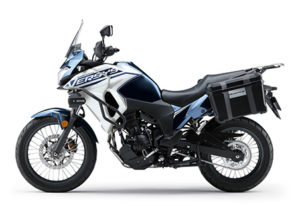 Engine
The Versys-X 250 arrives on the same high-performance engine. And platform as the Ninja 250.The 180 degrees 249cc, liquid-cooled, fuel-injected, parallel-twin engine that makes 33 horsepower.
The VERSYS-X 250 TOURER is an adventure-style touring model with high versatility. It provides exciting "driving pleasure" by adding running performance on unpaved roads to the "ANY ROAD ANY TIME" version, which is the concept of the series. 
The engine is tuned according to the character to obtain smooth power characteristics. And tenacity in the low-speed range. 
The long-stroke front suspension. And the link-type rear suspension can be combined with a lightweight vehicle body to achieve various road surfaces.
It boasts high stability in situations. In addition, it arrives with multi-purpose tube tires. With tread patterns that correspond to different situations.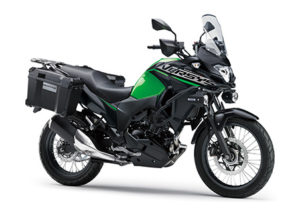 Other mechanical titbits
It covers a wide range of riding scenes and demonstrates excellent performance. Furthermore, pannier cases and engines. Many accessories such as guards are also standard equipment. You can enjoy touring more comfortably.
This new model is being marketed as a tourer. And comes with an extra 17 litres of storage space on both side fairings. Furthermore, Kawasaki has added a fog lamp to these updated versions. 
The engine guard, centre stand, and power socket are standard features. Meanwhile, additional paint schemes are available.Candy Lime Green x Metallic Flat Spark Black and Metallic Ocean Blue x Pearl Robotic White.
Other mechanical bits include a 130mm telescopic front fork with a 143mm travel and a rear mono-shock with 147mm of travel.
Braking hardware consists of a single 290mm discs up front with a single 220mm disc outback. With JPY 726,000 ($6,384), the bike will arrive in Japan on February 1, 2022.
via Kawasaki Japan