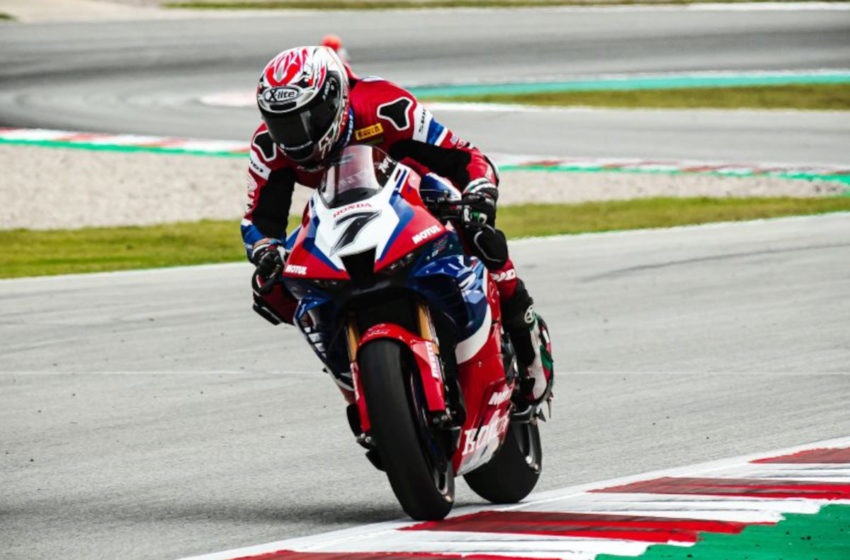 Lecuona, in the fight for a podium finish
Team HRC and rider Iker Lecuona put in an impressive performance during the morning's all-important Superpole to secure pole position, the rider's first of the season and the manufacturer's first since 2016. In the subsequent first race, the Spaniard battled long and hard for the podium until a lack of grip in the final laps forced him to settle for sixth.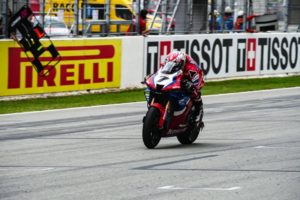 Superpole
The Superpole qualifying session got underway in dry, sunny conditions. Having dominated in two of three practice sessions, Lecuona's first timed lap (1'41.330) in the brief 15-minute qualifying phase put him straight up into first place. In the final minutes, as the entire field returned to the track with a qualifying tyre, the Team HRC rider improved further on his previous time by more than half a second. 
Showing incredible speed and a natural affinity with his FIREBLADE and his home track, WorldSBK rookie Iker set an incredible 1'40.766 to secure his first pole of the season and the first for Honda since 2016 (Michael Van der Mark scored the last at that year's Thai round).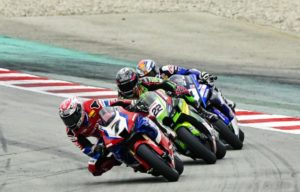 Afternoon's race
Team-mate Vierge started the session vigorous but couldn't find the exact grip with the second qualifying tyre in the final stages. With a best of 1'41.683, the Spaniard qualified ninth for the afternoon's race.
Race 1 got underway as scheduled at 2 pm local time. Lecuona lost a few positions off the line from the front of the grid and was lying fifth through the first turns. 
Up into fourth on lap two, the Spaniard could stick with the frontrunners and pass Lowes to move into third on lap four. Lapping with an almost identical pace to the riders immediately behind him, Iker had to pull out all the stops to defend his position. He could do so until lap fourteen when three riders managed to pass him quickly. 
Pole position
Lecuona crossed a respectable sixth, fighting hard to the line, although he had hoped for much more considering his front-row start. He will nevertheless have another opportunity to exploit pole position in tomorrow morning's Superpole race.
Twelfth, by the end of lap one, Vierge made up one position in the early stages but had trouble making further progress throughout the race's first half. Managing to pass Baz at the mid-race point, Xavi continued to push, but a significant gap had already opened up ahead of him, preventing him from making up any further ground. Vierge, therefore, crossed the line in twelfth place in this first Superbike race.
Iker Lecuona 7
Superpole P1 Race1 P6
"Of course, being able to set pole is a great pleasure for me, the team, and Honda. Marc did it in Japan today, and we have done it here, and it's important to show everyone we have this speed and this potential, that all the Hondas have it. 
But we need time to get there, and that's the frustrating part for me, why I cannot be happy with today's outcome. We started the weekend very strong, and I felt good in the free practices.
I was able to ride fast and always alone. I didn't expect to be on pole in qualifying, but I followed Johnny, and that reference helped me, but I also had the speed to do it. So, I felt confident we could do well in race 1. Everything was going well in the first half of the race – we went with a complex spec, and I managed the tyres, the throttle and the electronics as planned and stayed in the podium fight. 
A real podium fight, not one that had to do with crashes for other riders. But in the final part of the race, some grip problems we experienced on different occasions emerged again, and I couldn't continue the fight. This is the worst feeling for me, to know we have the potential but cannot put it to good use and fight. I know we will get there, but I feel frustrated for now. Let's see if tomorrow can be better".
Xavi Vierge 97
Superpole P9 Race1 P12
"Again, it has been a day of ups and downs. We felt strong on the first tyre during qualifying this morning and did a high-speed first flying lap. But the second tyre didn't give me the same feeling, and I couldn't improve my time. We were confident for the race anyway because we'd worked hard on our race pace yesterday. 
The temperature was colder today, so we opted for a different rear tyre than we originally planned. Unfortunately, I never felt as fast or as comfortable as I did yesterday. 
At least we finished the race and learned something after two recent DNFs. Let's see what the weather conditions are like tomorrow, and we'll try to work well and make good choices so that we can finish more robust."
Source: Honda