M V Agusta Reparto Corse shows positive stance at Jerez de la Frontera in Spain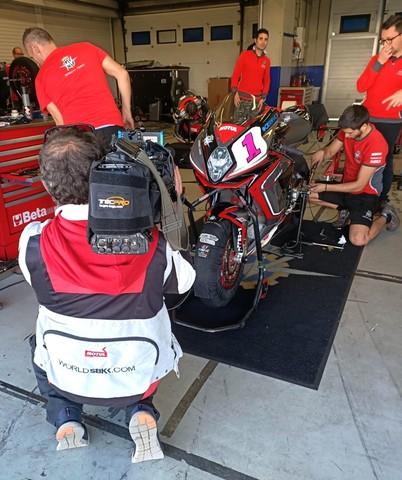 Test at Jerez
MV Agusta Reparto Corse has taken part in a two-day test at Jerez de la Frontera in Spain in preparation for the 2020 Supersport world championship.
This was 2019 Supersport champion Randy Krummenacher's first outing on the MV F3 675. A very positive debut for the Swiss rider .Who immediately found himself at ease with both his technical staff and his new bike.

Over the two days, Randy worked hard with his team, constantly improving his lap times. He could have improved further on his best time of 1'42″743 had a red flag not interrupted the afternoon's session.
Preventing the MV Agusta Reparto Corse rider from using the better tyre.

Lap times aside, Krummenacher was immediately comfortable on the bike and with his new team. There is still work to do to adapt the MV F3 675 to Krummenacher's riding style of course .
For this reason Andrea Quadranti's team will return to the track after the winter break . To best prepare for the opening round of the Supersport World Championship. That is taking place over the weekend of 28 February to 1 March at the Phillip Island circuit in Australia.

Quotes
Randy Krummenacher: "The test has gone very well. Yesterday was positive for the fact we completed many laps. While today we tested many things and really worked hard, because we want to improve further.
Although I completed less laps today, I improved on yesterday's time and that's significant. The bike already feels like mine and I'm sure that .Without the red flag that interrupted the final part of the session and didn't allow us to use the fresh tyre.
I could have set an even better time. I'm also pleased because I see a hard-working team that is doing all it can to support me and that really motivates me. We need to continue like this without forgetting that our goal is to win".

Andrea Quadranti – Team Principal: "During testing, it's always hard to draw a comparison with other teams, but as far as we're concerned. We've had a positive two days.
It's a pity that the red flag this afternoon prevented us from putting in a fresh tyre and improving on our best lap . But that doesn't change our overall evaluation of the test. During which we've worked very hard.
I've really liked Randy's approach to our bike. He's a rider who is very sensitive to the changes and adjustments and so. We need a little more time to really get the bike set up as he likes it.
For this reason, we won't only test at  Jerez in January but will probably arrange another private test too, at a track still to be confirmed".
---
Pic Source : Lulop
Kymco's REVNEX is set to arrive in 2020
MotoGP: Grid girls and 2020 Calendar
Our Top 6 questions to SC- Project
Bajaj to unveil Husqvarna motorcycles in India
M V Agusta's good cause to fight AIDS