Marquez and Espargaro are ready to ride the all-new Honda Vario 160
Japan-based Honda Motor Co, Ltd. has launched a MotoGP edition of its popular sports scooter Vario 160 in Indonesia. 
This version upgrades the original model with some tweaks to its looks. And a prominent addition at the rear end – a sporty tail section. 
Since its roll-out from Honda's Indonesian plant, it is the first publicly displayed.
The company has made four units, and two of them feature the number 93 on the sides and 44. These will be ridden at the track by Marc Marquez and Pol Espargaro. The remaining two features are for the paddock crew.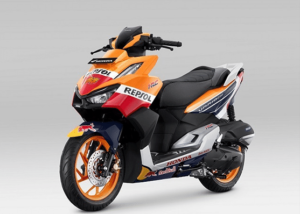 Here's a scooter that's ready to take on the world – the Honda Vario 160 MotoGP edition. 
Even in its stock form, it looks good. But the sporty and aggressive mindset of riding on two wheels gives it an exceptional design appeal. Its orange colour scheme and the dual number plates look cool.
Marketing Director of AHM Thomas Wijaya said the All-New Honda Vario 160 supports the Repsol Honda Team during the MotoGP race in Indonesia. 
This high-performance sports premium scooter supports team mobility. In competing and scoring historic achievements in the Mandalika MotoGP series.
Quote
"We chose the All-New Honda Vario 160 premium sports scooter with the "Bigger, Greater, Prouder". Concept with a unique RHT design as a form of enthusiasm. For displaying optimal performance for Honda riders. Which gives pride and inspiration to all of us. Especially Honda Vario lovers.
Together with Indonesian racing lovers, we want to provide support to Marc Marquez. And Pol Espargaro, who will be racing for the first MotoGP in our country, "said Thomas.
The All-New Honda Vario 160, launched on 2 February. Provides new energy and style in a revolution in design, technology and advanced features embedded in today's driving techniques. 
A premium sporty scooter with a larger engine capacity armed with a high-performance engine with a total of 160cc 4 valve ESP+.More sophisticated with various features. And more proud with a new look and sensation like a big automatic. The 160cc engine makes 15bhp and 13.4Nm
Supported by wider tubeless tire sizes, front 100/80-14. And rear 120/70-14 plus a combination of burnt titanium alloy wheels on the ABS type provide ease and comfort in driving with an increasingly classy appearance. 
The All-New Honda Vario 160 ABS type has been equipped with safety features such as the Antilock-Braking System (ABS).And the rear position brake device is equipped with a rear disc brake.
via Honda Indonesia