News: Honda files a trademark for its 2020 CBR1000RR-R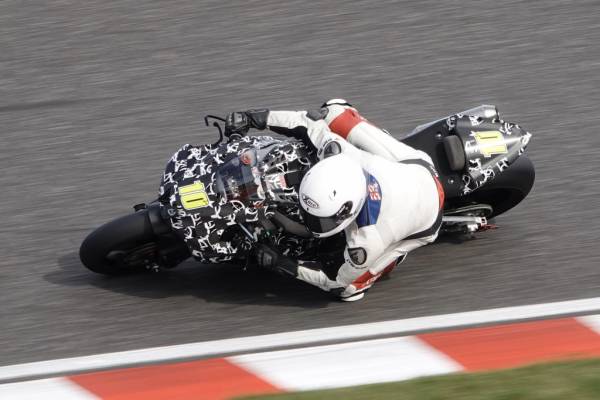 During the last few days, the news on the Honda CBR1000RR is getting aggressive. Some videos and pictures went viral as the new Honda CBR1000RR is seen in the camouflage and been tested on track. Thanks to photographer n_mode_log.
We had also received updates from the Tokyo Motor Show about its power that should be between 215 PS to 220 PS. That is another debate that is still going on in the Motorcycle World.
But if Honda wants to stay competitive with V4 and other game-changers in the motorcycle world like the new S1000RR they have to build the bike that is more fast and sleek.
HRCが鈴鹿サーキットに持ち込んで来ているこのテストマシンは何だ⁉️
タンクのところに「性能車①」ってラベルが確認できる。
#MFJGP #SuperBike #HRC pic.twitter.com/Owzh8cUs1m

— NOBU㌠ (@n_mode_log) October 23, 2019
To date what we know from the Tokyo Motor Show is as below.
The new blade is expected to get the longest wheelbase.

The paint scheme is tricolor with black.

As expected it will get fixed-wing based on the patent that is filed.

215 PS of Horsepower.

Unit Pro-Link will remain on it.

Two variants expected.
However, Honda has not unveiled the new CBR1000RR in Tokyo Motor Show that does mean something special is coming and they will unveil it in upcoming EICMA to make it as Showstopper.
Latest Updates.
Honda yesterday has filed a trademark with European Intellectual Property Office about CBR1000RR-R. Now that has raised a lot of questions.
We had said above that the CBR1000RR will come in two variants. Possibly one could be a base model that is CBR1000RR and other could be 

CBR1000RR-R

that is SP Variant and the spied variant is suggested as CBR1000RR-R -SP

Or is there a surprise for us and the SP Variant will get the V4 engine.
Well, we have not heard Honda going for V4 for CBR1000RR-R but you may never know.
---
Source : European Intellectual Property Office