Oberdan Bezzi's ecstatic Yezdi Road Sport 334 concept
Readers who like sports, clothes and own a motorbike will know Yezdi.A brand of iconic motorbikes in India. So foreign that it recalls our childhood. 
But do you know that India has also delivered two-stroke brands of legendary motorcycles?. India is one of the countries in the world with the most extensive culture of two-wheels. And in recent years has seen a revised boom? 
Yezdi
The country's pundits are increasingly vigilant in preserving this heritage motorcycle.Which may be a concept bike with an Indian traditional brand but with modern touches.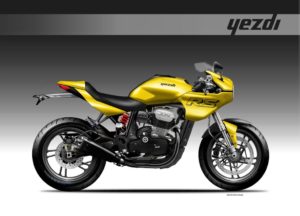 The Yezdi Road Sport 334 concept was crafted for an audience that. Despite desiring an Indian product, wants a motorcycle less past-related and more in line with Western stylistic orientations.
With these premises, Bezzi started to imagine a new generation that stood apart from the classic aesthetic of the country. Having a more refined design and responding to new market expectations.
Built on the FIGHTER 334 concept, a completely remodelled engine with a 2-1 exhaust, bodywork with a slightly different appearance. And new wheels reflect the YEZDI 334's overall desire to be different.
The new YEZDI ROAD SPORT 334 concept results from Oberdan Bezzi's insight. That the key to success in this market lies in understanding what today's customer expects and building on it. 
Thanks to his high-quality work carried out by him. He managed to create a bike with high styling components in line with contemporary tastes.
Let us see what Bezzi has to say
The recently reborn Indian Brand YEZDI, which, together with BSA, JAWA and PEUGEOT Motorcycles, is part of the MAHINDRA universe in the two-wheeler sector. Could be the one since it boasts a less "historical" tradition than others. Deputies to introduce in our range of models with a hint of modernity Respect to the most traditional Brand models… cousins!
Some time ago, we guessed a FIGHTER 334, intended for an audience. Despite desiring an Indian product, wanted a motorcycle less past-related and more in line with Western stylistic orientations.
The topic that you could also propose amplified with a very sporty and bold looking motorcycle for Indian cannons like ROAD SPORT 334.
Semicarenata, with almost "racing" driving gear, is well equipped at the level of brakes and suspension. 
Although it does not have a high power engine, it could still be a very satisfying means for young people passionate about sports age and wanting to stand out.
via Oberdan Bezzi