One of the main goals for people who ride motorcycles is to have fun. An open-minded spirit, an adventurous attitude and a love of the road are at the heart of all motorcyclists. 
Moto culture
The culture that surrounds motorcycles goes far beyond two wheels, though. The sights, sounds, smells and style – there's a lot to absorb when you're in it all. It can be pretty overwhelming.
It was something Anthony "Dutch" van Someren (the founder) understood from his own experiences in London. Where he noticed the gap in the market for a motorcycle café that celebrated the culture of riding.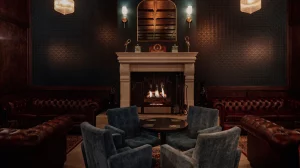 Anthony founded Bike Shed with a mission to bring together riders. And non-riders alike enjoy everything that motorcycles have to offer without pretence. Bike Shed is about good people and good times when it comes down to it.
Bike Shed LA is an inspired living space, a cafe, a gallery, a workshop and a hangout. It's a destination for all things motorcycle culture and a place to experience good food, music and events.
30,000sf space
 Located in the heart of downtown, they designed the new Bike Shed to fit into the LA Arts District industrial warehouse loft feel. The new venue is a 30,000sf plot, but it retains its sense of being a destination, with natural daylight and an open floor plan.
Lauded as one of the "Best Moto Bars in America", Bike Shed LA gets a 325 seat restaurant with a cafe accompanied by a fully-licensed bar. And a multi-brand retail emporium with space for the event, barbershop, tattoo studio and private members bar.
Creativity
It is a source of inspiration for brands, artists and amateurs alike. A melting pot of creativity where simply good food and drink are elevated to art. Three equally essential facets define its ethos. 
The motorcycle culture with the artist community is held together by the spirit of rebellion that burns within the streets of Downtown LA.
Brought together under one roof for the first time. Bike Shed LA is your new favourite place to be.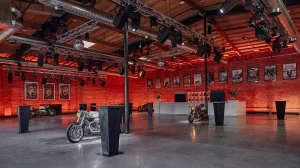 via Bikeshed LA