You were born with wings.
You are not meant for crawling, so don't.
-Rumi
Does this quote from the famous poet Rumi hold any true with Ducati Multistrada V4? Let's find out. To set the context, we begin with something different.
Let's begin with the top 5 best quotes from our friends on Ducati Multistrada V4 Pikes Peak.
Let's see if these quotes live up to the expectations.
Ducati Heritage
Our rendering
Our Ducati Multistrada V4 rendering takes inspiration from Andrea Dovizioso's Ducati Desmosedici GP20. And we dedicate our rendering to Ducati.
Ducati Desmosedici GP20
LivingWithGravity's Multi V4 render takes inspiration from Ducati Desmosedici GP20.
So, what are we waiting for? Let's begin.
Ducati Multistrada V4: Beyond the Edge
Ducati has always been a company of enthusiasts and innovators. Its tradition dates back to almost one hundred years when the founders Antonio Cavalieri Ducati, Adriano Cavalieri Ducati and Bruno Cavalieri Ducati built their first engines.
Those passionate individuals have defined what an Italian motorcycle is. From the early 1950's Ducati single-cylinder motorcycles to the Monster range, the Ducati Desmosedici RR and Multistarda 500 all have a long and robust history.
Riding is in Ducati's blood. Since its inception, its connection with the motorcycling world has never been stronger and more evident.
However, talking about the Multistrada represents a giant leap in motorcycle development.
It is a revolutionary product, as Ducati redefines the concept of travelling both on and off the road by developing communication between man and machine never seen before. But what makes this blend of the bike so revolutionary?
The Ducati Multistrada has been a long mainstay in the motorcycle world. With its boundary-pushing design, it has always stood apart from its competition.
In 2003 when Ducati first launched the unconventional first generation, it met harsh criticism.
ADV world before Ducati Multistrada
Before we get into the nitty-gritty, a critical question comes to our mind? Were there any ADVs produced before Multistrada arrived in 2003?
At least not for the Multistrada 950, whose fierce competitor was Triumph Tiger 800, which came alive in 2010. For that matter, Triumph Tiger 1200 too came later in 2012.
Kawasaki Versys 1000 was again born in 2012, while BMW R1200GS was produced from 2004 to 2012 and later was succeeded by R1200GS Adventure. On the other hand, Yamaha built its XT1200Z Super Tenere in 2010.
However, we could only see three prominent ADVs from 1989 to 2003: Honda XRV750T with a 742 cc powerplant produced 60 hp.
Later from 2016 to 2019, Honda found a successor of the XRV750T with the 1,000-cc parallel-twin CRF1000L and from 2020 to present as the CRF1100L.
And the other was Cagiva's Gran Canyon, produced from 1998-2000 with a 904 cc, 90° V-twin, 4-stroke engine, Desmodromic valve, 2-valves Ducati engine.
And last but not least is the Suzuki V-Strom 1000 with a 996cc liquid-cooled 4-stroke 8-valve DOHC 90° V-twin was produced in 2002, while the 110 bhp with 798cc powerplant Turismo Veloce from MV Agusta arrived recently in 2015.
Two men, one objective
We should thank two men on this planet. One is South African motorcycle designer Pierre Terblanche who designed the Multistrada.
The second was Fabio Taglioni, who applied the desmodromic system to a motorcycle engine, the "L" twin-cylinder engine, and the trellis frame, all absolute cornerstones of Ducati history.
Pierre Terblanche. Photo Courtsey Wikimedia
In terms of shape, the earliest traces of Multistrada goes back to the 1980s when Fabio Taglioni developed Pantah 500 when Ducati tried to create 350 cc and 500 cc parallel twins; however, they failed miserably due to lack of marketing. While Pantah 500 was a naked roadster, the Multistrada was more off-roader.
Fabio Taglioni. Photo Courtesy Ducatidesmo
The front of Pantah 600 SL and 1000 DS does look a bit similar. However, we are unsure if Fabio Tagilioni's designed Pantah inspired Pierre Terblanche. On the other side, Terblanche was more inspired by the Cagiva Gran Canyon. And that was the entry point for Multistrada.
Cagiva Grand Canyon
Past
Ducati Multi 1000 DS and 620
Ducati's most extensive, most expensive, and sophisticated touring motorcycle is the Multistrada.
They expanded the range in early 2005 to include a higher-specification 1000 DS model with 992cc fuel-injected air/oil-cooled L-twin, two valves per cylinder, and a desmodromic valvetrain engine.
Ducati claims a fuel economy of 62.1 Imp mpg at cruising speed, which, combined with its 20 L / 5.3 US gal / 4.4 Imp gal fuel tank, gave a theoretical range of over 4.55 L/100 km.
With 1000 DS, we also saw Ducati introducing the lighter 620cc version. Later, we saw multiple Multistrada models like the Multistrada 1000, Multistrada 1200 and 1200S.
Present
Ducati today offers six variants of Multistrada, in the form of V2, V2S, V4, V4S, V4 Sports and V4 Pikes Peak.
However, while each has its own identity, we focus on Multistrada V4.
Multi V4
A year ago, Ducati unleashed its most wonderful innovation in international markets by having the V4 in Multistrada.
Before the engine's launch, we unveiled the secrets of the V4 machine on October 4, and we did say there is a rise in displacement.
Engine
The 1,103cc displacement engine of Streetfighter V4 and Panigale V4 will be replaced by a sizeable 1,158cc displacement engine in Multistrada V4 ( All about the new engine here ). The engine is capable of delivering 170 HP at 10,500 rpm.
Moving further.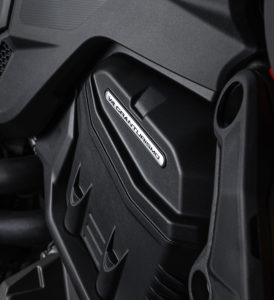 Design and ergonomics
It has a new double-sided swingarm new rear subframe. The new MotoGP-derived monocoque frame allows for significant weight reduction and adds high rigidity and stability at high speeds.
The wheelbase dimensions are 1,567mm, and suspension with the travel of 170mm and 180mm for the front and rear wheels, respectively.
The fuel tank comes with a generous capacity of 22 litres, and the entire package weighs 215 kgs. Further, the steering angle is 24.5 degrees—the new Multistrada V4 with a ground clearance of 220mm.
Brembo unit for both the rear and front wheels. With 265mm disc Brembo 2 piston floating calliper at the back. And two semi-floating discs 320 mm Brembo monobloc radial callipers on the opposite end.
The Ducati brings the Pirelli Scorpion Trail II tires on both wheels with 120/70 ZR 19 at the front and 170/60 ZR17 at the rear.
The rider can adjust saddle height in two parts, 840mm – 860mm for long hauls and a confident riding position.
Powerful electronic package
The ABS is a Bosch 10.3ME cornering developed for multiple engine maps; now, you can deactivate the ABS in enduro riding mode. Plus, the rear wheel gets an anti-lift mechanism.
The five-inch TFT dash displays multiple vital parameters, and a few of them are engine temperature, environment temperature, fuel level, and electronic controls.
The standard electronic package has 8 level wheelie control, four riding modes ( touring, sport, urban and enduro), power mode, Ducati 8 level traction control, and a headlight involving the DRL system (inspired by Ducati Panigale V4) and Bosch IMU.
Ducati Multimedia System (DMS) helps you listen to music and helps answer your calls.
Radar technology
Now comes the cool part of Radar technology which permits Blind spot detection and Adaptive cruise control. We understand Multistrada V4 is the first production motorcycle to get these goodies.
While riding at the speed of 30 and 160 km/h, the radar placed at the front helps detect the vehicles and automatically adjusts the distance.
The rear radar helps detect the blind spots for the areas that the rider cannot see.
The BSD mechanism indicates the entire circumstances via the LEDs placed on the rearview mirrors, which light up the one seated on the side, where the presence of vehicles is noticed.
Further, the BSD also indicates if any vehicles are coming at enormous speed.
If you are looking forward to changing the lens in both these circumstances, the BSD flashes the LED, suggesting it is dire.
At the three different levels, the rider can adjust the brightness of the LEDs.
The rider can adjust the aerodynamic appendages near the engine to change the flow.
Flavours
Standard Multistrada V4
V4S and
V4S Sport
Pikes Peak
Standard Multistrada V4
Get ready to discover the fourth generation of Multistrada.
Sportier and more touring, more capable in off-road use and more accessible in urban use
Innovation and passion collide in Ducati's Multistrada V4, the radical new bike that brings cutting-edge technology to reinvigorate the segment. The world's first front and a rear radar system on motorcycles offer unparalleled safety, while a new engine featuring the ground-breaking Desmodromic Variable Timing will redefine raw performance.
Standard Multi V4
V4S
Not only gets multiple colours and rims.
Like the
Ducati Red with glossy black rims with red
Aviator Gray tag with polished black rims with a red tag.
Both colours are available with spoked or alloy wheels.
But it also gets more functions like the Ducati skyhook suspension with auto-level function helps to understand how much weight is present on the bike and gets the trim adjusted automatically.
6.5-inch dash compared to standard is 1.5 inches larger. The phone mirroring function is available to view the map. Vehicle hold control allows the bike to be stationary for 9 seconds by activating the rear brake. Moreover, it also comes with Cruise control Ducati quick shift. Akrapovič approved silencer in titanium and carbon and front mudguard in carbon fibre.
Multi V4 S
In addition to the new factory-fitted trim levels, Ducati offers traditional customisation opportunities through aftermarket accessory packages.
Enduro: Radiator guards, Side trellis protection, Skid plate, Additional LED lights (Available for all models).
Urban: Top case, Fuel tank bag, USB cable (Available for all models).
Touring: Side bags, central stand, heated grips (Available for all models).
Performance: Akrapovič approved silencer in titanium and carbon, Front mudguard in carbon fibre (Available for V4 and V4 S).
V4S Sport
Sport livery with glossy black rims with a red tag.
Available with alloy or spoked rims and exclusively in Full set-up.

Multi V4 S Sport
Pikes Peak
Inspired in colours and graphics by that of the Desmosedici GP '21, with number plates drawn on both sides of the tank, accentuating the link with the racing world.
Marchesini forged aluminium rims.
Ducati has achieved another weight reduction milestone with its flagship model, the Multistrada Pikes Peak, which claims to be 4kg lighter than the V4 S. This is achieved with the help of titanium and carbon Akrapovic silencer helping accomplish the reduction.
The brakes of the new Ducati Panigale V4 draw their origin and design directly from that of the Panigale V4, including 330 mm diameter discs and Brembo monobloc Stylema callipers – as found on the Multistrada V4 S – but with the addition of the racing-derived brake pads from the Panigale V4 superbike.
Pikes Peak
Weight difference
One of the differences we see in all these models is the dry weight the
Standard V4 weighs 215 kg
V4 S weighs 218 kgs and
Pikes Peak weigh 214 kgs
Review and Behaviour
The Multi V4 is an innovative concept that combines expertise, creativity and innovation; and an idea that represents the best of Italian creativity.
The engineers at Ducati had to create a motorcycle capable of meeting the needs of riders who want performance, comfort, and functionality, making it ideal for both tracking and touring.
The result is a motorcycle with a compact chassis and ergonomics designed to handle all types of roads. Ducati has been testing the bike, and it is proving to be comfortable and easy to ride in many different terrain types.
However, Ducati has changed the public's perception and recently released an even more unorthodox update to the series. Their latest motorcycle will undoubtedly keep that tradition alive.
Best of both worlds
The Ducati Multistrada offers the best of both worlds. You get the excitement of a sports bike, but with better fuel economy, close to 15.2 km/litre, more comfort and an upright riding position.
It makes it perfect for those long road trips you've always wanted to take but were afraid to leave your Harley at home. The Multistrada will still maintain that classic muscle bike feels but be much more comfortable to ride. There are many models to choose from, each offering its unique features.
No doubt that this is a powerful motorcycle (it is, after all, a Ducati Multistrada). The engine's massive 170 ps, the bike's agility and balance, and the fact it's not just comfortable on the road but also in any terrain – even in light off-roading – are legendary facts.
However, there is another reason people love this bike: it smells good. I know what you're thinking: "What? How a motorcycle can smell good?". The answer is simple: some parts and the oil used are from other famous motorcycles like Panigale or Diavel. It makes both bikes an absolute beauty.
Price
In Europe, Ducati Multistrada V4 starts from € 18,990. The V4S has € 21,990 and V4S Sport at € 23,790.
The standard red Multistrada V4 starts from Rs 1,899,000 ($25,500).
The Multistrada V4 Aviator Grey with a built-in quick-shifter arrives at Rs 2,310,000 ($31,020).
The premium variant Multistrada V4 S Sport arrives at Rs 2,330,000 ($31,289)
While the Pikes Peak starts from €29,890.

Road ahead?
Autoheel
The future is here, and it's nowhere near as far off as we thought. We are at the cusp of what many experts call the fourth industrial revolution – a point in history when machines will be more intelligent than humans and affect everything from how we travel to how we work.
Some in this field go so far as to predict a complete takeover by machines but don't panic all you T-1000s: this isn't The Terminator, watching Arnold Schwarzenegger decimate everything in sight.
Because although it feels like science fiction, there are many honest and relatable technologies out there paving the way for scientific advancements just around the bend.
While the T-1000 had shapeshifting abilities and instantly reformed itself from any physical damage. Do we see something like this in the future where Multistrada can get at least auto/self-heal itself after meeting an accident or a fall? Research shows there are already self-healing polymers. And possibly they could be of some help here.
Ducati AI Manufacturing plant
By 2025, the digital thread and its intelligent algorithm will have transformed manufacturing from a batch process to a continuous process.
Rather than creating an assembly line in which parts are sequentially dumped in a single end bin, manufacturers will have simply online steps in an industry-wide process by which goods are produced.
It will dramatically reduce waste and the carbon emissions that typically result from waste disposal. Will Ducati opt for such technology in future?
While there are endless possibilities, we are sure Ducati and Multistrada will be beyond the edge in the future.
You have wings.
Learn to use them and fly.
via Ducati, YouTube GixFlix,270 Crank Instagram, Chris Light and Day Facebook