Oliveira sets the early pace in Portugal
Red Bull KTM Factory Racing's Miguel Oliveira felt the pressure of heading 'the pack' for the second time in just two years at the Algarve International Circuit. 
Instead of 23 other MotoGP™ riders, the 27-year-old was chased by hundreds of excited fans for a lap around the stunning Portuguese facility ahead of the Grande Premio Tissot de Portugal and the fifth round of the 2022 championship this weekend.
Oliveira, who won the very first MotoGP Grand Prix at the venue two hours south of Lisbon in November 2020, fronted a large posse of supporters with his KTM RC16 as the 'ride-out' started in Portimao and finished with a circulation of the dipping and fast 4.6km circuit.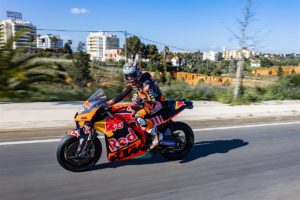 For many, it was the first and only time to get up-close with a full-race spec MotoGP fire-breather. For Oliveira, it was the opportunity to stoke the fire of the passionate native fans even further ahead of the GP fixture, where #88 arrives to be the main protagonist. 
It wasn't all easy-going in the windy conditions, however: the KTM RC16 is designed for the smooth asphalt of the racetrack, not the bumpy speed limits of a typical road!
The convoy made it to the Algarve International Circuit in good time. The cavalcade rode the crests of the undulating course to finish on the start grid in style with a photo opp.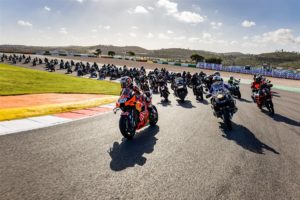 Miguel
Miguel Oliveira: "This has been amazing, a great pleasure. We always wanted to do something special here for the fans, and this was very cool. If I would put myself in their position and have the chance to ride along with a MotoGP bike – which is quite a unique machine – and then onto the track, then there is no way I would have missed it.
 I couldn't believe the number of bikes I saw. It's a shame we couldn't ride for longer. Having the RC16 on the road was super strange. These bikes don't go slow! I was only keeping the engine on. When we got to the track, then this was more our environment. 
I hope we can do something like this again because every time you take one of these bikes out of context, it is beautiful. It's been a great day, and now I expect to have a good weekend and make a strong result. Being in Portugal gives me this substantial boost and motivation so that everything that happened before doesn't matter."
The Grande Premio Tissot de Portugal, the first European race this season, gets underway with Free Practice 1 on Friday at 10.55 CET.
via KTM Press