Siddhartha Lal, the Managing Director of Eicher Motors, emphasizes a deliberate approach to electric vehicle (EV) development at Royal Enfield.
Top Key Points
Royal Enfield is not in a hurry to launch its first electric motorcycle. They want to take their time to develop a product that is "differentiated and authentic".
The company is working on a portfolio of EVs and the first one is likely to be launched in 2025.
Royal Enfield is working on its own EV architecture and has also partnered with Stark Motorcycles for joint development.
The company has set up a dedicated team for the EV business and has committed over Rs 1,500 crore to the project.
Royal Enfield is exploring all options for distribution of its EVs, including a dedicated outlet.
The company is aware of the challenges of developing an EV motorcycle, such as cost, weight and range.
Royal Enfield will not try to replicate the thump of the Bullet engine in its EV motorcycles. They want to create a unique and authentic EV experience.
Royal Enfield believes that internal combustion engines will continue to be popular for decades to come.
Siddhartha Lal
The company is diligently working day and night to craft EV motorcycles are both authentic and appealing to consumers. Royal Enfield is poised to release its inaugural EV model in approximately 24 months, around 2025, with the intention of introducing a groundbreaking product will reshape the market landscape.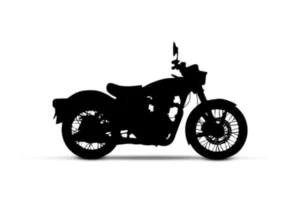 Eicher Motors
The company is actively engaged in developing its proprietary EV architecture, while also collaboratively working with Stark Motorcycle, a European startup in which Eicher Motors has invested. Notably, one of the EV models is at an advanced stage of development beyond the prototype phase. Engineers have already conducted test rides, and the model is undergoing further refinement based on testing and validation.
To spearhead the EV initiative, Royal Enfield has assembled a dedicated team, led by Mario Alivisi and Umesh Krishnappa as the Chief Technology Officer (CTO), entrusted with the task of building a robust portfolio of EV offerings. To support this, Royal Enfield has established partnerships with over 11-12 key EV vendors to ensure substantial localization of components, extending beyond battery cells. The company is also considering various distribution strategies, including dedicated EV outlets.
Authenticity
As part of its investment strategy, Royal Enfield has committed over Rs 1,500 crore to the EV sector. The company has applied for the Indian Government's Production Linked Incentive scheme, a move aligns with the requirement of a predefined investment of Rs 2000 crore.
While Royal Enfield remains open to potential partnerships, its primary focus has been on autonomous EV development. Notably, the company has invested in Stark Future, a performance EV bike manufacturer, and is actively collaborating on shared projects.
Developing EVs presents its own set of challenges, including balancing factors such as cost, weight, and range. This challenge is particularly pronounced in motorcycles due to packaging constraints and weight distribution intricacies.
Thump
Addressing the distinct "thump" sound associated with Royal Enfield's internal combustion engine motorcycles, Siddhartha Lal confirms this characteristic won't be replicated in EVs. The company prioritizes authenticity and seeks to create unique EV experiences without resorting to artificial sound generation.
Lal anticipates internal combustion engines will endure for several more decades, driven by consumer preference for petrol-powered motorcycles. Royal Enfield aims to continue producing these models as long as regulatory frameworks permit.