Tacita brings the new electric Rally Racer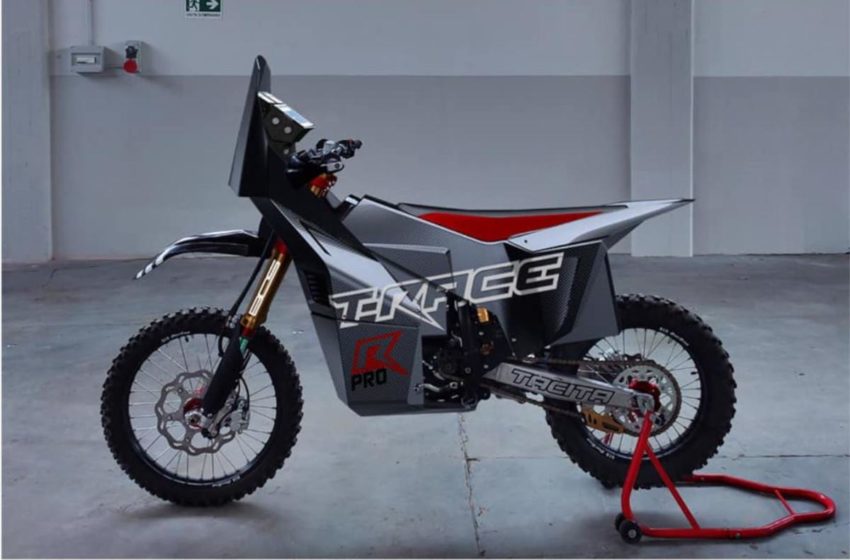 Tacita is delighted to respond to the ambitious new energies program recently presented by Amaury Sport Organisation. 
ASO organises the Dakar Rally, Le Tour de France and La Vuelta. Several years in the development, Tacita has a bike specifically designed to answer the ASO project.
The T-Race Rally is the first and only electric motorcycle to race in the African desert back in 2012 at the Merzouga Rally in Morocco.
Developed in the desert, tested in the most challenging roads and tracks of the Italian Alps, it's is also ideal for your daily life.
Get ready for any terrain, wherever you like.
Specs
18 kWh batteries – 220 km range – 44 kW of power and 100 Nm of torque. These are the numbers of the T-Race Rally light.

Electric motor: PMAC

Mappings: Eco and Sport

Transmission: 5-speed gearbox with hydraulic clutch

Cooling system: liquid type, with circuits for electric motor and controller

Traction battery: LI-PO Lithium Polymer battery 18 kWh

Battery Life is 370.000 km or over 2000 cycles to 80% initial capacity.

Batteries warranty: Five years

Max power: 34 and 44 kW optional motor with 85 Nm, 27 kW standard motor with 60 Nm torque or 11 kW with 60 N m for car licence drivers

Max rpm: 6000

Wheelbase: 1490 mm

Chassis: single-shell frame split in chrome-molybdenum

Ground clearance: 330 mm

Front suspension: An upside-down telescopic hydraulic fork with advanced axle 46 mm diameter; 300 mm travel

Rear suspension: Progressive link with fully adjustable suspension unit; 280 mm travel

Front-wheel: 1.60 x 21″ – tyre 90/90-21

Front brake: floating disk 300 mm diameter with Brembo calliper and master cylinder

Rear-wheel: 2.15 x 18″ tyre 140/80-18

Rear brake: 220 mm

Regenerative braking: 2 maps of the engine brake. No engine brake (2-stroke engine style) and regenerative braking (4-stroke engine style)

Reverse: Finally, the reverse for the offroad (and city) use !!! Easy to manoeuvre in every situation.

Body: polyamide reinforced Kevlar

Range: 220 km in the Tacita Range Method + reserve power*

Reserve Power: automatically activated at 5 % of remaining charge, reducing performance to reach the nearest charging point.

Charger: Integrated onboard 10A/16A comes used with standard sockets.

Charging time: 3 hours with the 16A charging power. 5 hours from "reserve power" level to 80% at 220 V with the onboard charger from any socket,