The Ebroh adds a stylish electric bike " Bravo CR " to its 2022 lineup
Spanish startup Ebroh has just added Bravo CR, a lightweight electric two-wheeler to its lineup. 
The decision to invest in a Bravo CR was due, first and foremost.To the fact that it's an affordable and practical means of transportation. 
Electric motorcycles are ideal for making short trips across town and getting around campus. Work, or anywhere else where you don't need to travel long distances.
With complex data backing up the proven effectiveness of electric vehicles (EVs) as a key player in urban mobility and climate change mitigation.Emerging markets have been a busy place for startups looking to ride the wave. 
Although the past few months have seen some northern European countries now offering an incentive to phase out petrol and diesel cars. There is still no better way to statement the importance of this industry than through concrete actions.
Spain-based electric motorcycle manufacturer/importer Ebroh. Had already established a significant presence in Europe by introducing its Bravo range of electric scooters.
The company, known for its famous E-bikes and scooters. Has now expanded its brand by adding the flagship Bravo CR to its offerings.
Bravo CR
The Bravo CR is a fully-faired electric motorcycle that sports an aesthetic influenced by Kawasaki's entry-level offering in Team Green's sportbike lineup, the Ninja 250. Similarities between the two models are seen from their side profiles.
The Ebroh Bravo CR is one of these electric motorcycles that offer excellent performance. And guarantee a unique riding experience.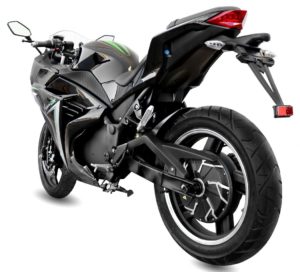 A continuous power output of 5kW propels the sporty bike to a top speed of 115 km / h, or 71 mph. It's the kind of performance we can only find on 125cc internal combustion bikes.
 The 72V, 100 Ah fixed lithium-ion battery-assisted with a 14A quick-charger can help the pack in under five hours.
Ebroh plans to roll out the Bravo CR at select dealers by December 31, 2021. The bike will retail for 5,537 Euros ($6,257 ). The bike arrives in three shades black and green, black and blue.
via Eborah