Tough night at the races for Taddy Blazusiak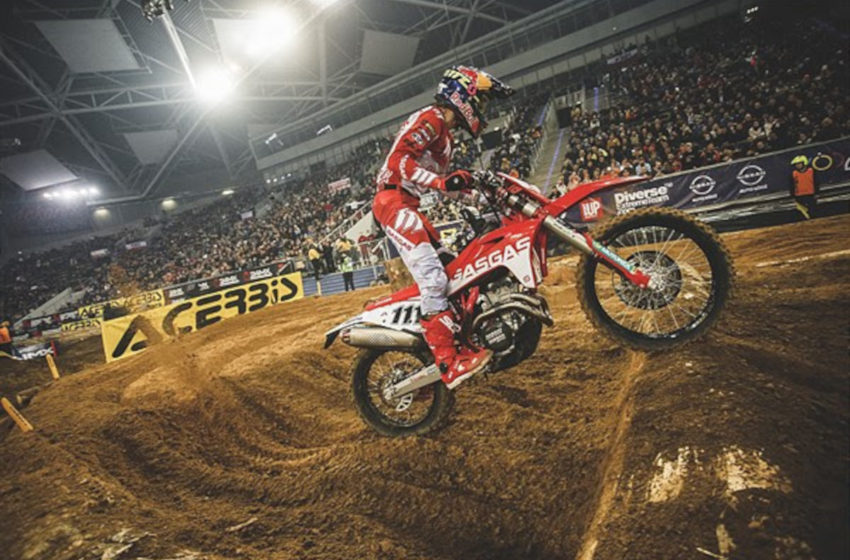 THE OPENING ROUND OF THE SUPERENDURO WORLD CHAMPIONSHIP DELIVERS PLENTY OF EXCITEMENT FOR GASGAS FACTORY RACING
Sometimes it just doesn't go to plan! Unable to catch a break, Taddy Blazusiak had a night full of drama at the opening round of the FIM SuperEnduro World Championship in Lodz, Poland. 
Motivated to impress on home soil, the GASGAS Factory Racing rider could not turn his raw speed into a podium result, finishing the night in fifth overall.
Blazusiak ends 2022 SuperEnduro opener fifth overall

Despite many crashes, Taddy earns third in race one

With plenty of raw speed, Taddy now focuses on round two in January
Waiting over a year to return to racing indoors, the 2022 FIM SuperEnduro World Championship (yes, we know, it's still December 2021!) proved to be a rough night at the office for Taddy. 
Raw speed
Despite showing impressive raw speed, multiple crashes prevented the Polish hero from putting his EC 350F on the podium in front of his home fans.
In the first of three Prestige class finals, the GASGAS rider secured what would be his best result of the night with a solid third. Taddy was eager to carry his impressive form into the remaining finals, finding his flow and staying out of trouble.
But luck quickly disappeared from his side in race two as he crashed in the first corner. Bouncing back up, he began to move forward, only for another crash to derail his progress. 
Hopeful he could right some wrongs, he again found himself in the dirt in the first corner of race three – this time victim of a multi-rider pile-up.
Refusing to end his home round on a low note, he dusted himself off and raced as hard as ever. 
A brilliant manoeuvre in the closing stages saw him jump from seventh to fourth – a position he held to the chequered flag.
Quote
Taddy Blazusiak: "I guess things didn't come to me in the finals as I wanted. I felt perfect, the speed was there, my bike was fantastic, my fitness and shoulder were good as well, and then I just kept crashing. 
If it wasn't my mistake, it was another rider falling or making a mistake in front of me or landing on top of me. I guess luck just wasn't on my side tonight. 
Anyway, third in the first final was an excellent start to the night, and I know I can run that speed at the following rounds, so I'm looking forward to those. 
Racing with so much support was incredible. It's always a great show here in Poland. I'll get back to work now and make sure I cut the mistakes out at the next round."
FIM SuperEnduro World Championship, Round 1 Poland
Event Classification
1. Billy Bolt (Husqvarna) 63pts

2. Manuel Lettenbichler (KTM) 48pts

3. Colton Haaker (Husqvarna) 43pts

5. Taddy Blazusiak (GASGAS) 36pts
Prestige Race 1
1. Billy Bolt (Husqvarna)

2. Manuel Lettenbichler (KTM)

3. Taddy Blazusiak (GASGAS)
Prestige Race 2
1. Billy Bolt (Husqvarna)

2. Colton Haaker (Husqvarna)

3. Jonny Walker (Beta)

7. Taddy Blazusiak (GASGAS)
Prestige Race 3
1. Billy Bolt (Husqvarna)

2. Manuel Lettenbichler (KTM)

3. Jonny Walker (Beta)

4. Taddy Blazusiak (GASGAS)
via GASGAS